Samyang Releases the 12mm f/2 AF Lens for Fujifilm X-Mount
Samyang has announced the 12mm f/2 autofocus lens for Fujifilm X-mount. This APS-C wide-angle lens is compact lightweight, and features a stepping motor system for what the company promises to be fast and accurate autofocus.
As noted by DPReview, the lens appears to be a re-mounting of the 12mm f/2 AF for Sony E-mount that Samyang announced earlier this year.
The Samyang 12mm f/2 AF Compact Ultra Wide Angle lens weighs 7.51 ounces, is 2.33-inches long, and is billed as a compact, rugged, yet lightweight autofocus lens for what the company says is the best combination of value and performance that it could create. It also provides a rectilinear 99.1-degree angle of view and has added weather sealing protection.
It features a build design of 12 elements in 10 groups, five of which are categorized as "special" optics: one aspherical element, one hybrid aspherical element, and three extra-low dispersion elements. These elements combine to reduce aberrations and distortion to allow for what the company says are sharp and "thoroughly corrected" images. Samyang says that it also has an "advanced" version of the company's Ultra Multi Coating that allows for maximum light transmission, contrast, and color accuracy while also controlling ghosting and flare.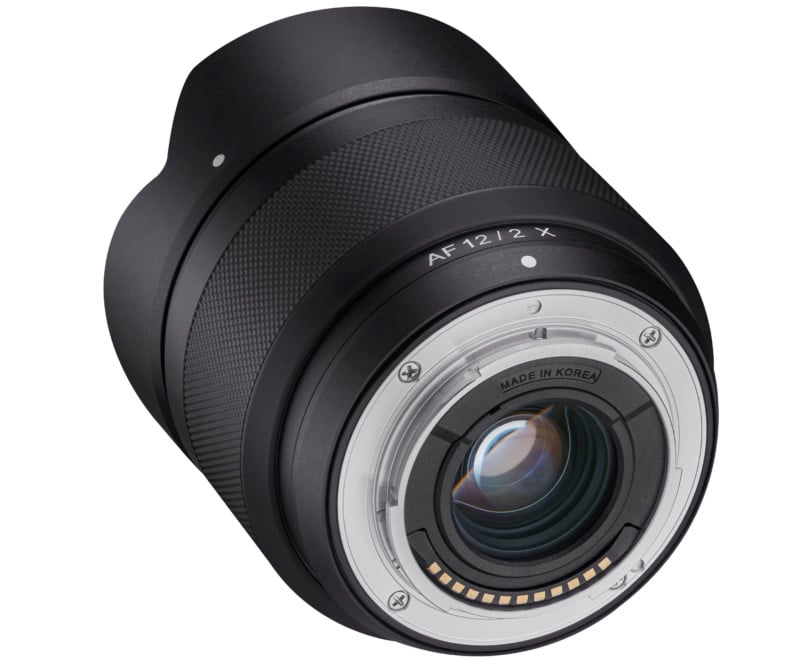 The Samyang 12mm f/2 AF uses a linear stepping motor which combines a more compact design with what the company says is improved autofocus performance. Samyang says that by requiring the movement of only a single focusing group, the optic delivers especially fast, quiet, and precise focusing in both stills and video applications. Samyang also adds that it has a close focusing distance of 7.48-inches with no change in length or front element rotation.
Samyang notes that the lens is specifically designed to work with Fujifilm cameras that use an X-trans sensor, and there are a few models that are not compatible with the lens. A full compatibility list can be found on the company's product page.
The design of the lens is one that Samyang has been implementing in all its latest optics, and uses a matte black finish with a micro-pattern rubber on the focusing ring and uses an all-metal housing.
The Samyang 12mm f/2 AF Compact Ultra Wide Angle lens comes packed with a removable petal-shaped hood, lens caps, and a custom-fitted case and is available for pre-order on Samyang's website for $499.