DJI Action 2 Review: A Two-Ounce Action Camera With Kick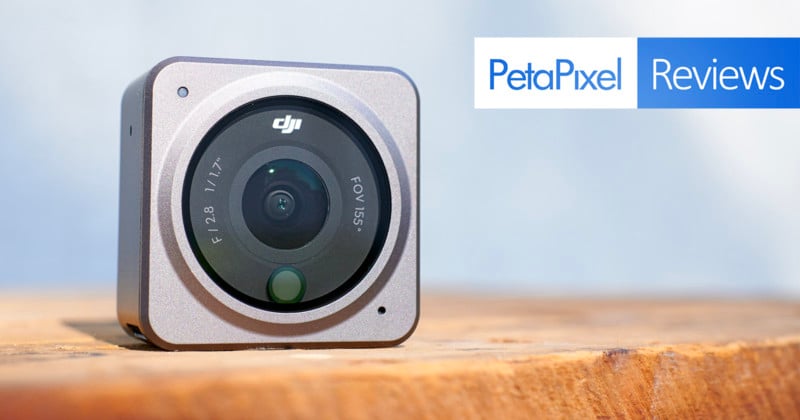 What if a company released a high-end action camera that didn't look exactly like the device that popped into your head when you read "action camera"? That's what DJI did with the Action 2, and it's got… magnets?
Design and Build Quality
Even though it's the DJI Action 2 by name, it has been completely revamped and does not hold much in common with the original OSMO Action (its predecessor) as far as its design goes. The camera unit is a compact 1.5 x 1.5 x 0.87 inches (39 x 39 x 22.3 millimeters) in size and weighs only two ounces (56 grams). Perhaps one of the few commonalities with the previous generation is that it's still dustproof and waterproof up to 10 meters without special housing.
A big lens covers most of the front face and offers a 155-degree field of view with a fixed f/2.8 aperture. At the bottom of the lens is a color temperature sensor, there is also a microphone on the bottom right, and a status light on the top left. The topside of the unit features a prominent dual-purpose power and record button.
On the back of the device is a 1.76-inch OLED touchscreen display covered with Gorilla Glass. Navigating the touchscreen is for the most part responsive, even while wearing bulkier touch-enabled gloves. To make the most of a small display and a device that has no control buttons other than the one to record, swipe gestures and touch is leaned on by the software extensively. As a result, expect an initial learning period you'll have to nail down and figure out to remember where everything is hidden before you can reliably operate the Action 2 on the fly.
One trick I had to learn is that although many of the interface settings are depicted as a wheel you scrub or swipe through, it's far more accurate to tap along the wheel to the next setting. For example, tapping the shutter speed setting up twice to go from 1/60 to 1/80 to 1/100 rather than attempting to swipe 1/60 to 1/100 in one motion. When I swipe directly to the setting, it never seems to stick to where I want it when I let my finger off the screen.
The biggest omission I've come across in using the Action 2 is the lack of profiles for saving a batch of settings. As it is, every time you want to move from shooting a certain resolution at a certain frame rate with certain stabilization, exposure, and color settings, every little thing needs to be individually switched and the adjustments for those span multiple menu locations. I would love to see the ability to save out groups of settings so that they can be recalled with a couple of taps.
The bottom of the Action 2 camera hides what is the camera's defining feature: a magnetic expansion port. The magic of this device is its ability to magnetically attach other modules and accessories without always needing the physical screw-in connectors. When I reviewed the GoPro HERO 10 earlier this month, I was tempted to criticize the prong-style connector in that system because it has always been so annoying to work with compared to any quick-release system out there. While that's true, it's also been around forever, and the decade or so's worth of accessories exist for it making it almost above critique at this point. Call me shocked when I saw what DJI had cooked up.
Magnetic Modules
The DJI Action 2 ships in a combo with either the Front Touchscreen Module or the power module. The Front Touchscreen Module adds a front-facing monitor that acts the same way as the one on the back of the camera. Additional benefits to using this module are an extra 90 minutes of battery on top of the 70 minutes of the camera, plus an additional three microphones to record stereo audio coming from every direction.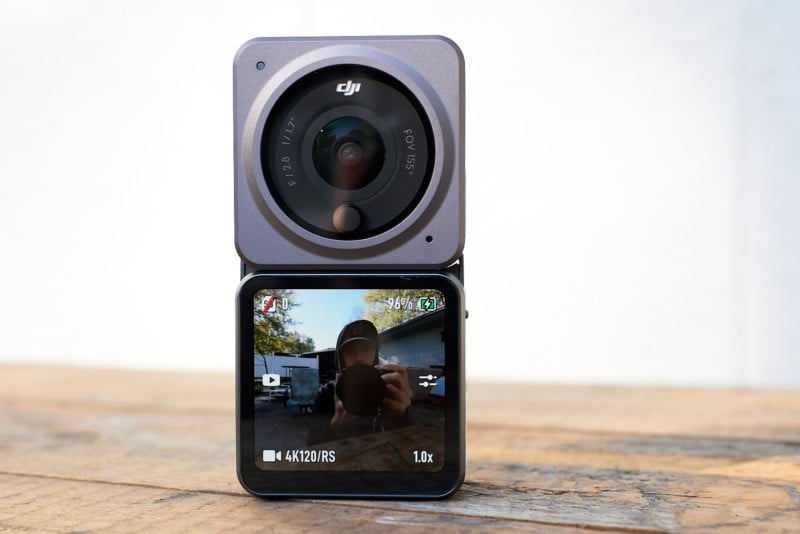 If you choose to use the Power Module, that's an additional 110 minutes of power to the camera. This module does not have extra microphones, however both modules do have a microSD card slot to expand the 32 GB internal storage of the Action 2 camera.
Magnetic Accessories
Like any action camera, the mounting accessories are what takes the system up a notch. DJI has a number of new magnetic products available that make use of the unique Action 2 connection system including a lanyard and headband. The headband wasn't yet available for review and I found the lanyard to be frighteningly dicey and wouldn't hold the Action 2 securely enough. The two that I found most compelling were the Remote Control Extension Rod and the Macro Lens.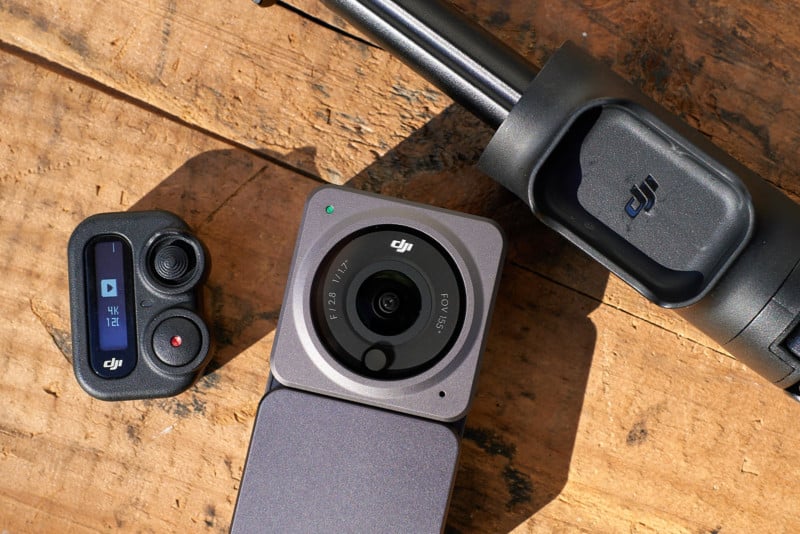 This extension rod is of course useful for self-filming and has built-in mini-tripod legs. Of note here is the tiny, detachable remote control that can be magnetically attached to the rod to operate the Action 2 from your gripped hand or removed and used to remotely trigger the camera via a Bluetooth connection. I really like the usefulness of this, but one big flaw is that the magnetic connection between the extension rod and remote is very weak. I've had it accidentally pop off a couple of times and I'm just lucky I saw it happen before it was lost forever.
The other Action 2 accessory worth mentioning is the Macro Lens. The Action 2, like any other action camera, has a fixed focus lens that depends upon the fact its vast depth of field inherently covers almost everything in front of it. Almost everything, because it still has its limits when objects are very close to the camera. The DJI Action 2 Macro Lens is a magnetic attachment that simply pops right onto the front of the camera and allows for focus to be achieved at extremely close distances. It's an either-or situation, so anything that's not in the macro range cannot be in focus. What I like is that it brings a new type of look to an action camera with its out-of-focus blurring and has the potential to add variety to a video sequence. One problem though is that it does not come with a case, so you have to find your own way to keep the glass safe and clean.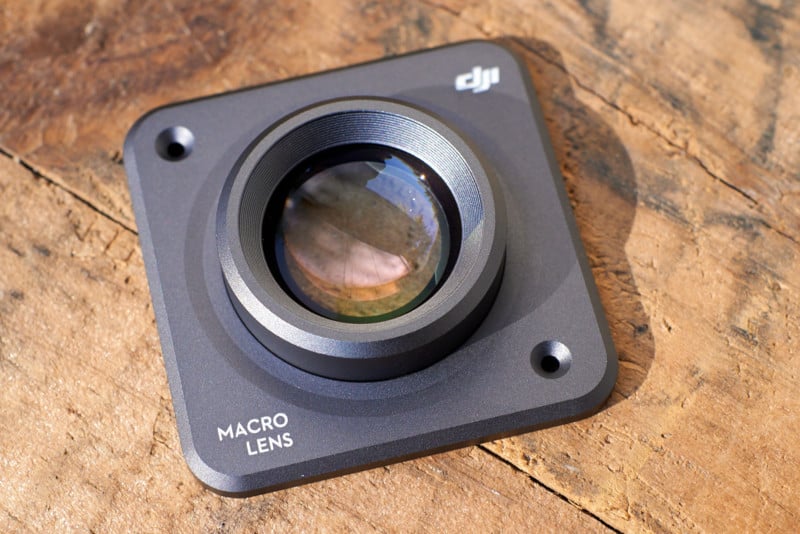 ‌
All these magnetic products do share something in common in that they love to pick up sand. Before connecting anything, I would need to wipe items clean of magnetized sand as I learned the security of the connections can be finicky with a little debris in there.
Image Quality
Inside, the Action 2 sports a 1/1.7-inch sensor and is capable of recording video up to 4K 120p. For stills shooting, the camera captures 12-megapixel images in RAW or JPEG. The ISO range in both stills and video is 100 to 6,400, and in my testing, the noise is well-controlled for much of that. The below photos show a downscaled version on the left and a 100% crop on the right.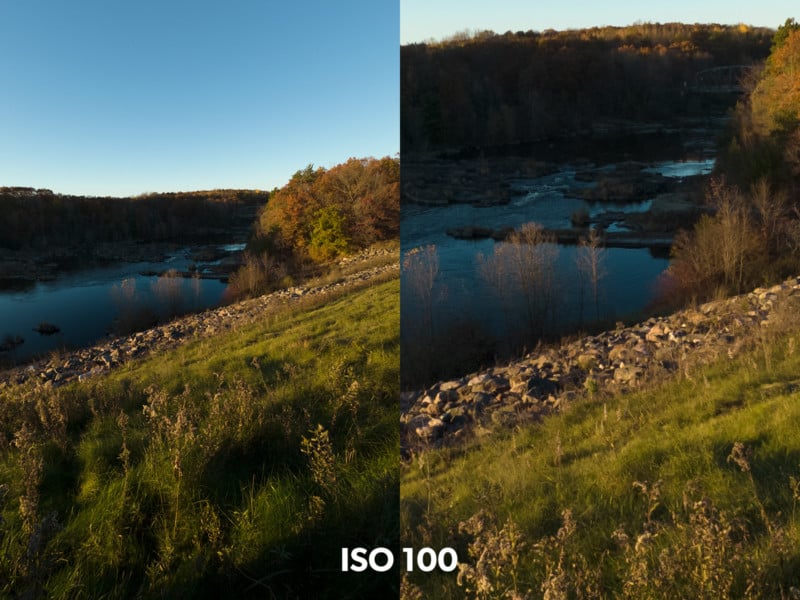 At ISO 1,600, we see the first notable drop in image quality but details still hold good enough for me. I think for stills, ISO 3,200 is more questionable as the fine line details disappear, however on the video side of things it's not entirely bad. For video, I think the only ISO I would be cautious of is the maximum of 6,400. Then again, for a casual vlog, I don't think anything here is entirely off the table and to the point where it's a complete distraction of the content.
To give you a sample of real-world use, the video below was recorded entirely with the DJI Action 2. It was all done in 4K with various frame rates conformed to the 24p project timeline. The camera was set to the flat D-Cinelike color profile and I corrected that as well in the finished video. For the sake of this review, I only used the internal microphone and recorded at various distances away from the camera to give you a sense of its limitations. External microphones may be connected to the Action 2 by a USB-C to 3.5mm adapter.
At the end of the video, there are a couple of different clips where I used timelapse mode in-camera. One thing that I liked here is that timelapses can be recorded as both a finished video as well as simultaneously saving individual RAW files. The first time I did a timelapse, I forgot to change the resolution from 1080p to 4K, but in the end, it was saved by allowing me to use the RAWs instead.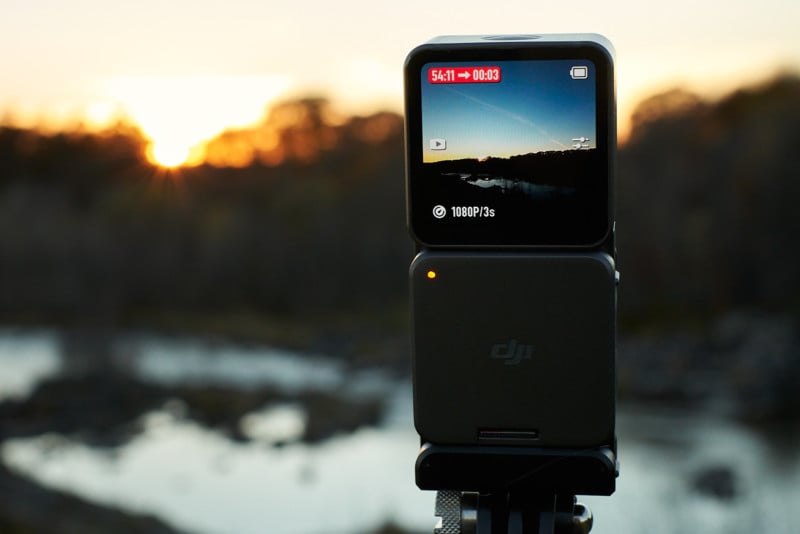 Much More Than a Refresh
I have a great appreciation for the concept of this modular action camera and how easy it is to work with the magnetic expansion port. The ability to slap together different modules or even run the Action 2 bare depending on the need is smart and effectively forward-thinking.
From the standpoint of image quality, I would not suspect that the footage came off of a tiny little camera that weighs just a couple of ounces if I hadn't been there to see it happen. Footage can hold itself together even in low light up to ISO 3,200 which is impressive in its own right.
On the software side, it could use refinement in its touch sensitivity and I would appreciate DJI building out the ability to save a batch of settings to be recalled later. It's a brand new camera with a brand new interface, however, so I'm more understanding that these things aren't permanent and can be fixed down the line.
Are There Alternatives?
The GoPro HERO 10 Black was just released and follows more in the footsteps of what the original DJI Osmo Action was. It features 5.3K video recording at up to 60 frames per second, a dual-screen design, greatly improved responsiveness over the previous model, and all the other reliable features that have made GoPro the king of action cameras for so long.
If you've been waiting around to see how the DJI Action 2 would compare and are disappointed in this totally different direction it went with, I believe that the GoPro HERO 10 is a worthy alternative.
Should You Buy It?
Yes. The clever people at DJI have come through with a unique camera and a budding ecosystem of accessories that deliver high-quality performance.