DJI Unveils the Action 2: A Redesigned, Tiny, Modular 4K Action Camera
DJI has announced the new Action 2, a reimagined take on its action camera line that features an interchangeable magnetic design that's smaller, lighter, and more versatile than its predecessor.

The Action 2 weighs a scant 56 grams and can attach to a variety of surfaces and accessories thanks to the integration of strong and secure magnets. It is also dustproof, waterproof to a depth of 10 meters without additional housing, and drop-proof. The new form factor is designed to make it smaller and more focused, but is compatible with various peripherals including a power or touchscreen module that enhances its usability.
Speaking of which, the camera unit features a 1.76-inch OLED touchscreen with an additional OLED screen on the front touchscreen module, which attaches securely to the bottom of the camera unit via magnetic locks.
The sensor itself is a 1/1.7-inch that records up to 4K at 120 frames per second with a 155-degree super-wide angle of view. DJI says that a newly implemented color temperature sensor helps the camera keep correct color tones in complex lighting conditions, including underwater where colors can typically become distorted.
The camera also captures 12-megapixel photos which can be recorded in RAW or JPEG with an ISO range of 100 to 6,400 (this is the case for both stills and video). DJI did not spend any time in its press materials discussing still photo capture, so it doesn't appear to be a feature the company is particularly proud of.
For stabilization, the Action 2 uses DJI's RockSteady 2.0 proprietary electronic image stabilization technology that combines with the company's new HorizonSteady tech that it says maintains a level frame throughout sequences. Together, shots should be super smooth across a variety of use cases.
The DJI Action 2 camera unit (the main camera module) has a battery with a run time of up to 70 minutes on its own, but this can be extended to 160 minutes when connected with the Front Touchscreen Module (which also has its own dedicated battery), and extended even further to 180 minutes with the power module. When the Touchscreen Module is attached, the camera uses DJI's Matrix Stereo technology that was first introduced on the DJI Pocket 2. The single microphone from the camera unit combines with the three microphones from the module to record audio from every direction.
As is the case with just about every DJI product, the Action 2 comes packed with intelligent features:
Slow Motion: 4K at 120fps and 1080p at 240fps
Hyperlapse and Timelapse
QuickClip: Set the device to take short 10, 15, or 30-second videos
Livestream: Livestream with a stable stream output of up to 1080p at 30fps
UVC: The Action 2 can be used as a USB video class device (UVC) for webcam use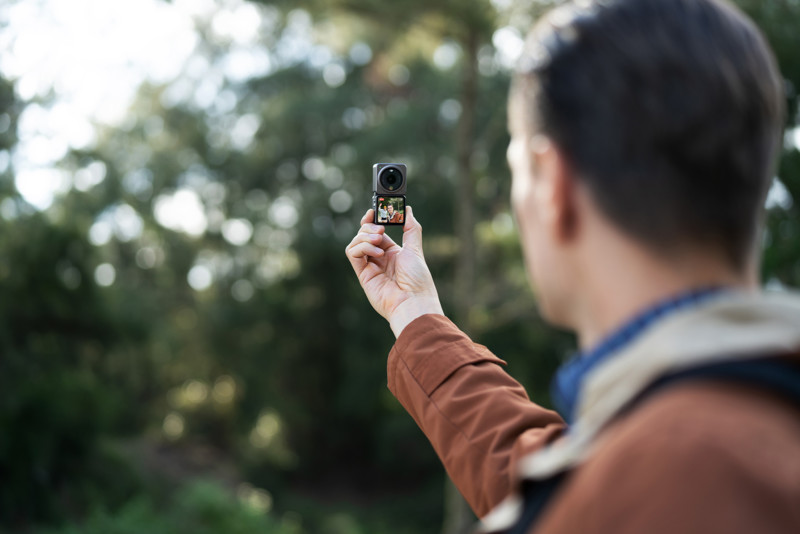 Talking about the Action 2 is really only part of the story because the design of the device is so reliant on modules. While this means that the device is probably more useful and can be tailored to specific use cases, it might also mean that it can be more expensive. Below are all the modules that can be purchased along with the base Action 2:
Front Touchscreen Module: A front-facing OLED touchscreen and three built-in microphones bring 4-mic Matrix Stereo technology. Combined with the Action 2, it allows for a maximum battery life of 160 minutes.
Power Module: Provides up to 180 minutes of filming, is hot-swappable, and brings an additional microSD card slot.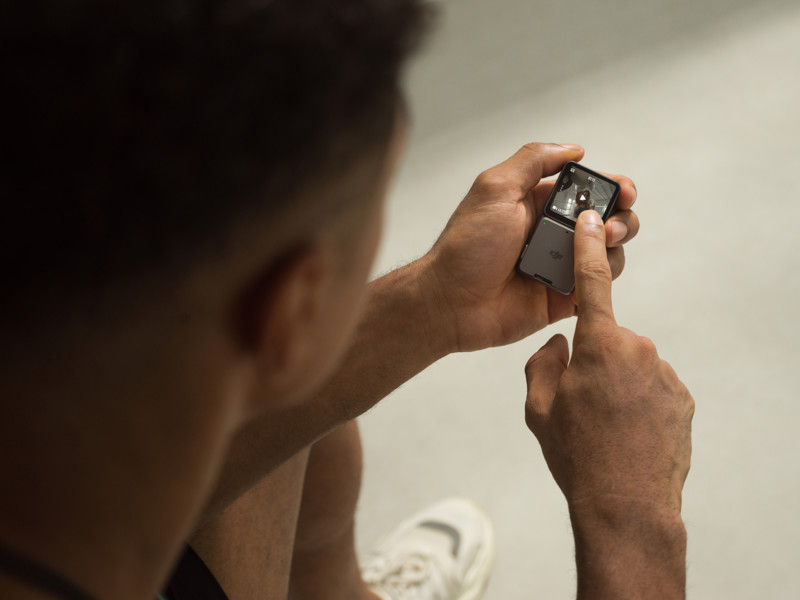 Magnetic Lanyard: Designed to be worn around the neck and clips the Action 2 discretely to the wearer for a hands-free, first-person view.
Magnetic Ball-Joint Adapter Mount: An adhesive base allows users to attach DJI Action 2 to any surface and provides 360 degrees of motion. The standard 1/4-inch screw hole is compatible with most camera accessories.
Magnetic Adapter Mount: This mount securely holds DJI Action 2 in place and includes folding fingers at the bottom to use Action 2 with most third-party action camera accessories.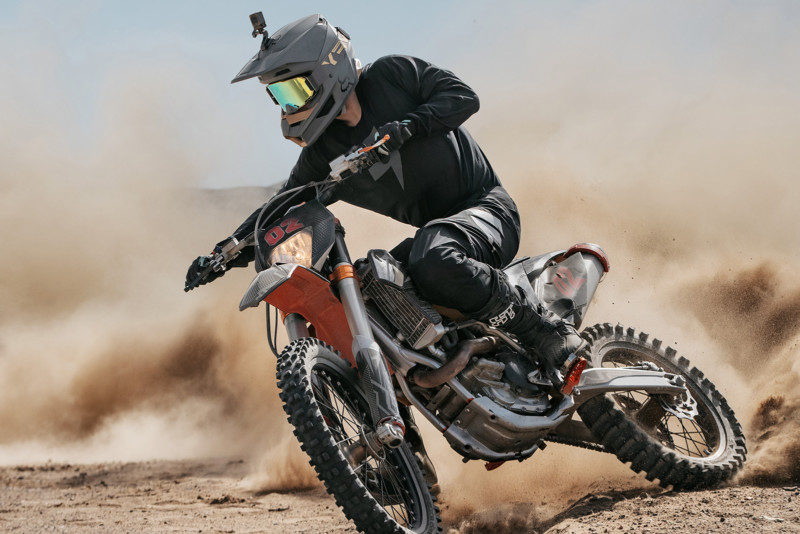 Remote Control Extension Rod: A three-in-one accessory that serves as an extension rod, tripod, and detachable remote controller.
Floating Handle: A hollow design helps keep DJI Action 2 buoyant so it can be used in the water without fear of losing it to the depths. It features an anti-slip grip and the handle can be attached to a tripod or the DJI Action 2 Waterproof Case.
Waterproof Case: The Waterproof Case houses an Action 2 Camera Unit and front touchscreen module or power module and allows it to extend its waterproof protection to depths of up to 60 meters (about 197 feet).
Magnetic Headband: A headband that allows for another first-person view perspective.
Macro Lens: Allows the camera to focus closer.
DJI Mic: Wireless dual-channel recorder that has a range of up to 200 meters and is compatible with Action 2, smartphones, and any device that has a 3.5mm audio input. It boasts 7.5 hours of battery life from the transmitters, 5 hours from the receiver, and 18 hours from the charging case.
The DJI Action 2 comes in two configurations: the Dual-Screen Combo and the Power Combo.
The Dual-Screen Combo will cost $519 and includes the DJI Action 2 Camera Unit, Front Touchscreen Module, Magnetic Lanyard, Magnetic Ball-Joint Adapter Mount, and Magnetic Adapter Mount.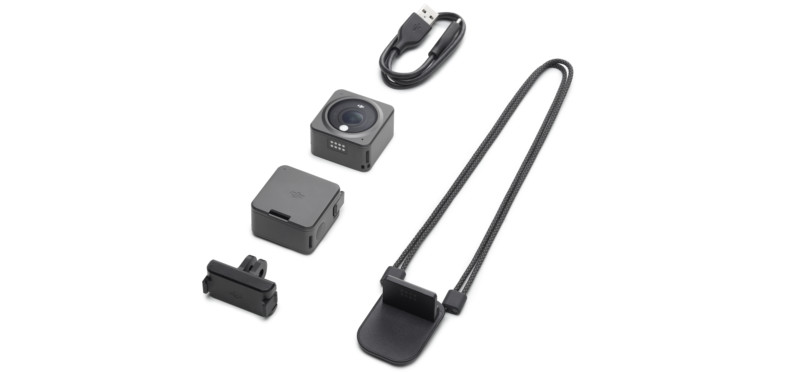 The DJI Action 2 Power Combo will cost $399 and includes DJI Action 2 Camera Unit, Power Module, Magnetic Lanyard, and Magnetic Adapter Mount. All other accessories are sold separately.