Photoshop's 'Content Credentials' Embeds Attribution Data into Photos
As part of the ongoing efforts of the Content Authenticity Initiative, Adobe has announced "Content Credentials," a new feature that enables creators to attach attribution data to images before sharing them online.
The Content Authenticity Initiative (CAI) was founded by Adobe, Twitter, and the New York Times in 2019 as a way to battle against image disinformation and increase the trust and transparency of content shared online — namely images and photos. In the two years since it was founded, the CAI has expanded to more than 350 members, and now includes Agence France-Presse (AFP) and Nikon.
The CAI has been busy for the last year. Last December, the CAI debuted the first secure hardware implementation of the CAI standard on smartphone devices in partnership with Qualcomm and Truepic and facilitated the first-ever photos captured with the end-to-end system for image provenance developed with CAI standards. In January, a group from Stanford University and the USC Shoah Foundation applied the CAI's standards to verify the authenticity of its archive of images captured by Reuters' photojournalists of the pivotal 78 days between the U.S. presidential election and inauguration.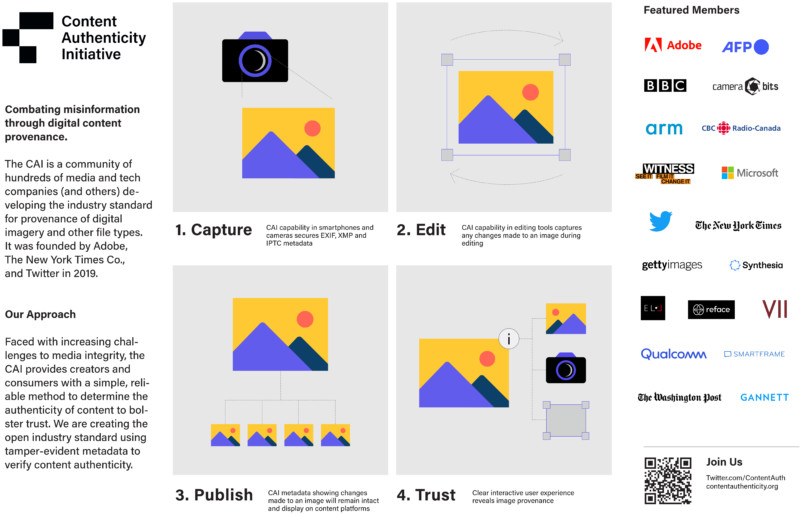 In February, the CAI helped establish an independent standards development organization: the Coalition for Content Provenance and Authenticity (C2PA). In May, the New York Times launched its prototype system that implemented the CAI efforts in order to combat misinformation. Most recently in August, the CAI endorsed the National Deepfake Task Force Act with the U.S. Senate — a bill that strives to empower consumers with clear information about the content they see online.
Today as part of Adobe MAX, the CAI is launching Content Credentials, which is a feature that will be available to all Creative Cloud subscribers, that will enable creators to securely attach important attribution data to photos to allow viewers to evaluate the authenticity of the content.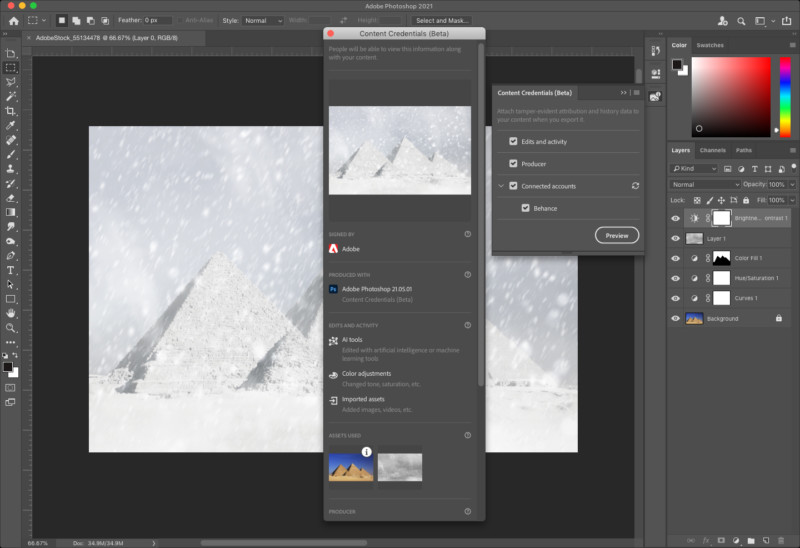 The feature is available in the Photoshop desktop app as an opt-in feature. Adobe Stock assets now include Content Credentials upon download. On Behance, an indicator will appear with an image if the artist has attached Content Credentials to it. Viewers can then go to "Verify" to view them in more detail. Additionally, Content Credentials have compatibility with social and crypto accounts supported by Adobe's new partnerships with NFT marketplaces: KnownOrigin, OpenSea, Rarible, and SuperRare.
Verify is a beta website run by the CAI that allows anyone to inspect the overview and details of an image and its Content Credentials.
The CAI says that the launch of Content credentials is a major milestone on the CAI roadmap. While the group is starting with digital images, it is also exploring ways to expand into other parts of the Creative Cloud suite and will spend the next year testing new digital media formats including video and audio.