Sony Launches the Alpha 7 IV: A 33MP 'True Hybrid' Full-Frame Camera
Sony has unveiled the Alpha 7 IV, the successor to the extremely popular Alpha 7 III that features a 33-megapixel sensor, up to 10 frames per second shooting, and a host of video features that Sony says makes it a true hybrid full-frame system.
The Alpha 7 IV uses Sony's latest-generation processor to power a 33-megapixel backside illuminated sensor (BSI). While it is not stacked, Sony promises that the camera will provide top-end image quality and advanced artificial-intelligence-based autofocus. Additionally, the company has outfitted the Alpha 7 IV with what it calls "evolved" movie technology to create a device that is specifically aimed to be a hybrid photo and video workhorse.
In Sony's full offering of cameras, the Alpha 7 IV sits above the a6600 and alongside the Alpha 7 III and a7C, but below the Alpha 7S III, Alpha 7R IV, and Alpha 1. In short, it's solidly in the middle of Sony's full camera lineup. Sony is targeting existing hybrid shooters and advanced amateurs along with a new and evolving segment of those who use believe streaming and file sharing are most important.
The 33-megapixel sensor features 759 phase-detection autofocus points for 94% coverage of the sensor and features real-time eye-autofocus for humans, animals, and birds. It also has a slightly improved IBIS system that offers 5.5-stops of image stabilization, up over the previous 5-stop compensation.
Sony says that its latest autofocus algorithms achieve high precision down to light levels as low as EV -4 in AF-S mode.
The camera is capable of shooting 828 continuous uncompressed RAW plus JPEGs thanks to a more powerful processor and a large buffer combined with faster write speeds of memory cards.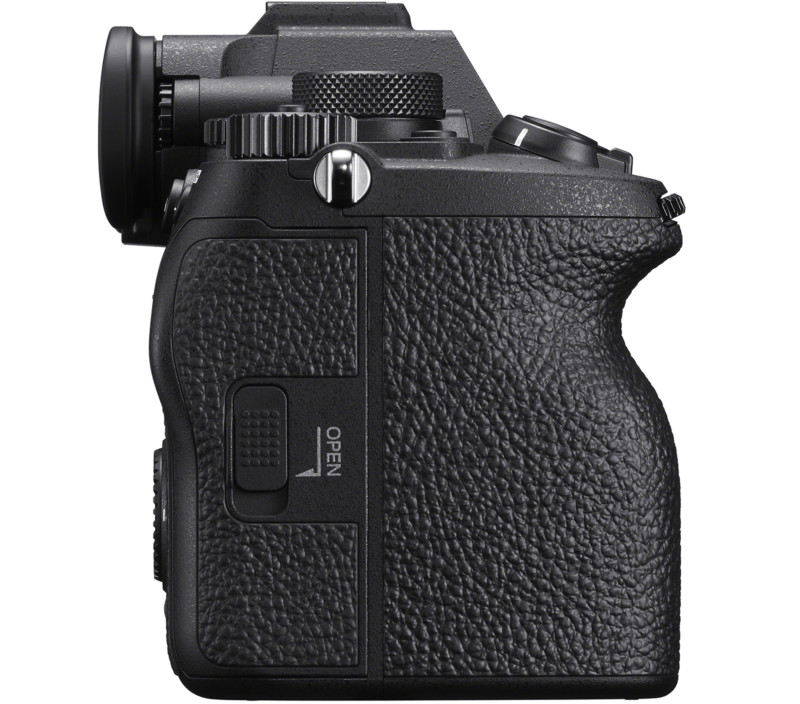 From a hardware perspective, the camera has a few design changes over its predecessor. For starters, it uses a 3.68 million-dot OLED viewfinder with both 60 and 120 fps selectable frame rates. Sony says that both it and the rear LCD have improved live-view image quality as well thanks to greater resolution and a reduction in false color. Sony also adjusted the grip shape to be significantly larger which it says minimizes stress on the photographer when they are shooting over longer periods.
The aforementioned rear LCD is a vari-angle type — also colloquially called a "flip-out" screen — that makes it easier to capture additional angles over the previous generation tilt design.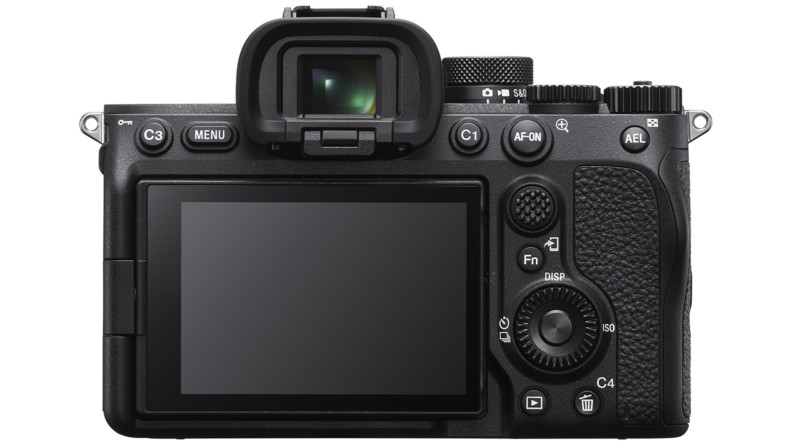 Sony also moved a few buttons around and added a dedicated recording button to the top of the camera. What was the exposure compensation dial on the Alpha 7 III is now an assignable rear "R" dial that can be locked. There is also a dedicated still, movie, and S&Q dial, a new menu structure with additional touch controls, a new AF-On button that Sony says has been optimized for tactile feedback and positioned for easy access, a refined multi-selector that has a better-textured surface for a more controlled feel, and a control button that the company claims has enhanced "clicking" and more tactile feedback.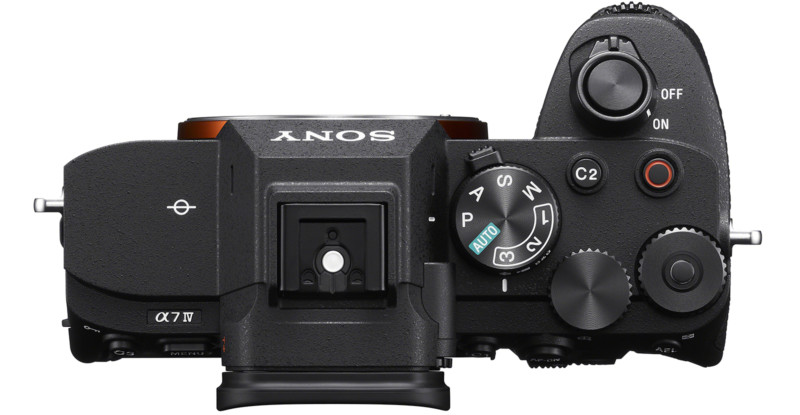 Under the mode dial of the camera, there is now a ring that allows users to swap quickly between still and video modes. When these are changed, the controls have specific roles that are different from roles in movie mode. Sony believes this is a big step in realizing a true hybrid camera.
Sony has also enabled a feature that Canon shooters are familiar with: when the camera is powered off, it will close its shutter to protect the sensor.
As far as ports are concerned, the Alpha 7 IV has Sony's digital audio interface embedded in the hot shoe, an HDMI Type-A terminal, a microphone jack, headphone jack, USB Type-C 10 Gbps port, another USB-C port that provides direct connectivity to 1000BASE-T Ethernet, and a multi/Micro USB port. It also is equipped with two card slots, one for a CFexpress Type-A card and the other for a UHS-II SD card.
While the capability of the stills performance of the camera is solid, Sony spent much of its efforts with the Alpha 7 IV on video enhancements, and the majority of what makes the Alpha 7 IV appealing lies in that category.
The Alpha 7 IV can capture in S-Cinetone and S-Log3 for 15 stops of dynamic range, is capable of recording to the high-efficiency MPEG-H HEVC/H.265 codec, has 10-bit 4:2:2 color sampling, and can record 4K with intra-frame encoding for bitrates of up to 600 Mbps. In short, while it does not offer 120 frames per second capture in 4K, it is still no less of a very capable video camera.
The Alpha 7 IV shoots 4K video using the full width of the sensor at both 24 and 30 frames per second without a crop using 7K oversampling. For higher framerates, the sensor crops down to Super 35 (1.5x crop) for 4.6K oversampling and up to 60 frames per second. The body has a new heat dissipation design that allows it to shoot for longer without overheating.
In a first for a Sony camera, the Alpha 7 IV can use real-time eye-autofocus on humans, animals, and birds in movie mode and allows for left and right eye selection on humans and animals.
Sony has also implemented focus breathing compensation on the ALpha 7 IV, which can completely eliminate the appearance of breathing when using compatible lenses. The Alpha 7 IV uses Sony's camera and lens development to automatically change the crop rate depending on the attached lens and its meters the focusing position to keep a consistent angle of view. No third-party lens is supported because Sony says that only its camera mixed with its lenses have the unique capability to communicate with one another in this way. Sony says that the camera has to be aware of the angle of view shift that changes at every focus position to constantly recalculate as the autofocus group moves. The result is video capture with virtually no discernable focus breathing when there would otherwise be obvious shifts in perspective.
The new camera also has the same AF Assist features found on the FX6 which offers manual focus operation even during autofocus shooting. Sony says this provides new functionality in how it has integrated autofocus with manual focus.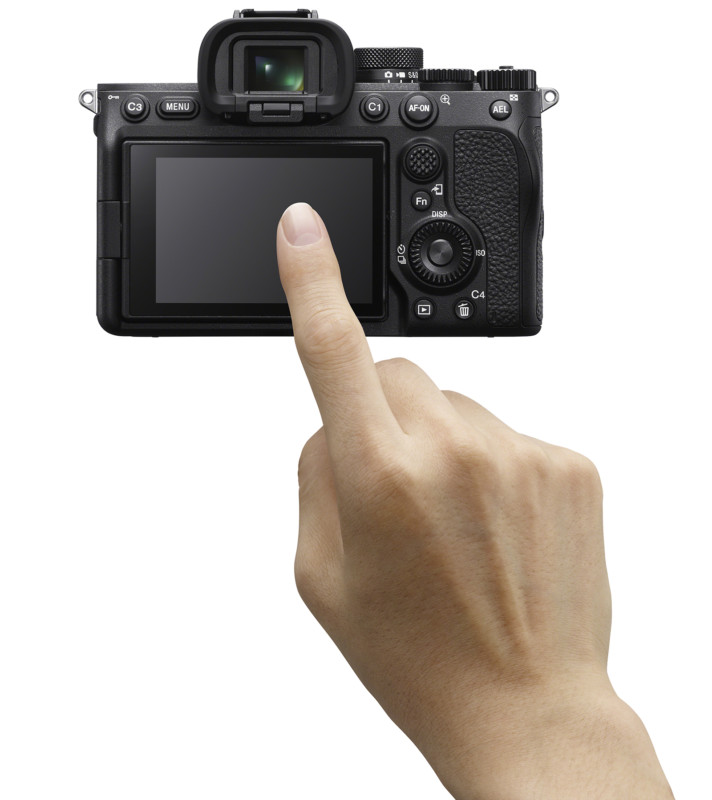 Speaking of focus, Sony has added a focus map, which it bills as an extension of focus peaking. The map shows the plane of focus using colored squares. While only available in movie mode, it provides a map that visualizes depth of field when the iris is set before recording is initiated. Photographers will be able to see the effect even if they are shooting with a shallow depth of field and can check in-focus or out of focus easily. Sony developed the feature as it is sometimes hard to see small details on the rear LCD and is particularly helpful when the camera is mounted on a gimbal.
Sony has specifically built multiple features into the Alpha 7 IV to support easier wireless or wired connections as well as streaming capabilities. One small but likely appreciated change is that the camera will recognize when it is plugged into a computer and immediately offer to connect for streaming. Speaking of streaming, it supports 4K 15p UVC/UAC streaming functional with simultaneous internal recording of up to 4K at 60 frames per second.
Quick sharing and file transfer is done with Imaging Edge mobile app, which can stay connected to the camera continuously, connected via Bluetooth and transfers data via WiFi — it no longer breaks the connection while shooting. Once paired, it will be able to send files without needing to repair the app and phone with the camera.
The Sony Alpha 7 IV will be available at the end of December for $2,500. It'll also be available bundled with a 28-70mm for $2,700. For sample images and more, read PetaPixel's review of the Alpha 7 IV.