Razer Launched an Office Chair and It's Supposedly Pretty Great
Razer today announced the Enki gaming chair and while the term "gamer" comes with a lot of baggage that will make many immediately ignore it, this one looks promising whether or not you enjoy video games. I mean, we all need to sit, right?
Razer as a company and brand seems to uniquely balance making products that are pretty universally well respected (like its laptops) as well as others that are unabashedly "gamer" (like the Zephyr mask which you absolutely can now actually buy). So when we heard that the company was launching a gaming chair, we were hit with a mixture of emotions. On the one hand, it could be great. On the other, it might just be another gaming chair to add to the stack of forgettable ones.
In its press materials, Razer touts the Enki as designed for all-day comfort with specialized extended shoulder arches and an ultra-wide seat base that accommodates a variety of sitting positions, including cross-legged.
It also has a built-in lumbar arch that helps you maintain the right posture and supposedly uses "optimized cushion density" that will provide softer base support and firmer back support. While it looks like it's made of leather, the Enki is actually made of dual-textured, sustainable synthetic leather that the company says is used in high-end applications like cars, which means it should be durable and long-lasting as well as comfortable to the touch. The chair has a reclining feature that lets it tilt 152-degrees, if you need to lie down for a moment, I guess.
It's easy to write a lot of nice words about a gaming chair, it's another thing entirely to make a chair worth buying. Luckily for Razer, it appears the company got it right with the Enki.
While we haven't reviewed it here at PetaPixel (and the jury is still out on whether we will since companies don't generally think of photographers and office equipment in the same sentence despite how often we are actually at our desks), Engadget did get a chance to try it out and has some glowing things to say about it. So much, in fact, the publication writes its better than most office chairs, which is not praise often levied at gaming chairs, if ever.
I think one of the standout features here is that Razer didn't make the chair look overwhelmingly "gamer." As Engadget puts it:
Chairs made especially for playing have been proliferating over the past few years and until now, they've tended to be overpriced and ostentatious.
The Enki appears to be neither. It doesn't have weird RGB light integrations or speakers, and it doesn't come in only garish colors or have absurd video game partnership deals which result in ugly logos all over it. Rather, it's pretty understated. This chair would honestly look good in most offices, and Engadget reports it better than the ones you probably are already using.
It's also not outrageously expensive. The Enki can be had for $299, or the upgraded Enki X — which includes a memory foam head billot, a more reactive seat tilt, and an armrest that is adjustable in four directions — costs $399. Most gaming chairs ask for hundreds more than that and many office chairs, as I've discussed, can climb up to $1,000 or more and don't look nearly as nice as the Enki does.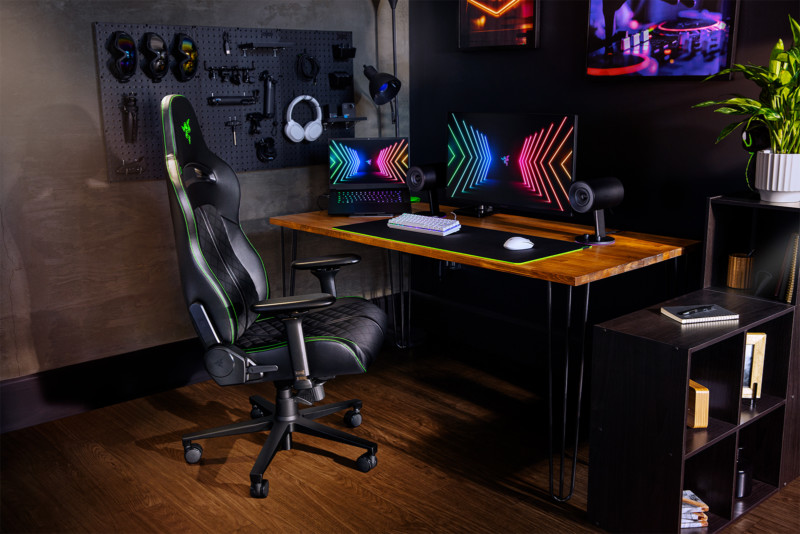 If the Enki was designed for anyone to be able to sit in it for hours at a time without getting uncomfortable, who cares that it has "gamer" tied to it? As someone tied to my desk for most of my day just like many photographers, it should be a solid fit. Personally, I think it looks understated and nice, and it sounds super comfortable. What's not to like?
Perhaps we should think of the Enki like we do Razer laptops. Are they made for gamers? Yeah, primarily. But they are also excellent photo editing machines.
I'm glad Razer went this direction with the Enki chair. Even if photographers won't get a chair designed specifically for their needs despite my wishes to the contrary, at least if more manufacturers follow in Razer's footsteps, we will get something that's better than the dearth of ugly or overpriced (or both) options currently on the market. Perhaps we'll get closer to that mythical middle ground I wished for.