Razer Blade 14 Review: Made for Gamers, Great for Creators
The Razer Blade 14 released just a few short weeks ago is aimed squarely at gamers. The headline on the Razer website is "the world's most powerful 14-inch gaming laptop." But don't be fooled by the glowing green logo and the RGB-backlit keyboard: with its AMD CPU, NVIDIA GPU, and color-accurate QHD display, the Blade 14 is an ideal choice for photo and video editors who are looking for a PC that's portable and powerful.
Many factors came together to make a laptop like the Razer Blade 14 possible in the first place. Just a few years ago, this much power in a chassis this thin and light would have been impossible without serious thermal throttling or some crazy cooling solution. Razer kept the crazy cooling solution, but thanks to AMD, there's less worry about thermals.
The Blade 14's claim to fame is that it's Razer's first laptop to feature an AMD Ryzen CPU: the unlocked 8-core/16-thread Ryzen 9 5900HX with a base clock of 3.3GHz and a maximum boost clock of 4.6GHz. Thanks to AMD's 7nm Zen 3 architecture, the 5900HX can deliver all of this performance while consuming less power and therefore generating less heat than the Intel Core chips that Razer has traditionally relied on.
The more efficient CPU, combined with a vapor chamber cooling solution, has enabled Razer to spec this machine with a lot more power than you could previously run inside a 14-inch chassis that's also extremely thin. The Blade 14 comes in three flavors depending on your preferred GPU, display, and budget, but all of them manage to cram in the 5900HX, 16GB of RAM, and 1TB of fast SSD storage:
The variant we're testing in this review is the "midrange" $2,200 model with the QHD display and RTX 3070 graphics card, and honestly, that's probably the version I would recommend to most creators. The downgrade to the RTX 3060 probably wouldn't hurt photo editing performance very much, but the 3060 variant is limited to a Full HD display with "up to" 100% sRGB, so it's a no-go for many creatives.
Design and Build
No matter which variant you buy, you won't be disappointed by the build quality of this laptop.
The Bade 14 lives up to Razer's reputation for crafting some of the sturdiest and sleekest laptops on the market. Every detail is top-shelf: from the rigid aluminum chassis, to high refresh rate QHD display, to the port selection, to the responsive low-profile keyboard and the ultra-smooth glass trackpad that rivals, nay, exceeds the high bar set by Apple in the MacBook Pro.
Admittedly, Razer's gaming DNA does (literally) shine through on a few details. The backlit keyboard with per-key RGB lighting and the single color option — Razer's trademark matte-black-with-glowing-green-logo — are high quality, but a bit of a letdown if you want to give off "clean-cut professional" vibes. I'd have loved to see a silver version like the Razer Blade Studio, especially since the matte-black finish is a horrendous fingerprint magnet. But I'll forgive the focus on flare because there's plenty of substance under the surface.
Most obvious from a daily use standpoint are the screen quality and the robust battery life.
Going in, I was worried about the color accuracy of a high-refresh-rate screen designed for gaming, but the 165Hz QHD display on the Blade 14 performed admirably in our tests. We profiled the display using an i1Display Pro Plus through DisplayCAL and found that it lived up to the (somewhat hedged) promise of "up to" 100 percent DCI-P3, covering 96.7 percent of the cinema color gamut. It was also able to hit a respectable 83.5 percent AdobeRGB, a max brightness of 350 nits, and it did it all with a maximum Delta E of less than two in our extended color patch test.
It's good, but admittedly not on par with the excellent 4K OLED display available in the Blade 15 models. Additionally, I had to keep the display at 100% brightness during photo editing sessions, as white balance shifted noticeably with dimming. But for a 165Hz display in a 14-inch gaming laptop, it's more than good enough for color-critical work.
The (relatively small) 61.6WHr battery also surprised me. Thanks in part to the more efficient AMD CPU, I could stay unplugged for six hours during a regular day's work. If tasks got a bit heavier and I wanted to take full advantage of the CPU/GPU combo I usually plugged in, as battery life would plummet to about two hours under heavy load, but that's to be expected when you're running such powerful hardware and a high refresh rate display.
This is the first PC laptop I've used that properly competes with Apple's Intel-based MacBook Pros when it comes to battery life without sacrificing performance, especially if I took the refresh rate down to 60Hz in the display settings. It can't match the ultra-efficient M1 MacBook Pro with its insane battery performance, but if you want an Apple laptop with a discrete GPU there isn't an M1 option anyway — you're stuck with the much larger 16-inch until Apple releases the rumored M1X.
Finally, in terms of input options, the tiny laptop has a surprising number of ports. There is no SD card slot (*shakes fist at the heavens*) but you get two USB-A 3.2 Gen 2 ports, two USB-C 3.2 Gen 2 ports (not Thunderbolt) with power delivery and DisplayPort 1.4 protocol, an HDMI 2.1 port, and a 3.1mm headphone and mic combo port. It is a very solid complement of ports for a device this small.
All in all, I'm confident in saying that the Blade 14 is the best-built 14-inch laptop on the market. Razer gets a lot of flack for making such expensive laptops — you can usually get similar specs for a bit less if you go with a brand like ASUS or MSI — but the devil is in the details. Details like a great keyboard, a great trackpad, a premium display, and a rock-solid chassis.
It's these details that make a laptop a joy (or a pain) to use, and Razer continues to set the bar for premium PC laptops.
Photo Editing Performance
When it comes to performance on our Lightroom, Photoshop, and (new) Capture One benchmarks, the Blade 14 excels in some tasks and falls short of our hopes in others. We'll get into "why" in a second, but first, let's just look at the raw numbers.
As always, every benchmark was run with the laptop plugged in and fully charged, with the power settings configured to the most aggressive performance mode. Apps were configured to take full advantage of GPU acceleration where available, and all of the times in the charts below are the average of at least three consecutive runs ("at least three" because, if there's a weird outlier, we throw it out and run the test again right away).
For today's comparison, we tested the Razer Blade 14 against an M1 iMac (times should be nearly identical to an M1 MacBook Pro), an Intel-based 13-inch MacBook Pro, and a 2021 ASUS G14 that boasts similar specs to the Blade 14 with a slightly downgraded CPU and GPU, a lower resolution screen, and lower price of $1,500.
You can see the specs of our test machines below:
In Lightroom Classic, we ran our usual import/export tests. 110 Sony Alpha 7R IV and 150 PhaseOne XF raw files were imported with 1:1 previews, heavily edited using some custom-built presets, and then exported twice: once as 100% JPEGs (sRGB) and once as 16-bit uncompressed TIFFs (AdobeRGB).
As you can see, in Lightroom, the M1 still reigns supreme: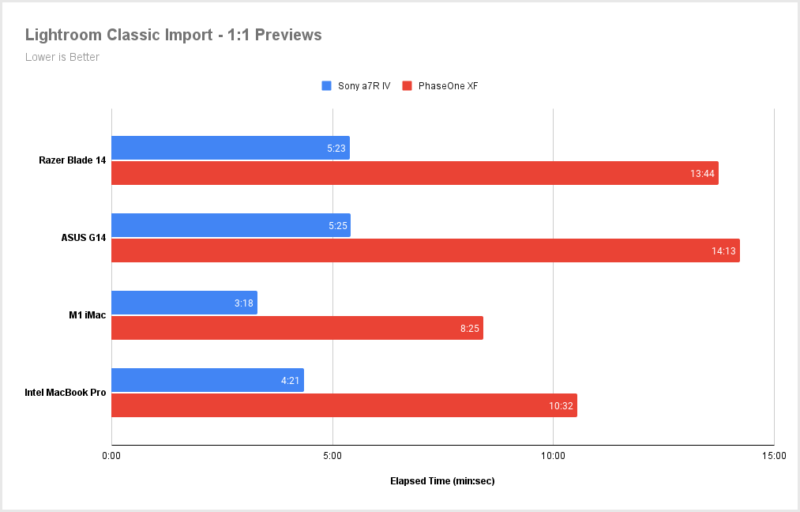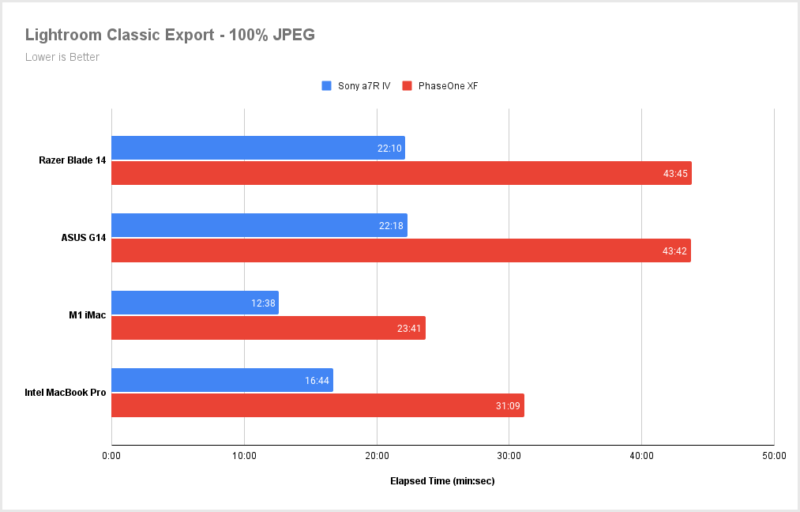 We then ran these same import/export tests in Capture One 21. The only difference is that C1 has no 1:1 preview setting, so previews were rendered at the default resolution of 2560 pixels on each machine.
In theory, this should speed up preview generation and slow down export times compared to Lightroom Classic, but as you can see, Capture One is actually faster at both tasks. Unlike Lightroom, C1 can actually take advantage of the NVIDIA GPU inside the Blade 14 and ASUS G14. That translates into much faster export times, despite applying identical edits in both programs.
Note: The import times for the Intel MacBook Pro are not a typo — for whatever reason, the 13-inch MBP was much faster at importing the 150 PhaseOne XF files than the 110 Sony Alpha 7R IV files.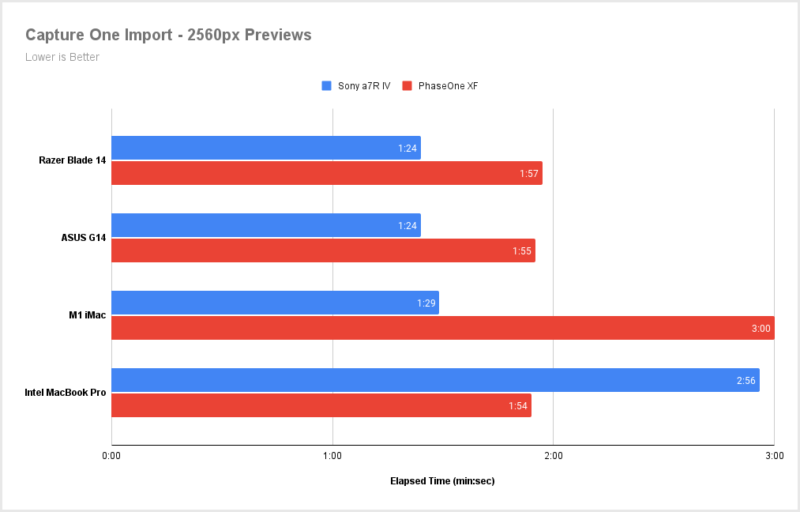 Finally, for Photoshop, we ran the beta version 0.8 of Puget Systems' excellent PugetBench benchmark. We use this version because it was the last variant to include the Photo Merge test, and we've been using it since the beginning of our laptop testing. This allows us to compare scores across a wide range of machines if we so desire.
Keep in mind that the "GPU" score is based on the average speed of five different tasks: Rotate, Smart Sharpen, Field Blur, Tilt-Shift Blur, and Iris Blur. These are tools and filters that benefit most from GPU acceleration, but they still rely heavily on CPU performance, which is why the M1 is able to keep up despite having no discrete GPU.
The Blade 14 does very well in both Photoshop and Capture One 21, consistently clocking the best times in C1. And yet, this same computer loses (badly) to both the M1 iMac and the Intel MacBook Pro across all import and export tasks in Lightroom Classic. The question is "why?" and the answer is pretty straightforward: RAM.
As far as we can tell, import and export times in Lightroom Classic are based on three factors: CPU performance, the amount of RAM, and the speed of that RAM, with the speed of the RAM playing a much more important role than most people realize.
The Intel-based MacBook Pro we use for testing is my personal machine, which has 32GB of very fast 3733MHz LPDDR4X, giving it a leg up over the Blade in terms of both RAM speed and RAM amount. Meanwhile, the M1 Mac computers only feature 16GB of RAM, but it's blazing fast "unified" memory that "dramatically improves performance and power efficiency" according to Apple's own documentation. You can learn more about the technical details of Unified Memory Architecture (UMA) in this great article on How to Geek, but basically, it allows the CPU to access system memory much faster than the RAM you'll find in most computers.
The takeaway for Lightroom Classic users is this: a fast CPU isn't enough. You need fast RAM and, ideally, lots of it.
This is the Blade 14's Achilles heel, because the RAM cannot be upgraded. You are limited to the 16GB of DDR4-3200MHz that Razer soldered to the motherboard, and that's going to be a deal-breaker for performance fiends who are mainly working in programs that either can't or won't take better advantage of the GPU.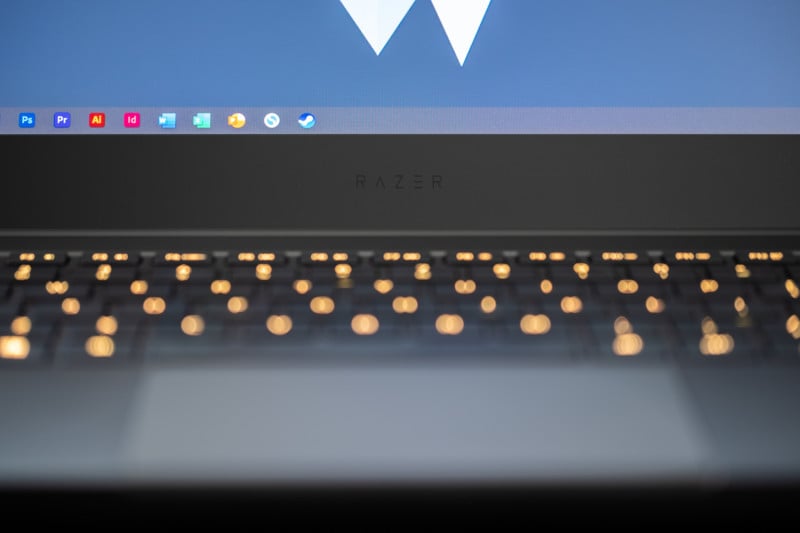 Portable, Powerful, Premium
If you're looking for an ultra-portable PC for photo and video editing, it doesn't get any better than the Razer Blade 14. Not only does the laptop maintain Razer's gold standard for build quality and refined design, but it does it while packing in a more powerful CPU and GPU than any other laptop in its class, alongside a color-accurate, high-refresh-rate display that can transition seamlessly from gaming to creative work.
This is a proper MacBook killer if you're using programs like Capture One that can take advantage of that GPU to speed up your workflow.
The only place where the laptop falls flat is the RAM limitation. Shipping it with 16GB is one thing, but preventing users from upgrading to 32GB –whether it's because of a limitation on the thermal design or a trade-off Razer made in order to achieve such a thin chassis –is going to be a deal-breaker for people working with lots of large RAW files.
Pros
Most powerful CPU and GPU in any laptop this size
165Hz QHD display with solid color accuracy
Premium build quality
Excellent keyboard and trackpad
Great battery life
Upgradable M.2 storage
Cons
Stuck with 16GB of RAM
No 4K option for resolution fiends
Matte-black finish is a fingerprint nightmare
Premium build = premium price
Every time Razer releases a top-tier laptop, PC buyers have to ask themselves a question: is a premium laptop worth the premium price? With Apple, there's no choice. If you want MacOS, you pretty much have to pay whatever Apple is asking. But PC users have a plethora of choices, often with similar or identical specs, at a variety of price options that fluctuate based on the build quality and other design elements that are included or left out.
For me, the answer is almost always yes. If I'm going to be working on a laptop day-in and day-out, I'd rather spend more on a machine that's been designed to delight and built to last. Razer always nails it on those two points, and the Blade 14 is no exception.
The fact that the Blade 14 comes with a slightly faster CPU and slightly faster GPU than competitors like the ASUS G14 is of no consequence to me. We're talking about saving seconds, not minutes, in popular photo and video editing applications. What wins me over is the trifecta of portability, power, and premium design — a category that the Razer Blade 14 has all to itself as far as I'm concerned.
Are There Alternatives?
If you're committed to using Windows the main competition is the 2021 ASUS Zephyrus G14, which has a toned-down Ryzen 9 5900HS (not the HX) and a lower-wattage NVIDIA RTX 3060 GPU with only 6GB of VRAM. However, it can still be configured with a QHD display that claims 100% DCI-P3 coverage, and ASUS lets you upgrade to 32GB of DDR4-3200MHz RAM, which is a huge plus for creative work.
All of this, including the extra RAM, comes in at $2,000 — that's $200 less than the Blade 14 variant we were testing with the RTX 3070.
If you're willing to switch to macOS, there's just no getting around it: Apple's M1 chip is shockingly good at both photo and video editing. Even without a discrete GPU, you can expect better performance from a 13-inch M1 MacBook Pro in many editing tasks, and it'll cost you less: the 8-core CPU/8-core GPU variant with 16GB of unified memory and 1TB of storage is "only" $1,900.
Should You Buy It?
I'd venture to guess that most people reading this review are not considering a Mac, in which case, the answer is yes. At this size and weight, there is simply no other laptop that can compete with the Razer Blade 14 on both performance and build quality.
With more RAM, the ASUS G14 will undoubtedly outperform the Blade in most Lightroom import and export tasks, as well as in Photoshop, but you have to be willing to give up the premium design and build quality that makes the Razer Blade lineup stand out. I, for one, am not willing to make that trade just to save a couple of hundred bucks.
The fact that it earns me a slightly faster CPU and slightly beefier GPU in the bargain… that's just a bonus.