This 48MP 4K Camera Costs $110 and is NOT for Pro Photographers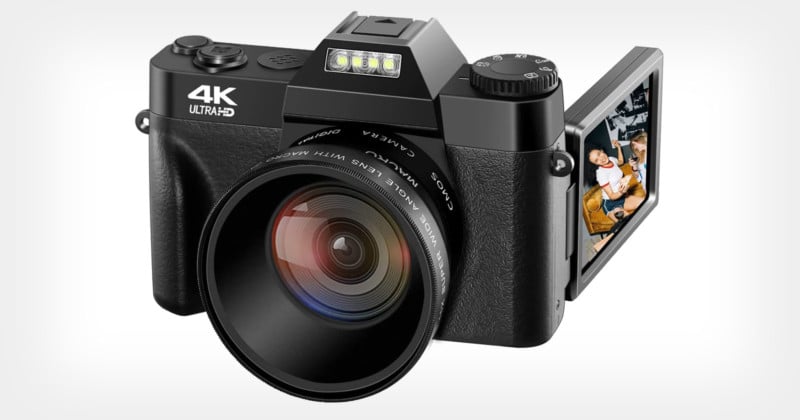 If you're in the market for a new digital camera, make sure you do your research, and it's generally recommended that you go with a reputable brand. There are cameras out there that look absolutely fantastic on paper but are almost certainly not what you're looking for.

Case in point: browse the digital camera category of Amazon and you may come across
this sleek-looking camera by VJIANGER
(
first spotted by Photo Rumors
). It's actually one of the first results
when you search for "4K camera"
and it's definitely one of the cheapest (if not
the
cheapest) options out there.
The camera is also heavily advertised across the Web, including on social media services like Instagram.
The specs and price both look too good to be true: for just around $110, you get a 48-megapixel camera with 4K/30fps video recording.
Here are some of the marketing images that accompany the listings:
Other features and specs include 16x digital zoom, a 3-inch LCD flip screen, a built-in LED light, webcam capabilities, autofocus, continuous shooting, timelapse mode, lithium-ion battery power, and slow-motion recording.
Some of those specs sound like ones you'd find on new mirrorless cameras from big players like Canon, Nikon, and Sony, but look a little closer on the page, and there are warning signs you should pay attention to.
For one, the page literally warns professional photographers against buying the camera, stating: "Not professional camera, professionals are not recommended to buy."
Poke around a little more on Amazon, and you'll find that this exact camera model is being sold under many different brand names, including VETEK, KIDSCAM, and more.
In fact, you can start selling this camera on Amazon yourself if you'd like. All you have to do is purchase it in bulk directly from a supplier through a marketplace like Alibaba, where the camera can easily be found:
The camera will cost you $65 each if you purchase at least 2 of them, or $59 each if you buy at least 2,000 of them.
Wondering how the camera actually performs? The popular YouTube channel Think Media got its hands on one (or a nearly identical one) and refers to it as "the world's worst camera."
As an experiment, film director Nolan Molt shot an ordinary video on the camera and uploaded it to the channel, which has over 1.8 million subscribers. Surprisingly, viewers didn't seem to notice (or mind) the "potato" quality, and the video ended up performing quite well.
"Whatever camera you have, I promise you, it's probably better than this one," Molt says. "There's just no more excuses. You can use your phone, you can use your webcam, you can use whatever you have and start making YouTube videos. What really matters more is the lighting, the audio, the storytelling, the editing, and truly, just the content that you are giving."
So, if you're in the market for a quality camera, you may want to be wary of big specs next to small price tags. On the other hand, if you're looking for a casual camera to play around with and don't mind shelling out $110 for "potato" quality, perhaps this "4K" camera could be for you…