'Morally Toxic' is a New Camera Bag Line from 3 Legged Thing
Morally Toxic is a new camera bag company that is billed as the brainchild of 3 Legged Thing founder Danny Lenihan. The company says that it has spent five years developing the line and innovating "carryology."
Morally Toxic says its name is a mixture of two ideas. "Morally" comes from its desire to achieve the highest standards without compromising proper working conditions during bag production, and "Toxic" refers to the company's choice to break with what it calls the "dull" and "corporate-looking" aesthetic of traditional bags. On that note, Toxic says that the "dystopian" collection is a callback to the origins of 3 Legged Thing and uses what it calls iconic artwork and intense design.
One of those innovations is what the company calls a "frog" pocket, which is a water-resistant wet/dry pocket that gives users a place to stash wet gear away from electronics. Inside, Toxic has added pocket dividers, which are dividers that contain integrated pockets that allow for the storage of clothes, cables, filters, and other small objects. This idea isn't new, as Lowepro had them in bags from several years ago, but the application is still not widespread.
The company is launching two bags as part called the Valkyrie — a backpack — and the Wraith — a messenger. The Valkyrie will be available in 20L and 25L sizes and use YKK standard or Aquaguard zippers on all compartments to keep gear secure and include a "secret" stash pocket to stow money or a passport. The 20L fits up to a 13-inch laptop and the 25L fits up to a 15-inch laptop. The Wraith is available in 15L and 20L sizes and its front flap protect the two organizer pockets, that have counterflow zips to prevent side access or theft and houses a hidden pocket for those valuable items like cash and passports.
The company says that Valkyrie is built for comfort as the rear fascia features a three-point, air-flow back support system, with cushioned lumbar and scapula pads. Toxic says this was designed to allow air to flow freely, keeping users' backs cool. The shoulder straps have been contoured to fit all body shapes and sizes, and feature thick, comfortable padding with air mesh. They feature both horizontal and vertical webbing, for the attachment of accessories. An adjustable chest strap adds security, and detachable padded waist straps are included for comfort and security on more challenging terrains.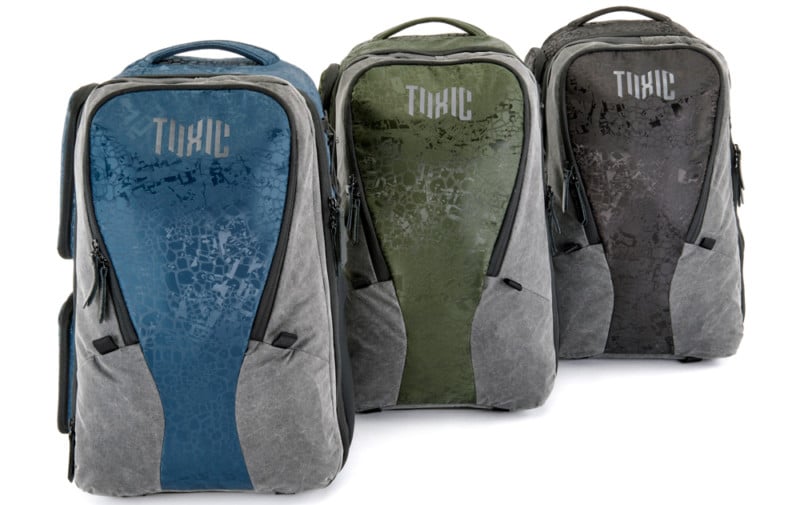 The bag can hold additional gear on the outside with built-in tripod carry straps and a loop that holds the legs together while the user is walking. All straps stow when not needed, and a side pocket can carry drinks or similarly sized objects.
The Wraith has a laptop pocket, a rear panel that houses a luggage strap for connecting to suitcases or rollers, and the side features a mesh pocket for a water bottle or flask. The shoulder strap is made of woven nylon webbing and is finished with a detachable shoulder pad, with air mesh and silicone grips. It has a choice of side or rear attachment points to enable use as a messenger or sling-style bag. All D-rings and hardware are Duralock nylon and designed to withstand everyday professional use.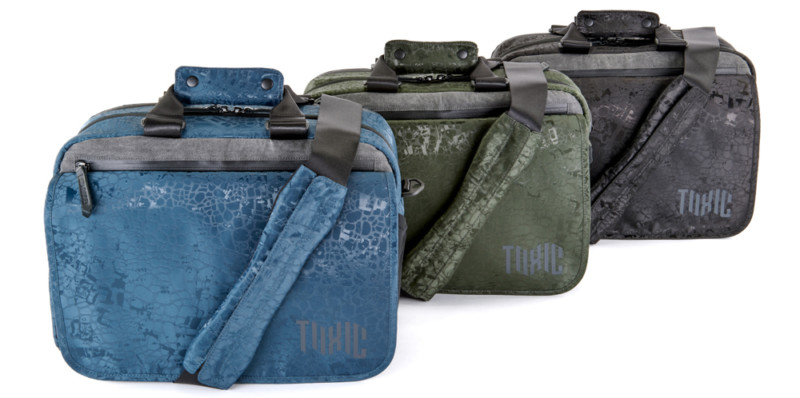 Toxic says that both feature a variety of innovations along with smart organization, premium comfort, and high-quality fabrics to create a product that is the "ultimate" in functionality and ease of use. Both bags use what the company calls its own unique jacquard (a type of textured fabric), which combines a vintage map of Toxic's home village, Stagsden, with a reptilian print. The company says that due to the woven pattern and the way the fabric is cut to tesselate, each bag will be unique.
The Wraith will retail for $210 and $220 for the medium and large sizes respectively, while the Valkyrie will cost $300 and $310 for its two size options. The bags are currently available for pre-order and will be available starting November 1.