3 Legged Thing Launches New Set of its 'Punks' Range of Tripods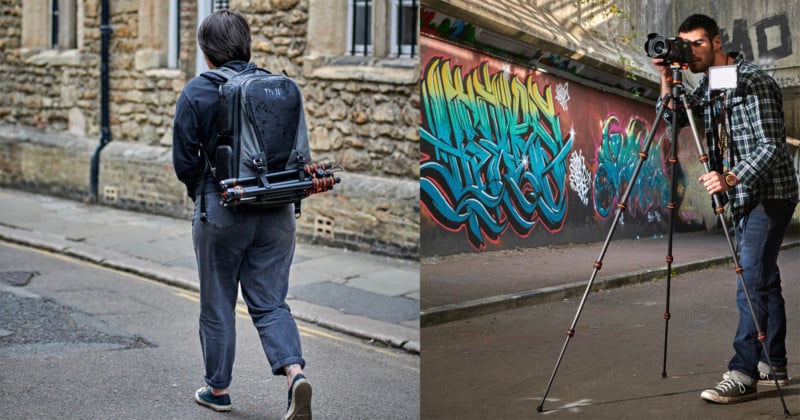 3 Legged Thing has recently announced a refreshed line of its Punks range of tripods. The Corey, Travis, Billy, and Brian models have all been upgraded to version 2.0 with a new look and the promise of improved stability.
The new line, called Punks 2.0, includes four variations on a similar tripod design that all feature detachable legs for easy conversion to monopods or booms. The company also offers the addition of its Vanz feet to make them easily transform into tabletop tripods.
Each Punks 2.0 tripod has a "refreshed" look with what the company describes as "chunkier" leg locks that lower the overall center of gravity and supposedly contribute to greater stability. The leg locks have a new external design that combines rubber pads and knurling and offers users improved grip and leverage which ensures the legs can be tightened even in wet conditions or slippery conditions.
Internally, Punks 2.0 tripods now have the same anti-rotation "Chicken Lips" (otherwise known as shims) found in 3 Legged Thing's Pro Range 2.0 and Legends tripods. The company says that these give the legs greater rigidity when extended.
The company's patented tri-mount plate on top of the center column has supposedly been refined with a new design that 3 Legged Thing says is ideal for attaching accessories or for assisting with cable management. Additionally, the tripod canopies all now include an integrated 1/4-20 thread, ideal for attaching an accessory arm in order to mount a light or monitor to the tripod. These changes apply across all four tripods. The set also has a screw-in D-ring in the base of the center column that can be used to hang a weight or bag to provide extra stability when needed.
The Corey is an ultra-compact travel tripod. The Brian is more suited to photographers who want the same stability but in a larger size without an equal amount of weight added, as it is made from carbon fiber. The Travis is the company's "general use" tripod that is suitable for a variety of different photography genres and the Billy offers the same structure as Travis, but is thanks to the use of carbon fiber. The Corey and Travis models have legs and a column that are formed from magnesium alloy.
All three tripods ship with a protective bag. The Corey and Travis are available for $240 while the Billy and Brian are available for $340 and $350 respectively. All options can be viewed on 3 Legged Thing's website.