A Review of the Fujifilm XF 80mm f/2.8 R LM OIS WR Macro Lens
One of my favorite ways to create more interesting photos is to get closer to the subject and fill the frame, eliminating or reducing background distractions. Often, I am unable to get as close as I would like to the subject due to the minimum focusing distance limit of the lens. This is where macro lenses, such as the Fujinon XF 80mm f/2.8 R LM OIS WR with their ability to focus when close to the subject, enter the picture (pardon the pun.)
Full disclosure: Fujifilm USA loaned me the XF 80mm f/2.8 R LM OIS WR lens, with no expectations of producing a review or opportunity to review this content before publication.
Physical Characteristics
The Fujinon XF 80mm f/2.8 R LM OIS WR ($1199USD) is a relatively large and heavy lens due to its high-quality construction. It is both larger (130mm long versus 106mm) and heavier (750 grams versus 655 grams) than the Fujinon XF 16-55mm f/2.8 R LM WR zoom lens. The focus ring is very smooth and allows for precise focus adjustments when needed. The aperture ring is fairly loose and easy to bump to a different setting through normal handling and placement in and out of a camera bag.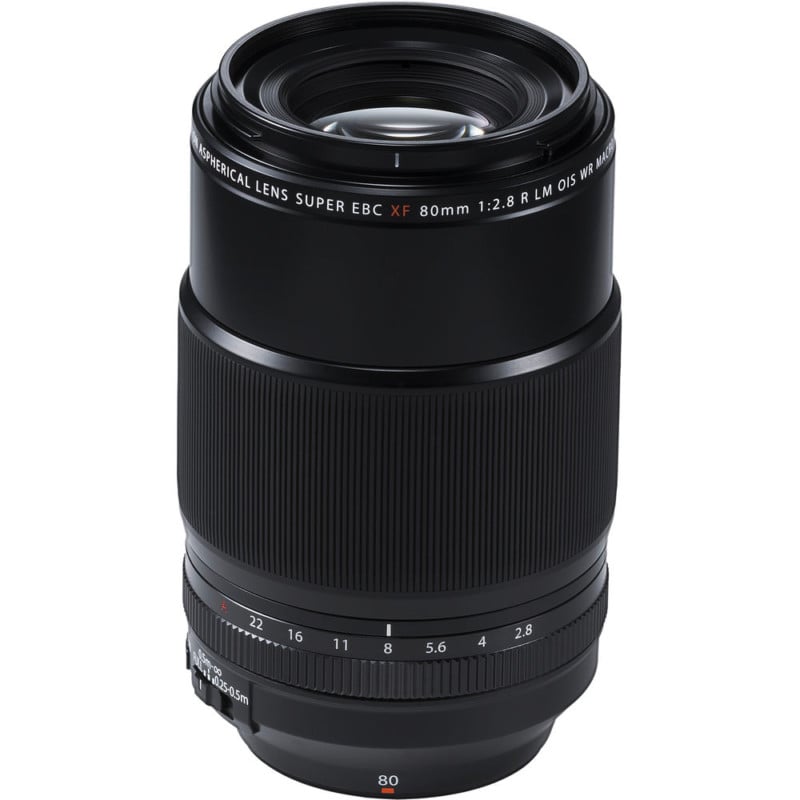 The XF 80mm f/2.8 R LM OIS WR has a minimum focusing distance (the closest distance from subject to sensor a lens can focus) of 9.84-inches (25 cm). Combined with a lens length of a little over five inches (13 cm), this means that this lens can be placed extremely close to the subject and still achieve focus while creating 1:1 image magnification.
The XF 80mm f/2.8 R LM OIS WR has two switches on the lens barrel: one is to turn optical image stabilization off or on. The other is to limit focusing distance to "Full," "0. 5 meters to infinity" and from "0.25 to 0.5 meters."
Performance
The autofocus on the XF 80mm f/2.8 R LM OIS WR is extremely quick, accurate, and very quiet. Even when the focus limiter is set to "Full," the lens is able to achieve close focus relatively quickly. The optical image stabilization works as expected to provide a little extra sharpness at normal subject distances and shutter speeds as slow as 1/30 second, in my experience.
Image Quality
As with my experience with other Fujinon lenses, the XF 80mm f/2.8 R LM OIS WR has wonderful image quality. This lens also functions extremely well as a short telephoto lens with its full-frame focal length equivalent of 120mm field of view. I experienced minimal fringing or vignetting in my use. While the XF 80mm f/2.8 R LM OIS WR does have some softness in the corners at f/2.8, it's the kind of softness that is only noticed on test images of brick walls and graph paper. I found the focus fall off to be quite pleasing in appearance and can add a dramatic element to images. If you're a fan of sun stars, the XF 80mm f/2.8 R LM OIS WR produces sun stars with lots of personalities — they appear to be split at the source, and then join at the tip, along with a bit of flaring. See sample photo below.
The bokeh appearance is… interesting. In most situations, the out-of-focus areas have a pleasing soft appearance, with smooth edges and no edge colors. However, the bokeh performance changes when the focus is on a close subject, and the background elements are relatively far away. In this situation, the out-of-focus elements will appear more oval-shaped at f/2.8, especially when these elements are closer to the frame edge. As the aperture is stopped down, all the out-of-focus elements in this situation begin to become more round. See sample below:
Conclusion and Recommendation
As the self-appointed president of the zoom lens fan club, it always takes me a few photos to get used to having a prime lens on my camera. I tend to also like the longer focal lengths, so the XF 80mm f/2.8 R LM OIS WR fits nicely in my style with its telephoto characteristics. Since I'm used to the larger size and weight of zoom lenses, the size and weight of the XF 80mm f/2.8 R LM OIS WR were similar to what I'm used to. But, if you're used to smaller prime lenses, this lens will feel very different.
I really like that this lens allows me to get extremely close to photo subjects to create the minimalist type of photos I prefer. I found it quite a pleasant surprise that I was able to get as close as I wanted to the subjects, and most of the time still had room to get even closer.
The XF 80mm f/2.8 R LM OIS WR would be a great lens for a primarily prime lens photographer to round out their longer focal lengths while adding a macro lens at the same time. Additionally, for zoom lens photographers, this lens fills an interesting role of fast telephoto prime, with the added capability of a macro lens.
Fujinon lenses are known for their image quality, and the XF 80mm f/2.8 R LM OIS WR lives up to those image quality expectations. Fujinon lenses are also known for their inconsistent aperture ring tightness. Some are too tight, some are just right and some are too loose. To me, the aperture ring on the XF 80mm f/2.8 R LM OIS WR is way too loose. I think it's the loosest of all the Fujinon lenses I've experienced.
Aside from the loose aperture ring, there is very little for me not to like about the Fujinon XF 80mm f/2.8 R LM OIS WR. The excellence of its image quality, the performance of its autofocus, and its ability to get just about as close as you want to your subject make this an easy lens to recommend.
I've uploaded XF 80mm f/2.8 R LM OIS WR sample images into a Flickr gallery.
---
About the author: Michael Sladek teaches digital photography at Highline College near Seattle, Washington. He enjoys dad jokes, doughnuts, and helping others discover the fun of creating photos they love. Stay connected with Michael on his website, YouTube channel, and Instagram.