New MFT Global Shutter Sensor Can Shoot 4K at 2,000 FPS
Gpixel has developed a new global shutter 4/3-inch 10-megapixel sensor that it claims will be capable of shooting 4K video at up to 2,000 frames per second.
As spotted by Image Sensors World, the 10-megapixel (4608 x 2176) 4/3-inch sensor GSPRINT 4510 is part of the company's high-speed series. The dimensions aren't a perfect fit for what most photographers are used to seeing, as it is a bit wider and shorter than consumer camera Micro Four-Thirds sensors: those are 18mm x 13.5mm while Gpixel's new sensor is 20.74mm x 9.9mm. Still, it's enough for specifically widescreen video applications and is still larger than the required 2840 x 2160 pixels that are required for Ultra High Definition (UHD) productions.
This new sensor is designed with what Gpixel describes as a 4.5 µm charge domain global shutter pixel that offers four times the framerate of its previous global shutter sensors.
It achieves more than 30 ke- charge capacity and less than 3 e- rms read noise. Using an advanced 65 nm CIS process with light pipe technology, the sensor achieves >65% QE and more than 1/40,000 shutter efficiency. With on-chip charge binning, full well capacity can be further increased and frame rate is almost quadrupled.
The company is releasing the sensor in two variants for different use cases. One will be dedicated to 3D laser profiling, while the other is arguably more interesting to creative professionals and is designed to work for 4K video applications. In this second variant, it will be available in both monochrome and color options and can achieve 500 frames per second in 12-bit, 1,008 frames per second in 10-bit, and 1,928 frames per second in 8-bit, all at full resolution.
On-chip 2×2 charge binning can boost frame rates more than x3 with a full well charge increase to 120 ke-. Flexible output channel multiplex modes make it possible to reduce frame and data rate to make it compatible with all available camera interface options. This version of the sensor incorporates micro lenses on top of the pixels and a sealed glass lid making GSPRINT4510 the ultimate choice for many applications such as 4/3"(Micro Four Thirds) format global shutter cameras in slow motion capture or drone-mounted videography.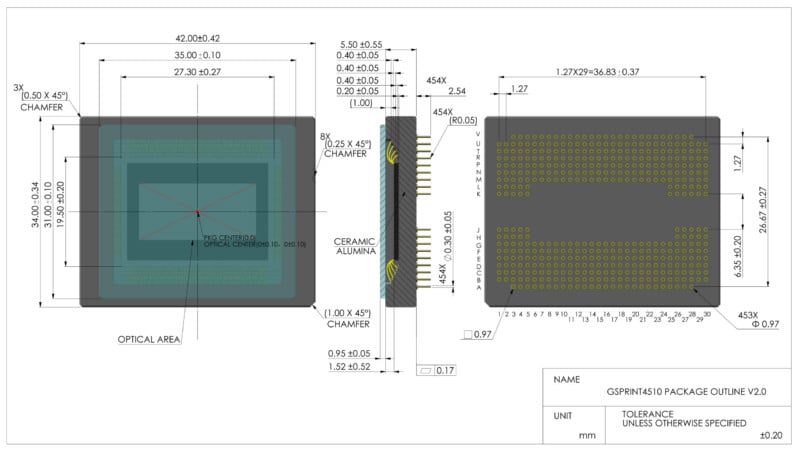 Gpixel is a Chinese-based company that was founded in 2012 and markets itself as having an experienced team of CMOS image designers and semiconductor physicists. It isn't clear who Gpixel's current customers are, but the development of highly performant sensors by smaller companies is only beneficial in an industry that is dominated by Sony and Samsung. Creators looking to harness the benefits of high framerate and a global shutter can cross their fingers that this kind of video capture tech will find its way into consumer cameras sooner rather than later.