A Photography Guide to the East India Coast: Bengal and Odisha
It was a sunny afternoon some twenty-odd years ago when I, as a toddler, first stepped foot on a sea-beach and heard what I thought was probably some kind of a prehistoric beast, hungry and roaring in the distance. Turns out, it was just the ocean.

This incredible sight of water as far as the eye can see, with waves breaking all around was something which made a lasting impression on my childhood fantasy, and many years hence, this is what contributed to my decision to work in Bhubaneswar, a coastal town in Odisha, India.
Throughout my stay in Bhubaneswar, I happened to spend a lot of time photographing the coast, starting from all the way back at West Bengal's Ganges delta and going up to the Odisha border.
Consolidating all my experiences, this article will be more of a tour guide rather than a manual of photography technicalities.
Bakkhali
Our trip down the Eastern Coastline begins at Kolkata in West Bengal.
A hundred and thirty kilometers drive from Kolkata across the countryside will get you to a very busy fishing town called Namkhana. There happens to be a recently constructed flyover that will take you over the wide channel of water below, and within an hour from here, you will reach the wide-open seashores of Bakkhali. The tiny village is located on the Southernmost point of a huge island which is adjacent to the famous world-heritage-site mangrove forests of Sunderban.
At first glance, you may be inclined to assume that there is no sea here, given the fact that at low tides, you can barely see the sea, which recedes a good three or four kilometers, thus leaving behind an endless desert of black sand. But at high tide, like an enraged ex who has scores to settle, the sea comes back with vengeful ferocity! With wide-open beaches, clear skies, and zero light pollution for astrophotography, you won't be short of things to shoot here.
The adjacent Kargil beach has even more opportunities to make images, as I found out only a few weeks back when I was there, and got caught in the middle of a thunderstorm. Exhibiting questionable behavior, as I'm sure the photographers among you would do as well, instead of running for cover, I was looking for compositions and came up with one of my favorite images.
Tajpur
Moving down the Eastern coastline, our second destination lies a hundred and seventy kilometers from Kolkata. A few kilometers away from the huge and bustling holiday destination of Digha, Tajpur is like the younger brother who is overshadowed by his sibling's good looks, but quietly passes all examinations with distinction. Shielded all over by a forest of casuarina, the tranquil beach is the perfect holiday destination for those among us who are fed up with the dreary Mondays and wants out.
With excellent Bengali cuisine and freshly caught fish, the food here is a real ecstasy. For the photographer, the casuarina forests offer deadwood all around to use as a foreground for great seascapes. Even with no good light, like in the dead of winter when it's cold and windy, minimalistic images can be found all over the place.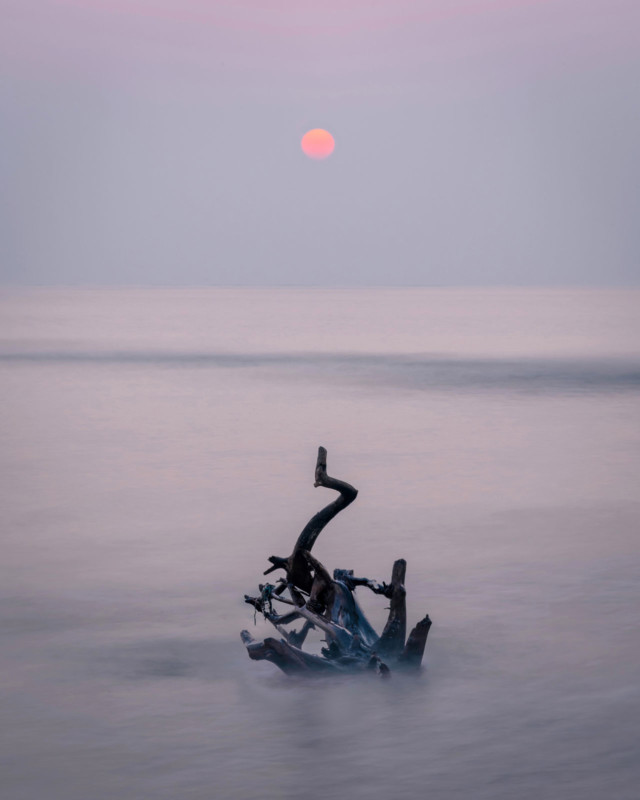 Chandipur
Crossing the West Bengal border and into Odisha, the first destination you will be arriving at is called Balasore. Being a huge and bustling town, you will find no shortage of transportation. A half-hour auto-rickshaw ride will get you to Chandipur, one of my most favorite destinations.
Hotels are few and far in between, which is why you won't find hordes of tourists flocking here like in some of the places in Bengal. Spend your afternoons with one foot over the other while the salty sea air gently caresses your face. At sunset, however, it's showtime! A boring sunrise or sunset here is as uncommon as Elvis in a rap battle. Color fly left right and center, with pinks and magentas all over. It really is not extraordinary to see double rainbows arching over the crystal clear sea at sunrise: this really is paradise. When the sun creeps down the horizon, clear skies can provide great opportunities for astrophotography as well.
Puri
Crossing over a huge distance of similar beaches, two hundred and seventy kilometers away from Chandipur lies the holy town of Puri. The town houses one of the most ancient temples in India. Constructed in 1161 CE, this temple houses incredible architecture and history. A short distance away from here, lies a beach which a very heavily frequented by tourists. With shops and markets all around, you will struggle to find an inch of space to walk. However, a long walk along the beach will take you to the confluence of the Dhaulia river and the ocean, where you won't really find a soul in sight.
The ocean here can be very moody, mostly always roaring like an angry bear. For the photographer, Puri is more of a place to practice street photography, rather than landscapes. Early mornings in Puri beach are a great place to be in, as the fishermen return with their catch and try to dock their boats without flipping over. Rough seas also mean that a long lens can get you great wave abstractions, given the light is good.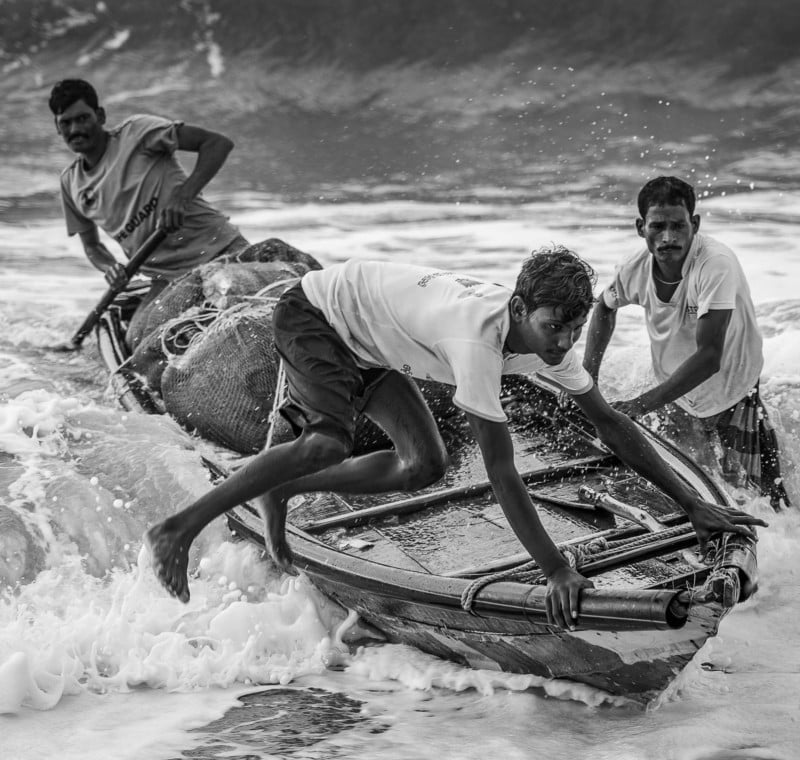 Rambha
A short distance from Puri lies a tiny hamlet of a place that can easily compete with some of the best places in the country, but only the locals are aware of it. Rambha is a tiny railway station close to Berhampur. Most trains coming from Bhubaneswar towards Vizag take a five-minute break at this forlorn station, from where you need to take an auto-rickshaw to reach your destination.
The Chilika lake, which starts just after Puri, is Asia's largest brackish water lake and also a UNESCO World Heritage Site. The huge and sprawling lake, on entering Rambha, is transformed into something out of a photographer's dream. Hills surround the entire region of Rambha with the lake centered in the landscape.
For the wildlife photographer, the marshland has plenty of migratory birds flying in during the winter as well. If you are feeling adventurous, you can take a long and meandering boat ride in the lake, and go even closer to the surrounding hills. With some luck, you might also find a group of Gangetic Dolphins racing alongside your boat.
Gopalpur
Our long journey across the Eastern coastline of India ends at Gopalpur, the southernmost beach of Odisha. About forty kilometers from Rambha, Gopalpur is unlike any other beach that we have come across in our journey. First impressions might make this place feel very ordinary, but look closely, and you will find huge rocks jutting out of the water, making the water swirl and twist all in a single, beautiful motion.
There is a cliffside adjacent to the sea, where a large and dilapidated fort stands guard, looking out at sea like a silent observer. The sea here can be very violent, as the rocks provide a lot of resistance to the breaking waves. If you are in luck, the light here can be absolutely gorgeous, as I found out so many times in all my visits to this beautiful location.
Apart from the locations I have mentioned here, there are plenty more along the Bengal-Odisha coastline which has possibilities for spectacular imagery, but most of these places are crowded throughout the year and lack breathing space, which as a photographer I really value. Heavy commercialization and easy access have made most of these locations lose their natural charm, and plenty more of the same 'development ' is ongoing.
Here's to hoping that the tiny, off-the-beaten-track locations along the Eastern coast that I have had the fortune to visit and photograph remain as they are now: untouched, unadulterated.
Wild.
---
About the author: Ranit Dholey is a landscape and street photographer based in Kolkata, West Bengal, India. The opinions expressed in this article are solely those of the author. You can find more of Dholey's work on his website, Facebook, and Instagram. This article was also published here.
---
Image credits: Header illustration of India by Nichalp and licensed under CC BY-SA 3.0