Photo of Baby Elephant on Fire Wins Wildlife Photo Contest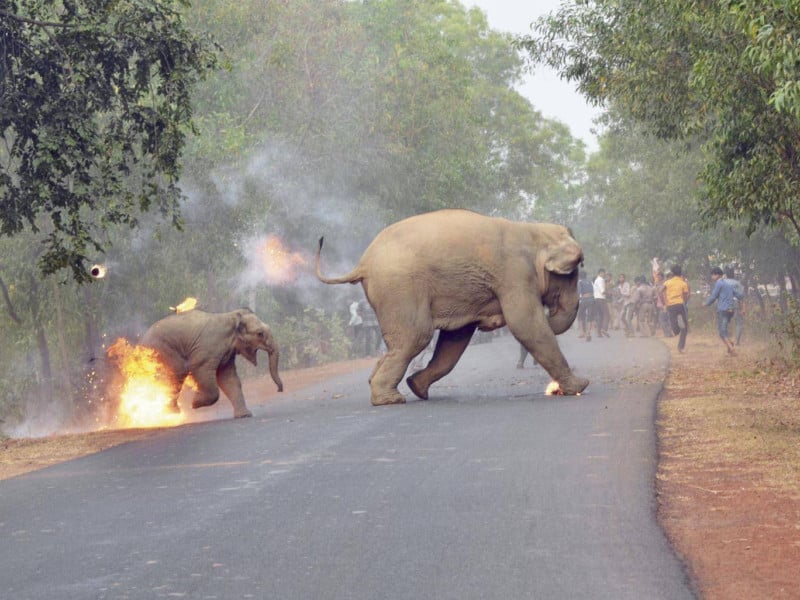 A striking photo of a baby elephant on fire as it flees a mob of humans with its mother has won an international wildlife photo contest.

The photo, titled "Hell is Here" and captured by photographer Biplab Hazra, was awarded the top prize in the Sanctuary Wildlife Photography Awards 2017.
Hazra captured the photo in West Bengal in eastern India after people hurled flaming tar balls and firecrackers at the elephants in order to keep them away from civilization. The area is known for encounters between elephants and humans that often lead to fatalities.
Here's Sanctuary Asia magazine's note that accompanies the winning image:
The heat from the fire scorches their delicate skin as mother and child attempt to flee the mob. In the lead, the cow's expansive ears are angled forward as she stoicly ignores the crowd of jeering men. Behind her, her calf screams in confusion and fear as the fire licks at her feet. Flaming tar balls and crackers fly through the air to a soundtrack of human laughter and shouts. In the Bankura district of West Bengal this sort of humiliation of pachyderms is routine, as it is in the other elephant-range states of Assam, Odisha, Chhattisgarh, Tamil Nadu and more. India is the world's stronghold for the Asian elephant and boasts over 70 per cent of the global population of the species. But this achievement rings hollow as vital elephant habitats and routes continue to be ravaged, and human-elephant conflict escalates to a fatal degree. The ignorance and bloodlust of mobs that attack herds for fun, is compounded by the plight of those that actually suffer damage to land, life and property by wandering elephants and the utter indifference of the central and state government to recognise the crisis that is at hand. For these smart, gentle, social animals who have roamed the sub-continent for centuries, hell is now and here.
You can find the other 26 winning photos in this year's contest on the competition's website.
---
Image credits: Photographs by Biplab Hazra/Sanctuary Wildlife Photography Awards 2017