Panasonic Appears to Edit a White Man's Head onto Black Man's Body
Panasonic's marketing department produced a set of images for a new product made entirely from stock images, and as part of that edited a photo of a White man's head onto a separate image of a Black man's body.
As reported by The Verge, Panasonic produced a set of advertising images for the launch of its new SoundSlayer wearable gaming speaker. Rather than commission a photographer to take photos for the campaign, however, the marketing team — or the agency hired by it — instead combined digital assets and stock images together to make its final compositions.
Using stock photos for product launches isn't new, but what was done for Panasonic here is particularly heavy-handed, considering that the one responsible for making the images not only added a digital render of its new product to the bodies of stock photo models but also added a White man's head onto what was originally a Black model's body.
One of the images that the Panasonic team used happens to be the very first result in Shutterstock under the search term "nerdy gamer," where Panasonic's marketing team just added the new product into the composition around the model's neck. While some might see this as a lazy and cheap alternative to an actual custom photoshoot, it's not a particularly egregious use of stock imagery.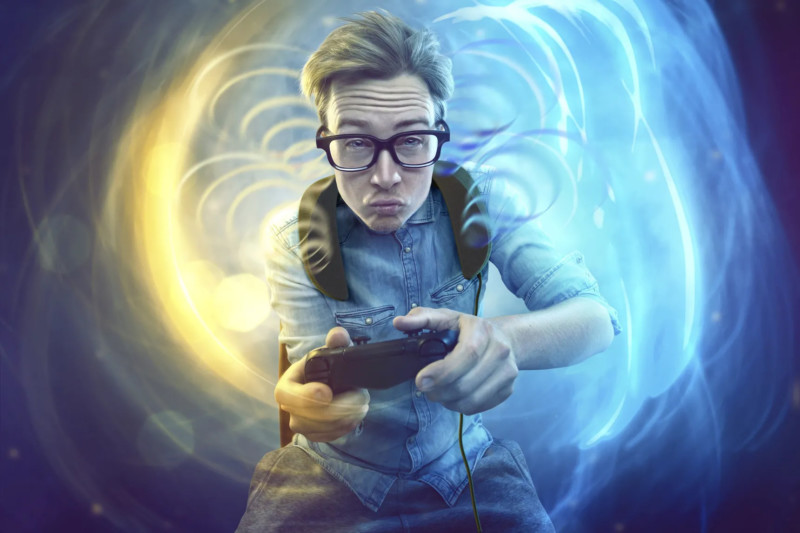 The second photo, however, is a much stronger post-production edit, where a photo of a Black model has been heavily altered.
Here's a quick juxtaposition to make it even clearer: this Black man's head was digitally replaced. pic.twitter.com/X8Ac1IlDu6

— Sean Hollister (@StarFire2258) August 26, 2021
The Verge looked at the EXIF data in Panasonic's picture, and found that it read "Young African American man eating pizza, drinking beer and playing video games." It's the same title as the Getty Image noted in the tweet above, and the EXIF also mentions Getty Images and the photographer.
Embed from Getty Images
The Verge brought the situation to Panasonic's attention and in response, the company removed every promotional image that featured the manufactured human being from its image distribution folder for the new product. A representative told The Verge that it was looking into the matter.
While there is nothing illegal or a breach of stock photo rules with heavily changing an image like this for advertising, it's not a great look and it does underscore the issues with creating marketing imagery from stock photos rather than hiring a photographer to create original images. It is highly likely that Panasonic as a company had nothing to do with the creation of the images, which was likely outsourced to an advertising agency. The agency likely decided to use Panasonic's budget to create these images from stock rather than hire a photographer — which was no doubt cheaper — and took serious liberties with stock images to create final products that did not necessarily look like stock photos. What is strange about this theory is that one of the two images is pretty much unchanged from the stock original while the other has dramatic edits made to it.
The Verge points out that this is not the first time that a company has been caught replacing a Black man's head with a White one in a promotional image, as Microsoft also did this on its Polish website in 2009.