Samsung's First Under Display Camera Appears to be a Mixed Bag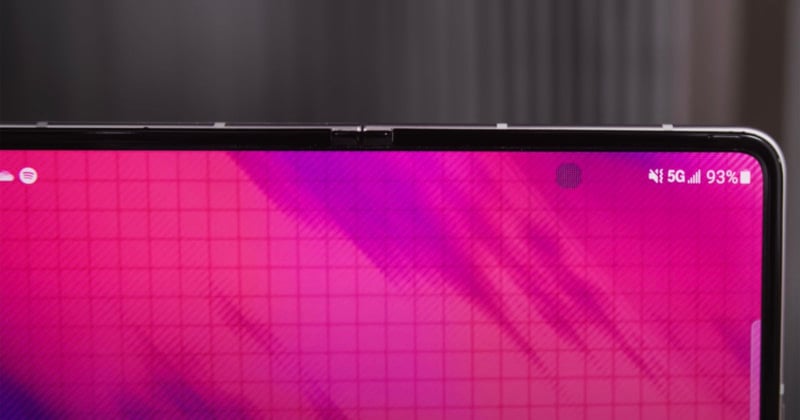 As part of its Unpacked event yesterday, Samsung announced two new folding smartphones. While there was a lot to "unpack" about each, one feature in the company's new flagship Galaxy Z Fold 3 doesn't appear to have flagship performance: its under-display camera.
Under-display cameras, or camera under-display (CUP) as they are sometimes called, are seen as the natural evolution of front-facing cameras in smartphones, as they eliminate the need for a notch or "hole punch" that breaks up a seamless display. The idea of hiding the camera under the display isn't new, but multiple companies have shown different design approaches to trying to solve a consistent problem with under-display cameras: the fact that there is a display in between the image sensor and the object that it is trying to image.
The first consumer smartphone to feature an under-display camera was the ZTE Axon 20 5G. As shown below by Marques Brownlee in January, while the camera is indeed mostly hidden under the display, it is still visible if you are looking for it and the image quality suffers mightily because of its position under the display.
Photos and videos taken with the ZTE's under-display camera are not only notably soft, but the pixels of the display are clearly visible in shots. So while the device was first to market, it was obviously first-generation.
Both Oppo and Xiaomi have recently announced under-display cameras that look worlds better than what the ZTE offers. While Oppo's is still a prototype, Xiaomi's a full-fledged finished product. There is clearly a new bar, which is what makes Samsung's integration of its first under-display camera a bit of a letdown.
In early testing from Linus Tech Tips, results from the Samsung Galaxy Z Fold 3 look very much like what was expected out of the ZTE smartphone, especially in backlit conditions.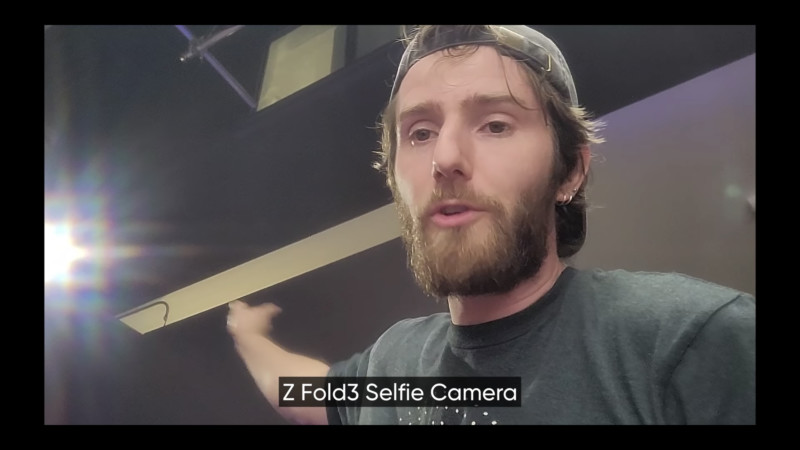 However, Samsung seems to have implemented some serious software-based corrections into its device that makes it much more usable when lighting conditions are more favorable. In side-by-side comparisons, Linus found that the Z Fold 3 was heavily sharpening footage in real-time, which was visible when he moved slightly in frame. This does help fix the issue of softness with the under-display camera, and as long as no light is directly visible in the frame, appears to make it much more usable than what the ZTE offers.
Below are two similar shots using a front-facing camera. One uses the Z Fold2's hole-punch camera while the other uses the new Z Fold3 under-display camera. The difference appears minimal in this ideal use case.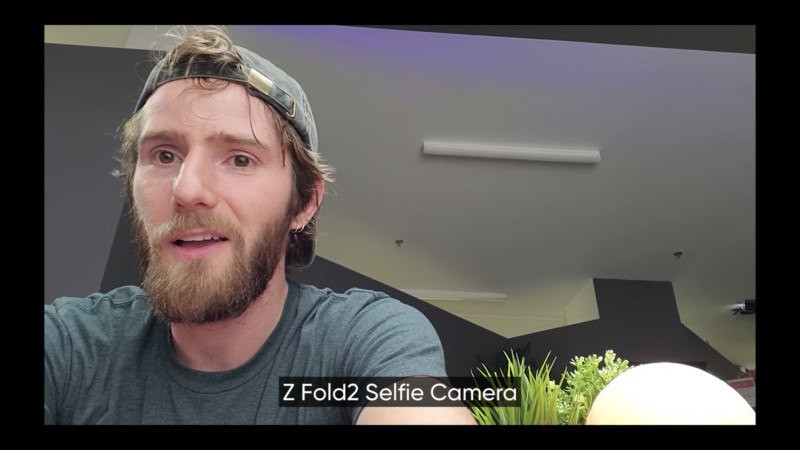 Sammobile reports that in its opinion, Samsung did a valiant effort here, but it is undoubtedly a first generation result.
"At the end of the day, it's the first generation Under-Display Camera from Samsung, and so far, it looks like a very promising and viable, albeit imperfect, technology," the publication writes.
As I said before, we need to face reality. In terms of the display of the under-screen camera, Fold3 is indeed the worst. But I believe the effect of taking pictures will be better. pic.twitter.com/UqTfRY3KST

— Ice universe (@UniverseIce) August 11, 2021
The Verge also notes that it is quite obvious that there is a camera hidden in that spot, but it happens to be more noticeable in photos than in real life. Still, it's an imperfect solution. While certainly better than what came out just a few months ago, it's still not quite the replacement for the notch or hole punch many are after.
---
Image credits: Header image is a screenshot from Marques Brownlee's Samsung Galaxy Z Fold 3 Impressions.