Tamron Developing its First Fujifilm X-Mount Lens: the 18-300mm f/3.5-6.3
Tamron has announced that it is developing its first Fujifilm X-mount lens: the all-in-one 18-300mm f/3.5-6.3 Di III-A VC VXD. The lens will also be available in Sony E-mount.
Tamron's language says that this is the first Fujifilm X-mount lens, which seems to indicate that the company plans to make additional ones in the coming years.
The forthcoming 18-300mm f/3.5-6.3 Di III-A VC VXD will cover a range of approximately 27mm to 450mm in a 35mm full-frame equivalent. Tamron says that it will be the first APS-C mirrorless zoom lens that will achieve the 16.6x zoom ratio. Designed to be versatile and capable of handling a range of environments, its autofocus drive system will use Tamron's linear focus mechanism the VXD (Voice-coil eXtreme-torque Drive) which the company says will provide "superior quietness and agile performance." The company has gone so far as to claim that its autofocus will be at the "highest level in its class."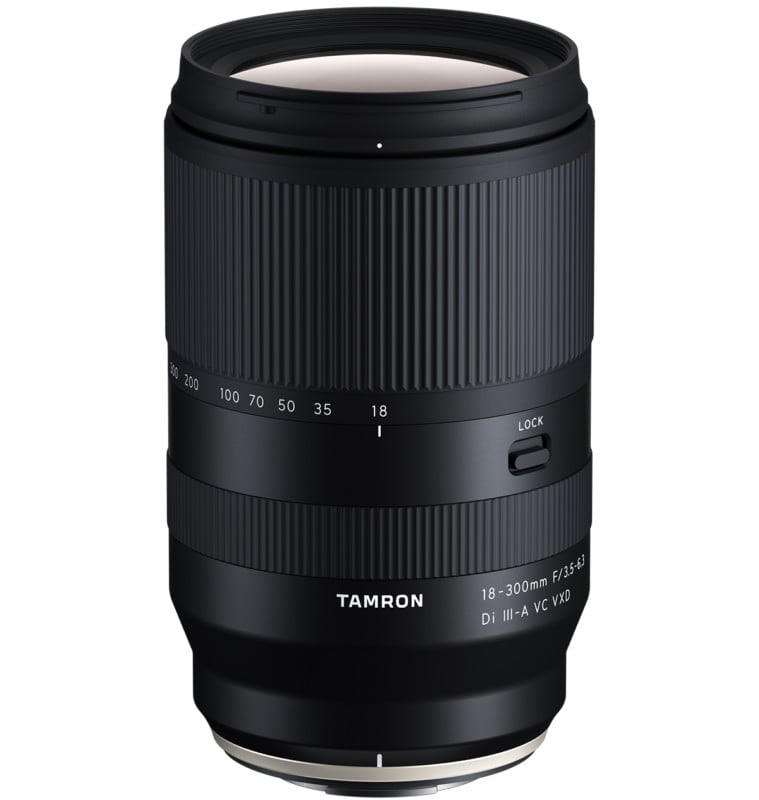 Tamron also says that it will include special lens elements — exactly which elements and how many of each was not disclosed — that it claims will maintain high resolution from edge to edge as well as provide overall high image quality, "among the best of all all-in-one zoom lenses."
The lens will have a minimum focus distance of 5.9 inches at the wide end and a maximum magnification ratio of 1:2, which Tamron says allows it to perform "astonishingly well" in its category when shooting subjects up close. As expected, the lens will also be equipped with Tamron's Vibration Compensation (VC) mechanism that will allow it to stabilize photography even at its longest end. Tamron did not specify if it will work in tandem with Fujifilm cameras that also have in-body image stabilization (IBIS). The front filter size will be 67mm, which Tamron says is the same as most of its other mirrorless lenses.
While Tamron provided no other concrete details, it did say that it would be "comfortably compact" and be moisture-resistant, have a zoom lock switch, and include a fluorine coating on the front element.
Tamron did not provide any information on how much the lens is expected to retail for but it did say that the 18-300mm f/3.5-6.3 Di III-A VC VXD lens would come to marke in the fall of 2021.