PhotoWorks 10.0: A Photo Editor That Doesn't Suck (Your Wits and Wallet Dry)
AMS Software have lately released the 10th version of PhotoWorks, their popular photo editor for PC that has gained quite a recognition in recent years.

Back in 2018,
PetaPixel
spotlighted this software in a lengthy article featuring its powerful
portrait retouching
tools. So why not revisit it now to see what difference 3 years has brought. Today we'll be looking at PhotoWorks 10.0 and its new and most impressive features.
Smart Photo Editor for PC: Look Inside
Luckily, PhotoWorks' interface saw no changes. This photo editor for PC still sports a dark minimalistic look that is easy to navigate. All the tools lie hidden under tabs and neither confuse nor distract users. Despite progressing in effectiveness, PhotoWorks is still quite undemanding when it comes to your hardware. Besides, it still possesses an uncanny swiftness when it comes to photo manipulations. And its price – starting at a modest $19.25 remains one of the lowest for such value.
Batch Processing Feature: Much Welcome Addition
The most important addition to the software's tools roster is a batch processing feature. Now, you can use this photo editor for computer to enhance dozens of images at once. And by enhance, we mean you can fix saturation and contrast, HSL balance, and dynamic range, as well as increase sharpness, fine-tune colors with Curves, and stylize your pics with scores of filters. While it's a pretty standard toolkit when it comes to batch processing, what sets PhotoWorks apart is that you can preview all the edits you make live. No need to first save the images to later cry over botched manipulations. Moreover, if you prefer to give your images a quick fix rather than edit them manually, you can use the Auto Correction feature to perfect all your images at once. This photo editing software for PC is smart enough to analyze every image in your batch to come up with individual solutions for each particular pic.
Content-Aware Auto Correction: Perfect Pic in a Click
A few more words about PhotoWorks' Auto Correction function. This is not just a lazy people button that can kinda improve your image. In fact, at its core, this function has a content-aware neural network that is not only capable of recognizing your photo's content but can also recognize its genre. All of this data combined allows for some in-depth enhancement of every aspect of the picture that requires it.
Portrait Photo Editor: More Tools for Beautification
Although we have already tackled the topic of portrait retouching before, it is still worth revisiting, since there have been a few major improvements. As you may or may not remember, this photo editor app for PC has some impressive portrait editing chops. It is equipped with one-click presets that can even out the skin, remove blemishes and redness, add a little tan, and whiten the teeth. Besides, there are custom settings available for those who love to do things manually. While all of these features are still intact and very much effective, there are two impressive additions to the beautifying arsenal.
First off, there is the Face Sculpt feature. As its name suggests, with it you can easily tweak your model's face. No need for manual masking or warping – PhotoWorks has a facial features recognition technology that allows you to change the shape and size of eyes, nose, lips, and whatnot by just dragging a few sliders.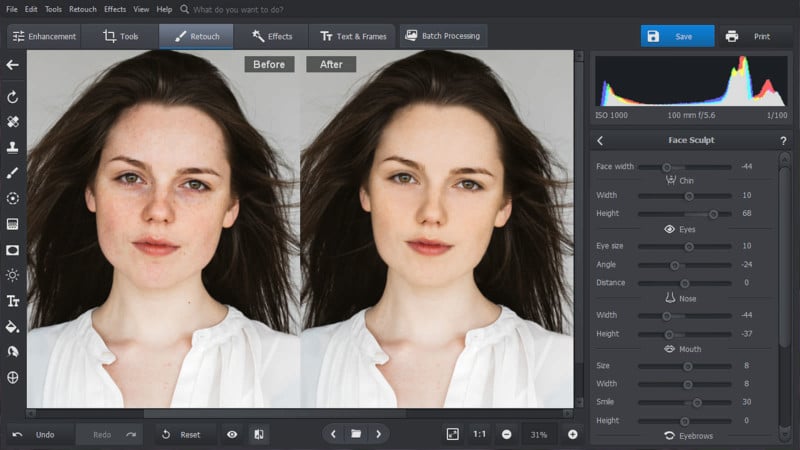 If mere face beautification isn't enough, you now can use this photo editor for computer to shape the body as well. Body features, proportions, you name it. And once again – all of this can be done with easy slider-based tools.
Batch Watermarking: Keep Digital Thieves Away
PhotoWorks has significantly improved its watermarking feature. Now you can not only create various signature styles and save them within the software (save as in keeping the design, size, and position intact) for later use. Moreover, thanks to PhotoWorks' recent addition of batch processing, you can brand multiple images at once with a single click.
Filters, Effects, Decorations: New Interesting Offerings
There have been additions in the field of effects as well. For starters, PhotoWorks is now equipped with sets of 3D LUTs and HDR filters that can completely transform the look of your photo. Besides, this photo software for PC now boasts a fresh new feature called Sunrays. With it, you can apply the titular sun rays to your landscape image to add a source of light and make it warmer.
Safe to say that this photo editor for PC has evolved quite a bit. It has acquired new impressive features but still managed to keep it all simple and understandable. This ease of use combined with powerful tools make PhotoWorks a program worthy of attention. Pros might find this program missing a few crucial instruments like layers editing, frequency separation, and an assortment of painting tools. But if you are looking for robust software to swiftly improve your images, PhotoWorks is certainly a catch. Especially now, since PetaPixel readers can purchase this software at a discount using a coupon provided by the vendor.
---
This article was brought to you by AMS Software, the software company behind PhotoWorks.