Freewell Announces 'World's First' Magnetic Variable ND Filter
Freewell has announced what it is calling the 'world's first' versatile magnetic variable neutral density (ND) filter for DSLR and mirrorless lenses.
Freewell had previously dabbled in magnetic camera accessories when it released a Quick-Swap Magnetic Filter System in 2018.
According to the company, the new filter boasts an extended range of exposure values from two to nine full stops using only "two filters" making it the first all-in-one variable ND system that uses hard stop filters with the advantage of a quick-swap magnetic mount. Included in the new kit are seven types of filters, a VND2-5, VND6-9, CPL, ND32/CPL, GLOW MIST, VND2-5XMIST, and VND6-9XMIST. The company says these filters will provide a total of 20 unique functions at one of the most cost-effective positions on the market.
Freewell says the key difference between its VND system compared to other magnetic systems on the market like what is already offered from brands such asBreakthrough is the fully magnetic installation and the "variable" nature of the filters.
"Other filters are only regular ND which means they have just a single function as a plain ND4," a Freewell representative tells PetaPixel. "Other systems use a single piece for the glass filter which has already been available in the industry for decades. The only thing unique about other similar products is that they are magnetic. Freewell filters are the world's first magnetic VND that have a "seven plus one" feature set. Absolutely no other filter system on the market exists with such functionality and versatility."
The company also says the kit's magnetic adhesion will keep the filters in the holder firmly affixed, which prevents vibrations while they still remain easy to remove and adjust. The metal knurling on the bezel along each ND level helps grip when turning to change values and allegedly improves the accuracy of stop setting. The company also claims that transitioning from one-stop value to another is smooth and gradual, and should give a reduced occurrence of "x-pattern overlaps" seen in other variable NDs.
The filters use a "premium high-definition optical glass" with a protective coating on both sides, which Freewell says makes them waterproof, dustproof, stain proof, oilproof, and scratch-resistant for shooting in any weather condition. The company also claims the optical quality will be sharp from the center to the outer edge and free from any chromatic aberration or loss of detail. It also claims that there will be zero vignetting on focal lengths over 16mm.
Freewell says that its new system will be more convenient than others on the market, as shooters would only need to carry the two filters with them when traveling, and would still have the capability to capture images using ND stops from two to nine as well as having access to an integrated Circular Polarizer (CPL) and the "Glow Mist" bonus filter for creative applications.
Freewell is seeking crowdfunding to bring the product to market, and the IndieGoGo bundle also includes a compact case that can hold the entire kit safely, and it can easily fit in any bag, or clip onto any exterior strap or latch point.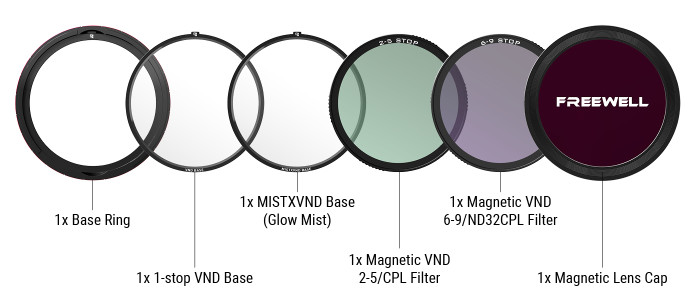 The Freewell Magnetic VND Filter Kit is available for $299.99 as a "Super Early Bird" backer, $349.99 as an "Early Bird" backer, and once launched will retail for $399.99. After choosing a thread size for the mount base, the kit includes a 1-stop VND Base, one Glow Mist unit, one Magnetic VND 2-5 CPL filter, a Magnetic VND 6-9/ND32CPL filter, the magnetic lens cap, and a protective case. Also included with the IndieGoGo purchase is a lifetime warranty card, video tutorial card, and a guide for the filters. Freewell estimates shipping of the filter kits will begin between August and September of 2021.
---
Disclaimer: Make sure you do your own research into any crowdfunding project you're considering backing. While we aim to only share legitimate and trustworthy campaigns, there's always a real chance that you can lose your money when backing any crowdfunded project.