The Freewell Eiger Matte Box is a Super Versatile Filter Holder System
Freewell says its new Eiger Mattebox is a one of the most versatile examples on the market since it combines multiple filters together in ways that usually aren't possible or are way too bulky.
The goal of the Eiger Mattebox was to resolve the frustration that usually accompanies using filters with a matte box and is able to accommodate multiple filters (VND, Gradient, Mist, Steak, or Straight ND) in a single system. Additionally, it is compatible with insert style, magnetic, or threaded filters as well as its own first-party assortment.
The company takes particular pride in how slim the entire design is. Because it can use a combination of drop-in and front-mounted filters, Freewell says it is able to stack multiple filters together in a way that is either outright not possible on other matte boxes or requires the whole system to be bulky or heavy.
"The Eiger Matte Box system is compatible with insert filters and magnetic or threaded filters. It also supports using the previous Freewell Magnetic Quick Swap System, threaded VND filters, and Freewell Eiger filters, providing a wide range of compatibility to meet your diverse filter needs," the company says.
"With Eiger Matte Box, you no longer need to worry about choosing the correct filter thread size. This versatile system is designed to be compatible with the lens up to 95mm with included adaptors from 67mm to 82mm, with an option to purchase an adaptor for 52mm, 55mm, 58mm, 62mm, and 95mm separately."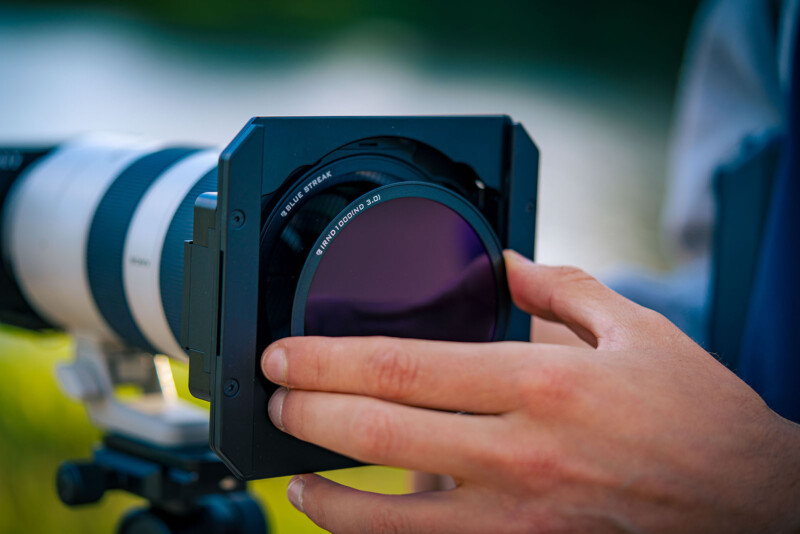 Because of the slim design of the system, Freewell says that photographers and filmmakers will be able to use multiple filters together even with lenses wider than 24mm, which it claims is uncommon.
The company is so confident in its pricing that it claims it will sell you four to five Eiger branded filters for the price of a single competitor's 4×4 filter. It also promises that its filters will match or outperform the quality of competitor options.
The sunshade hood also detaches easily via a quick-release mechanism of a single button press, which Freewell says allows filmmakers and photographers to easily change accessories to adapt to changing scenes.
The Eiger Matte Box alone is available directly from the company for $100 and various kits and add-ons are available depending on need.