Venus Optics Unveils Automatic Aperture Version of 7.5mm f/2 MFT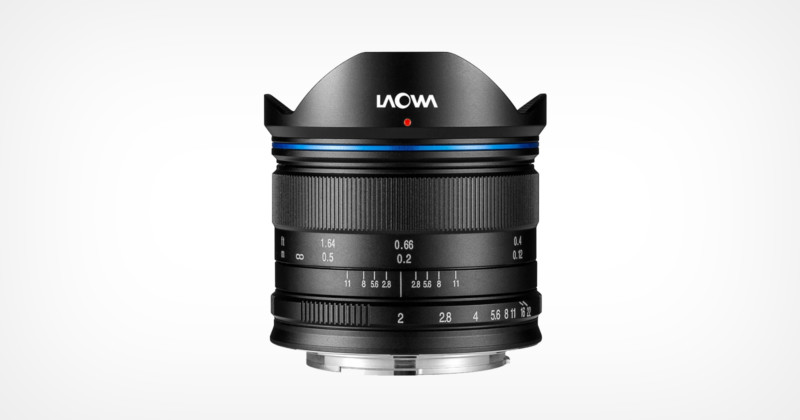 Venus Optics has launched a version of the Laowa 7.5mm f/2 for Micro Four Thirds (MFT) that includes a chip that provides metadata in EXIF as well as allows aperture control digitally through the camera.
Originally launched in 2017, Laowa claimed the 7.5mm f/2 MFT was the widest rectilinear f/2 lens for micro four thirds. The company claims that this is still the case to date. This new version has the same optical structure as the standard version but reduces the number of aperture blades from seven to five in order to allow the lens to produce 10-point sun stars.
That optical formula consists of 13 elements in nine groups. The original standard version of the lens (which will still be available for sale) weighs 170 grams and measure 55mm long. The auto aperture version is slightly lighter –likely due to the reduction of aperture blades despite the addition of the chip — and weighs just 150 grams, but has the same physical dimensions. Both the new aperture control version and the standard version accept 46mm filters.
This 7.5mm f/2 lens follows the Laowa 10mm f/2 Zero-D MFT and 50mm f/2.8 2x Ultra Macro APO with their inclusion of the CPU chip and motor that allows for the digital control of aperture. As the company notes, this added feature is particularly useful for DJI Inspire 2 pilots who want to use the compact lens for wide aerial shots.
"The focus magnifier will be triggered for easier focusing when rotating the focus ring," the company says. "It also allows the adjustment of aperture via the camera body and a no aperture ring design. With the control chip, DJI Inspire owners can benefit by avoiding complicated mounting process. Moreover, the metadata will be stored on EXIF and remote aperture adjustment can be realized."
Ultra-wide-angle lenses equipped with fast aperture are rarely found in the market. The extra-large aperture f/2 adds more flexibility to the lens, especially under dim-lit conditions. Photographers can maintain a faster shutter speed and lower ISO to prevent generating too much unwanted noise. Moreover, it brings a shallower depth of field to separate the subject from the background. The 12cm extremely short minimum focusing distance facilitates close-up photographs which also generates creamy and smoother bokeh with f/2 aperture.
Below are a few example photos provided by Laowa, but curiously none of them feature an example of the 10-pointed sun star that the company mentions.
The Laowa 7.5mm f/2 for Micro Four Thirds with aperture control will retail for $549 and can be pre-ordered here.