Photoshop's 'Save As' Function Has Changed. Here's Why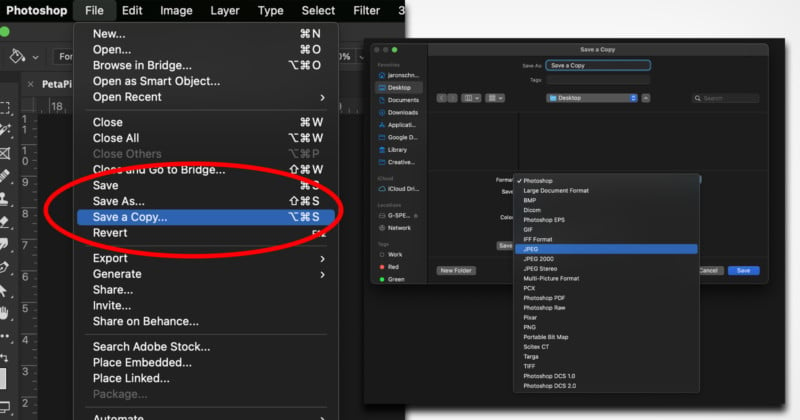 As part of its May 2021 release of Photoshop on Desktop — version 22.4 — Adobe made a significant change to how the "Save As" command works. Rather than continuing to act as it has across applications on all computers for decades, Adobe altered the basic functionality and has left users baffled.
In an update that was pushed out last week, Adobe notes that it has added a new save feature called "Save a Copy" to the traditional "Save" and "Save As" commands that have existed in applications for nearly as long as software has existed.
"You now have the option to save a copy of your work using the new Save a Copy option in the File dropdown menu," Adobe writes in a language that frames the change as a new feature. "Save a Copy automatically creates a copy of your work and allows you to export and share in your desired file format like JPEG, EPS, and so on, without overwriting the original file and protecting your data in the process."
Adobe's change basically redefines "Save As" to what "Save" has historically done, which makes the commands at least overlap in functionality, if not outright redundant.
"With this new option, only supported files that maintain your work will be supported in the Save As command. If the file type you'd like to save isn't an option, simply go to Save a Copy and create another version in your desired file type."
On the surface, it appears as though Adobe added a third save option that only serves to break decades of muscle memory and frustrate its users. However, this change wasn't something Adobe necessarily wanted to make.
Yes. The old behavior is no longer possible in macOS Big Sur because Apple removed the API we used. So we rebuilt the functionality as a new menu item, Save a Copy.

— Stephen Nielson (@strawbo) May 13, 2021
Photoshop's Product Manager Stephen Nielson noted the reason for the change actually lies specifically with a decision made by Apple in its most recent operating system update. According to Nielson, Apple removed the API that Adobe used for Save As, which forced the company to make an entirely new menu item in order to circumvent it.
In a statement to PetaPixel, an Adobe representative echoes this sentiment.
"The new Save a Copy option in the File dropdown menu of Photoshop addresses a change in macOS 10.15.x and later, which eliminated the ability to manipulate aspects of the Save As dialog."
Adobe says the "manipulation" refers to specific file naming.
"Photoshop, like most applications, relies on the operating system for the main operation of the open and save dialogs. Therefore, we have very little control over how they operate. Before the release of Catalina, we were able to control the filename text in the save dialog while the dialog was open. But starting with Catalina, we are no longer able to do that," Adobe elaborates.
"Being able to edit the filename in the save dialog allowed Photoshop to safely combine the "Save As" and "Save a Copy" operations into one, enabling people to choose which way to go while the dialog was open. We could do this safely because we were able to selectively append 'copy' to the filename in situations that might otherwise lead to work being lost.
"This update is a work-around for macOS functionality that is no longer available. It has required us to separate the 'Save As' and 'Save a Copy' operations, because we must now finalize the base filename before we present the save dialog. The 'Save As' command still does the same thing as it did before, only you no longer have the option to 'Save a Copy' or save to a format that would not fully preserve the document's contents. The newly saved file becomes the new file associated with the document for future saves."
This change is referenced in Apple's Developer notes, which states that the company adjusted the API that allowed applications to prompt users for information about where to save a file.
"In macOS 10.15, the system always displays the Save dialog in a separate process, regardless of whether the app is sandboxed," Apple states. "When the user saves the document, macOS adds the saved file to the app's sandbox (if necessary) so that the app can write to the file.
"Prior to macOS 10.15, the system used a separate process only for sandboxed apps."
The changes to the application may be due to Apple, but they affect all users. Adobe confirms that the updates to the Save As feature affect both Mac and PC users who update to the latest version. Unfortunately, the change appears to be something Adobe chose to do since Apple's developer notes are not nearly as public-facing as Adobe applications that are used by millions of people.
And users aren't happy.
This is the dumbest update I've seen in a long time. I used to use Save As for jpgs as well and know many people did. https://t.co/jzcdFeDyed

— Pratik Naik (@solsticeretouch) May 17, 2021
Thank you for the reply. I'm not a fan of the new method (extra step to click that button, plus it adds "copy" to the filename). But if Apple removed the API, well… What are you going to do? iT jUsT wOrKs.™

— ᴺᴼᵀ Jony Ive (@JonyIveParody) May 13, 2021
Wait. Replacing a JPG file in Save a Copy works now… Why can't this be added to the normal Save As process like in other Adobe app. This new "Save a Copy" is workflow breaking. I'm shocked this was even shipped to customers, like me, who pay monthly for @creativecloud apps

— Dave Edwards (@DaveEdwards97) May 17, 2021
Why do Photoshop have to change things that have been that way for decades? It takes me years to relearn them.

First it was the way things scale, and now I have to hit alt apple S instead of shift apple S to 'Save a Copy'.

It'll be 2024 by the time I've got used to this

— Michael Goldrei (@number6ix) May 18, 2021
For the love of… @Photoshop @AdobeCare this is not necessary. Stop changing things that do not need to be changed. I do not want to Save a Copy, I do not want to have to manually remove "copy" from your file names. I just… no. (22.4.0) pic.twitter.com/V4UYTZOJvT

— Casey Kelley (@ckelley) May 14, 2021
I'm breaking my head over here @Photoshop. Every time I create a new layer I no longer have the option of saving my document in pnj or jpeg along with many other formats.

and yes it's on RBG. pic.twitter.com/nVe5431i0J

— Malice (@DesignByMalice) May 17, 2021
I mean @Adobe come on! Your updates constantly break your program. Who has a better #photoshop than @Photoshop?@gimp_official how you doing these days? Can I save a file as a jpg? pic.twitter.com/AyHOCPGSVB

— Mike Vasilev (@mike_vasilev) May 14, 2021
Clearly, this issue has not gone unnoticed and Adobe is now bearing the brunt of user's displeasure. Unfortunately, not only is this anger misplaced, it's also not something Adobe can "fix," at least not now.
A workaround is possible though, as explained by PC Magazine's Jim Fisher. For those who just wanted to make JPEGS faster, Fisher recommends remapping the "Command + e" as a quick JPEG export.
It's in the keyboard shortcuts menu (Edit/Keyboard Shortcuts). Set a key command for "Quick Export as JPG" pic.twitter.com/qqJKWy0jea

— Jim Fisher (@jimfshr) May 17, 2021
While this method is a great workaround, it will still require re-learning a new command. For now though, it's probably the best that can be hoped for.
---
Editor's note: The original story indicated that the changes to "Save As" only affected Mac users. Adobe has confirmed the changes instead affect all users regardless of platform. We have corrected this error.