Zhiyun Launches the Three-Axis Smartphone Gimbal Smooth-Q3
Zhiyun-Tech — known for its consumer and professional stabilizer products for both cameras and smartphones such as the Crane-series camera gimbals — has announced the launch of its latest smartphone stabilizer Smooth-Q3.
Smooth-Q3 is a consumer-marketed three-axis smartphone gimbal with a new compact design, compared to the older Smooth-Q2 model. The most notable new feature of this gimbal is the 4,300k warm-toned integrated fill light that has three levels of brightness adjustments and a touch button control for 180-degree front and rear lighting, which the brand claims is "perfect for capturing clear portrait images in low light setups" and enhances the user experience when filming content or doing a mobile live stream.
This stabilizer also works in conjunction with the ZY Cami app which brings several new features with the release of the Smooth-Q3, such as SMART templates and an advanced editor. The app allows users to speed up the creation of videos that are shot on regular basis, using built-in templates, and the videos can be edited to add music, special effects, and filters.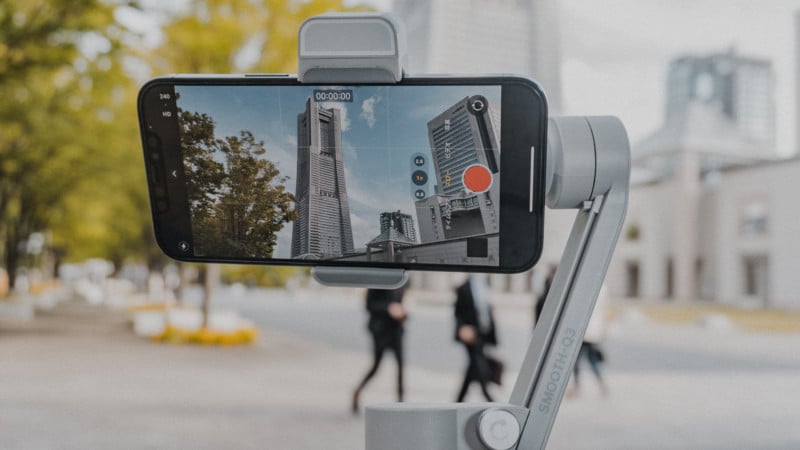 Additional new features include gesture control, SmartFollow 3.0 Object Tracking, an instant Dolly Zoom, and MagicClone Pano, which is operated using a single press trigger button to mark the target and activate smart following.
In comparison to its predecessor Smooth-Q2, the latest model is lighter at 340 grams (0.75 lbs) and easier to fold, but also boasts a higher maximum payload of 280 grams (0.62 lbs) compared to Smooth-Q2's 260 grams (0.57 lbs). The Smooth-Q3 measures 45mm (1.8 inches) x 154mm (6.1 inches) x 180mm (7.1 inches).
The stabilizer is compatible with any smartphone models that are within the holder's capable width and boasts 15 hours maximum battery run time and can charge from empty to 100% in three hours.
Zhiyun claims the new intuitive button layout leads to overall smoother operation, such as by triple tapping the trigger, a user can instantly switch between portrait and landscape modes. The gimbal also allows easy capture of ultra-wide-angle shots as well as low-angle shots.
The new model can be purchased on the Zhiyun store individually for $89 or as a $109 Smooth-Q3 combo, which includes Smooth-Q3, charging cable, tripod, protective bag, VIP card, and a wrist strap.