Photographer Uses Her Dad's Slides to Create a Touching Visual Tribute
Photographer Catherine Panebianco—previously featured here—recently published a beautiful new photo project titled No Memory is Ever Alone that pays tribute to her father by using his old slides to bring a piece of his past into her present.
The project is a twist on the "then and now" style images that you've no doubt seen before. Most such ideas use historical images, blending them into the modern scene to show how much things have changed since, say, World War II. But Panebianco's series takes its "then" material from a far more personal source: an old box of her father's slides.
"No Memory is Ever Alone is a visual conversation between my dad and I," she explains on her website. "He used to bring out a box of slides that he photographed in his late teens and early 20s every Christmas and made us view them on an old projector on our living room wall telling the same stories every year. It was a consistent memory from a childhood where we moved a lot and I never felt like I had a steady 'place' to live and create memories."
By placing these same slides into her current landscape, she's created a "trail of memories, each [with] its own association for both of us."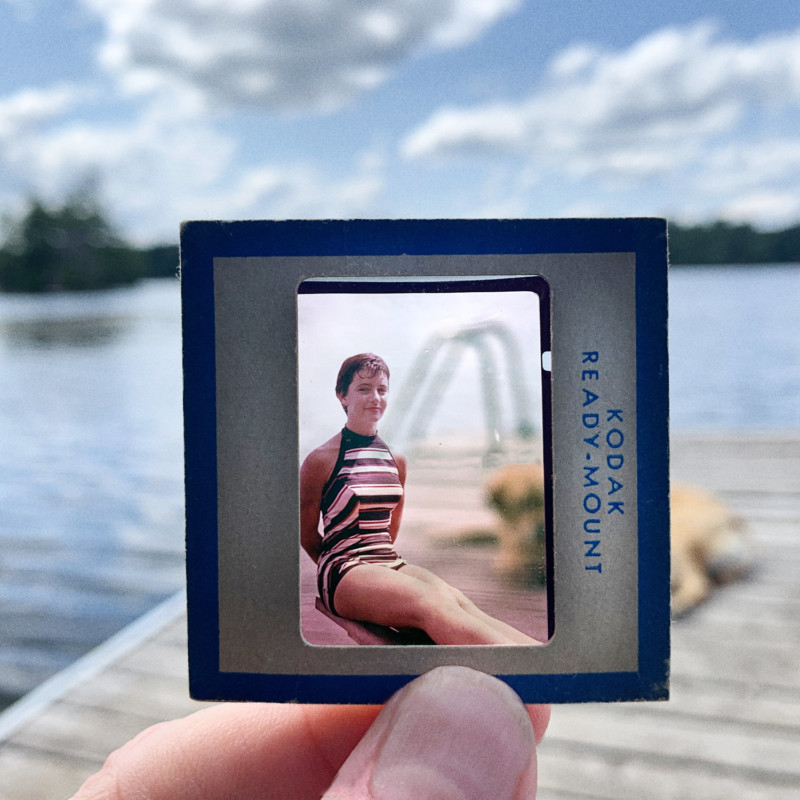 As Panebianco explains in her artist statement for this series, the project served as a source of connection with both of her parents—she was using her father's slides, many of which showed her mother, his wife of 60 years, who recently passed away.
The photos act as tribute to them, and comfort for her. As she painstakingly sought out the perfect location, the vignettes she created helped her feel that her mother was watching over her, helping to "create a 'home' for me wherever I go."
She concludes:
I did not want to Photoshop that connection. Part of the process that was necessary for me was to find the right location and feel my dad's slides united with how I live today—a place within a place, a memory within a memory.
To see the full series, click here. And if you want to explore more of her work, you can visit her website or follow her on Instagram.
---
Image credits: All photos by Catherine Panebianco and used with permission.