Huge Photoshop Update Adds Neural Filters, Sky Replacement and More
Adobe just dropped a massive update to Photoshop, including a slew of AI-powered features like Neural Filters, Sky Replacement, Refine Hair selection, and more. It's an Adobe Sensei bonanza that ought to have the Skylum folks feeling both flattered and terrified.
Adobe isn't mincing words on this one. After this update, the company is calling Photoshop "The world's most advanced AI application for creatives." And you know, they have a point, because most of the major features and improvements added to Photoshop today are powered by Adobe's Sensei AI machine learning technology.
We'll take these updates one at a time. Buckle up… there's a lot here.

Neural Filters
The biggest (and least baked) update of them all is something Adobe is calling "a major breakthrough in AI-powered creativity." Neural Filters. These AI-powered filters are tucked away inside their own workspace, and they ought to look pretty familiar if you've been paying attention to any of the machine learning-based photo editing advances of the past few years.
There will be two "featured" filters and 6 "beta" filters at first, including Skin Smoothing, Style Transfer, options to Colorize and remove JPEG artifacts, and a Smart Portrait filter that gives you creative control over several parameters including facial features, gaze direction, expression, and even the age of your subject. If you feel so inclined, you can even subtly change the lighting on your subject.
You can see some of these filters in action in the video below:
You can learn more about all of these filters (and a few that are still "coming soon") at this link. But the best way to learn about the new Neural Filters is to actually try them out, so update your copy of Photoshop now to give them a go.
Sky Replacement
Next up is a feature Adobe already teaser earlier this year: Sky Replacement. Using this feature, you can either simply Auto Select the Sky by itself, or use the built-in "Sky Replacement" option to select a new sky from Adobe's database.
Adobe Sensei handles all the masking and blending, and "cutting-edge algorithms" are used to "harmonize the foreground of your image with the sky" so that the lighting doesn't clash if you plan to make major changes. The first version ships with 25 "preset" skies to choose from, ranging from subtle to (literally) out of this world.
Here are some before and after images showing the power of this new feature: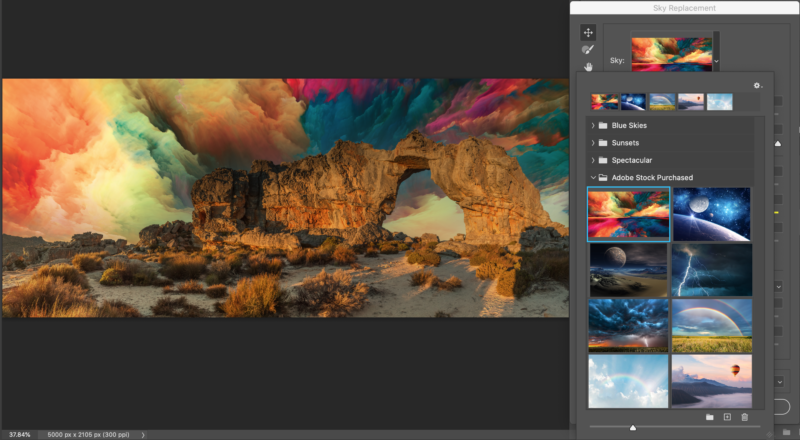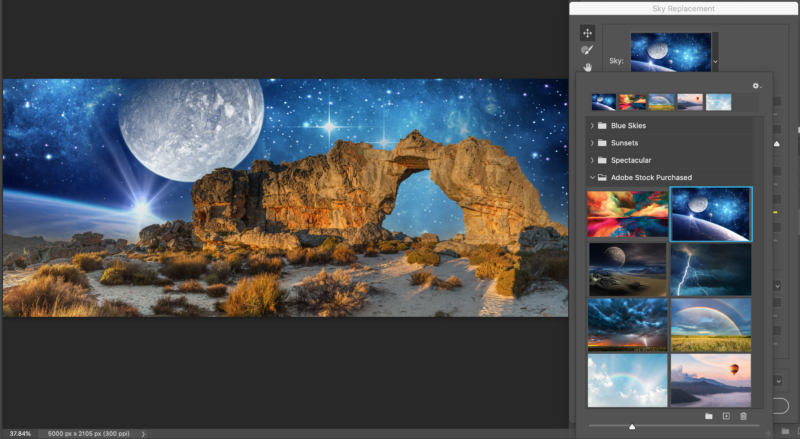 As with Neural filters, you can learn more about the Sky Replacement features here, or update to the latest version of Photoshop and try them for yourself.
Refine Hair and Object Aware Refine
A less "exciting" (but probably far more practical) feature is the addition of two new tools in the Select and Mask workspace: Refine Hair and Object Aware Refine Mode.
Refine Hair is exactly what it sounds like: the button, now at the top right of the Select and Mask Toolbar, does the Refine Edge brushwork for you and attempts to intelligently select out your subject's hair, even if they're standing in front of a busy background. The goal, says Adobe, is to improve these features so much that any person can be selected out in two clicks: Subject Select + Refine Hair.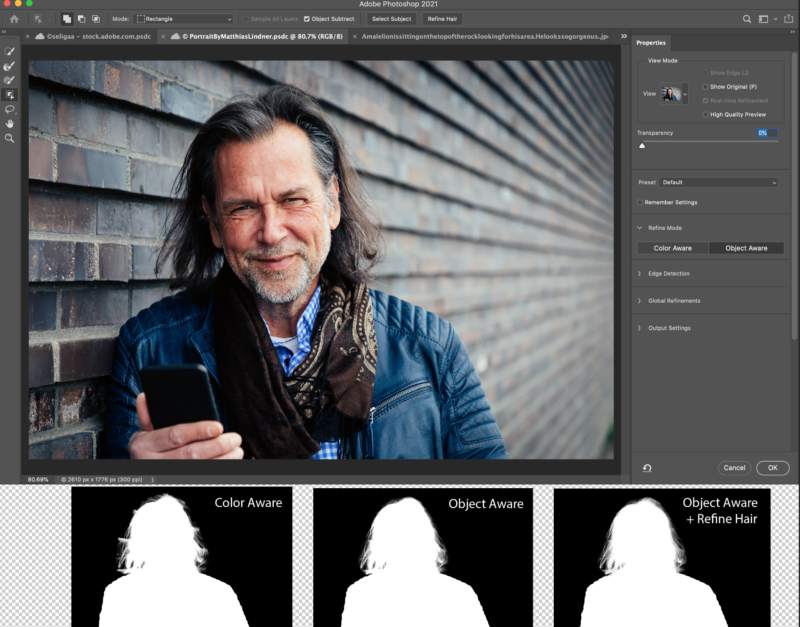 The second update is the Object Aware Refine Mode, which is specifically designed to differentiate fine details against similar backgrounds. The new Object Aware button enables a special Refine Edge mode that lets you brush over and select out fine detail with a startling amount of precision.
According to Adobe, the lion above was selected in just a few seconds, first using Select Subject to get the general outline, and then the Object-Aware Refine Edge brush to select out the lion's mane in "just a few strokes." One more powerful tool in the Select and Mask toolbox.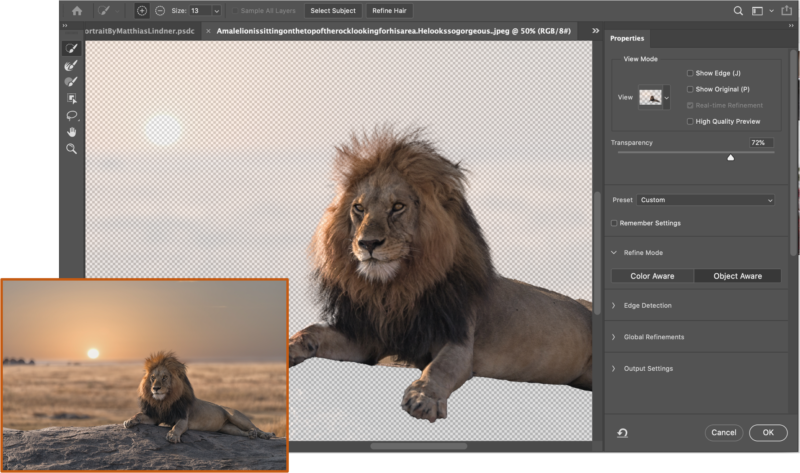 New Plugin Experience
The last photographer-relevant update worth mentioning is the new Plugin experience, including an all-new Plugin Launchpad inside Photoshop and a Plugin Marketplace in the Creative Cloud Desktop app.
Sort of like an App store but for Photoshop plugins, the marketplace will include curated collections from Adobe as well as new plugins that are written (or converted to) Adobe's UXP architecture. Meanwhile, the launchpad is meant to keep all your plugins in one easy-to-access and easy-to-navigate panel inside Photoshop:
These updates together promise a more consistent and reliable plugin experience inside of Photoshop, although it may be a second before your favorite Photoshop panel or plugin is ready to take advantage of this update.
Conclusion
The remaining updates like Smart Object Reset, Live Shapes, and Pattern Preview are going to be more important to designers than photographers, so we won't go into detail on them here, but you can read more about them on the Adobe blog.
In short: today's update to Photoshop shows that Adobe doesn't intend to get left behind in the race towards AI-powered photo editing domination. Whether that future—where even the most complicated edits can be done by clicking a single button or messing with one or two sliders—is a good thing… that's another question. But Adobe intends to be there when we find out.
To find out more about these updates, tune in to the "What's New in Photoshop" session of AdobeMAX today from 2pm – 2:30pm ET, or head over to the Adobe Blog. Better yet, just update to the latest version of Photoshop through the Creative Cloud Desktop app and go exploring.