Adobe Photoshop's New Neural Filter Makes Photo Restoration Easier
Adobe is adding a new photo restoration neural filter in Photoshop that is designed to uplift old photographs that have suffered degradation.
The neural filter, currently in beta, will automatically remove scratches, reduce noise, and correct colors on old photographs that have fallen into a bad state.
Adobe today released a video of the photo restoration tool in action, showing an old, crumpled photograph being restored to a respectable level in seconds. The photograph, which was of a woman looking into the camera, also had a piece torn off which Photoshop fixed by using the content-aware tool.
The company then showed a second image of a young boy in a military-type outfit which was sepia and appeared to have lots of texture on the surface of the photograph. Once again, when the photo restoration neural filter was applied it transformed the file into a colorful, smoother picture.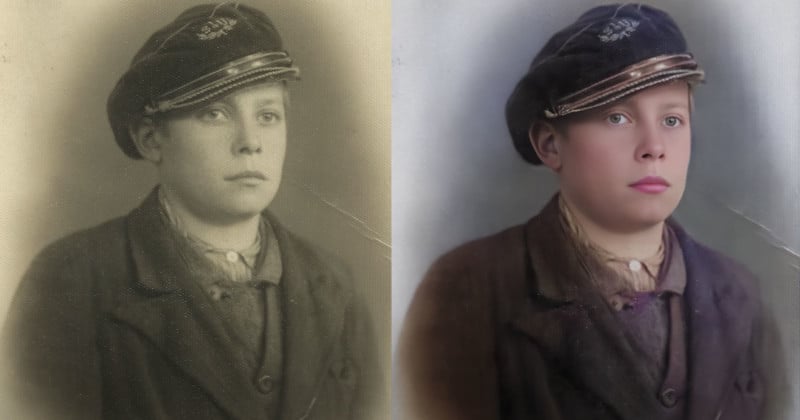 Any photo editor who has painstakingly restored an old, battered photograph taken with an analog camera a long time ago will be amazed at Photoshop's latest tool which is designed to save hours of time.
What are Neural Filters?
Neural filters are Adobe's downloadable AI-powered add-ons for Photoshop that are designed to automate complete tasks. Tasks range from the incredibly simple, such as converting a photo to black and white or smoothing a subject's skin.
However, the beta has more complex neural filters that can do more radical, futuristic things like change facial expressions. It's a remarkable glimpse of what the future of photo editing might look like.
In total, there are three categories of neural filters in Photoshop. "Featured," are filters readily available from Adobe that have been cleared to use and passed all checks.
Secondly, there are "beta" filters that are available for testing, but the learning models or workflows are still being improved. Still, editors can use these filters but with the knowledge that the output may not always be consistent.
Thirdly there is "wait list," which are filters not yet available but still listed in Photoshop underneath the neural filters tab. Users can vote for their favorite filters that they like the sound of by pressing the "I'm interested" button.