DxO Unveils Nik Collection 3 with New Plugin, Non-Destructive Editing, and More
Since acquiring the popular Nik Collection of photo editing plugins from Google back in 2017, DxO has released several minor updates. Now, nearly three years later, they've finally debuted a major refresh. Nik Collection 3 comes with a new plugin launcher, a brand new perspective plugin called Perspective Efex, and more.
There are three new and improved features that make up this major update to the popular plugin suite for Photoshop, Lightroom Classic, and DxO Photo Lab: the new 'Nik Selective Tool' plugin launcher, a 'revolutionary' non-destructive workflow in Lightroom Classic, and the brand new 'Perspective Efex' geometric correction plugin.
Watch the quick video intro below, and then keep scrolling for a further breakdown of each new feature:
Nik Selective Tool
The Nik Selective Tool is a new-and-improved dedicated plugin launcher for Adobe Photoshop that gives you faster, more convenient access to the entire Nik Collection suite. The redesigned launcher "revolutionizes" (you'll see that word a lot) the Nik workflow by "simplifying the suite and providing faster access to each editing feature."
This was done with a new, collapsible design makes each plugin easy to identify, and even works with dual monitor setups.
In addition to the ability to easily identify and apply presets from the various plugins, the Selective Tool also includes new "lightning-fast retouching options" like a "Last Edit" feature for batch editing, and a "Quick Edit" option that lets you apply the last-used edit without actually launching the plugin interface.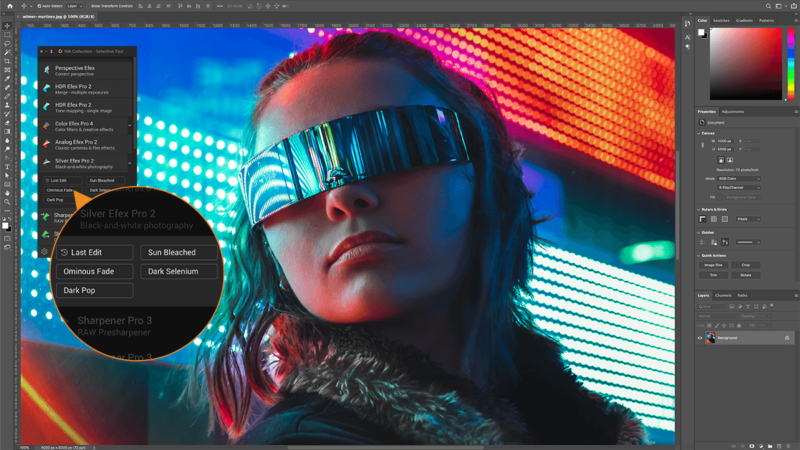 Non-Destructive Lightroom Editing
The second major update is a "revolutionary" (told you) and exclusive new feature that allows for non-destructive editing in Adobe Lightroom Classic.
By taking advantage of the TIFF MULTIPAGE file format, the plugin suite is able to combine "the input image, the saved Nik editing parameters, and the output file" into a single file. DxO claims this as a "first" for a suite of creative photo plugins, resulting in "unparalleled versatility."
And while DxO specifically calls out Lightroom, VP of Product Strategy and Marketing Jean-Marc Alexia says that this feature "can be used with all host software programs that include a third-party export menu."
Perspective Efex Plugin
Arguably the biggest update to the suite, the new Perspective Efex plugin adds one more tool to the Nik Collection toolbox, giving users one more option when making geometric corrections in Photoshop and Lightroom.
Both of Adobe's programs have tools that allow you to do this already, but Perspective Efex promises a more comprehensive and automated experience that corrects horizons, "unsightly leading lines," shape distortion, and even fish-eye distortion..
Perspective Efex can also be used to simulate a shallow depth of field and create the "miniature effect" usually achieved using tilt-shift lenses. This is done with two blur gradients that can be placed and adjusted by the user.
You can even select the "aperture setting" for this fake bokeh:
Price and Availability
The Nik Collection 3 was launched early this morning and is available to purchase right away for a "special introductory price" of $100 for new users, or $60 for upgrades. Come July 1st, the collection will go back up to its MSRP of $150 for new users or $80 for upgrades.
If you want to try-before-you-buy, you can access a fully-functional 30-day trial at this link.
To learn more about the new and improved Nik Collection, or pick up a copy of the plugin suite for yourself, head over to the DxO website.