A Tool Chest is a Great Way to Organize Your Photography Gear
Los Angeles-based event photographer Mik Milman made this 11-minute video showing how he stores and organizes his photography gear. The centerpiece of his organizational strategy: a rolling tool chest.


In the top drawer, Milman stores basic grab-and-go essentials — things like headphones, memory cards, gaffer tape, etc.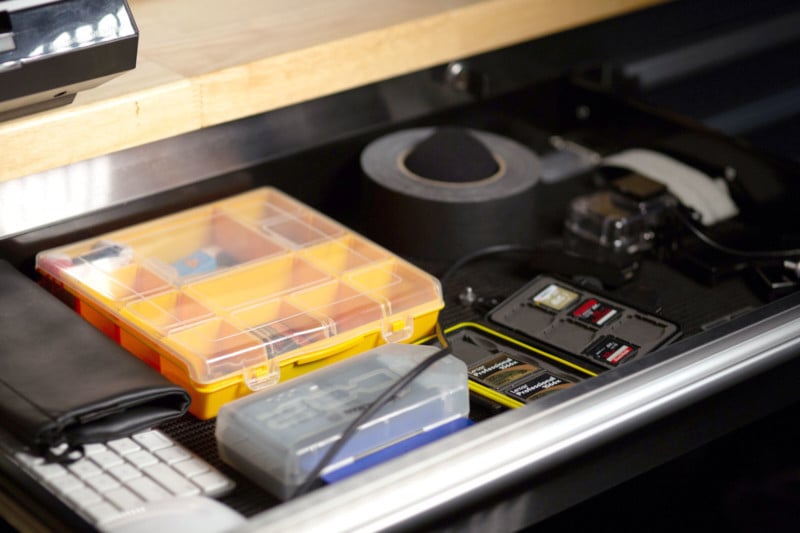 The next drawer holds vintage lenses, hoods, and filters.
Next is a drawer that holds tools that come in handy for shoots.
Another step down reveals a drawer full of ink for his photo printers.
Under the ink is photo paper (and a portfolio).
There's a drawer dedicated to batteries and chargers.
Under that is a drawer of random peripherals, followed by a drawer of film negatives, followed by a drawer of various cords.
Finally, the tallest and widest bottom drawer is where Milman stores his cameras, lenses, and flashes.
Milman took the foam padding that goes inside camera cases and used it to create dedicated padded spaces for the items in the drawer.
"And that's pretty much how I store my main essentials," Milman says. "Everything has a drawer. I know where it should be. I am a busy thinker and I forget where I put stuff, and I have to have a system or else I don't know where anything is."
Hardware stores like Home Depot sell a variety of tool chests at a wide range of price points — anywhere from $139 for a small basic one up to $5,600 for a massive one. But if you poke around, you may also be able to find used ones for far cheaper through places like Craigslist or Facebook Marketplace.