Converting a Cluttered Store Room into the Dream Photo Studio
Like many photo and video creatives, the team at Syrp Lab has a lot equipment that takes up an obscene amount of space. In this seven-minute video, the team shows how it turned a dark and cluttered room into something organized, functional, and fashionable.
Syrp recently adjusted its business model and shifted away from producing hardware. It rebranded itself Syrp Lab and shifted to a content creation model. All Syrp products were renamed and folded into the Manfrotto Move system.
Due to the major shift, Syrp needed to transition its space to one where it would be able to create educational and instructional videos on photography and videography. The team says they needed to not only create a workspace that was functional but something that actually looked great on camera that matched the company's aesthetic.
To start with, the team needed to create a complete list of the gear they had on hand in order to then organize what should get stored together and how and made their designs for the studio using 3D rendering tool Blender. After choosing a shelving design they liked and placing it into the 3D model, they finally came to a design plan that worked for the team.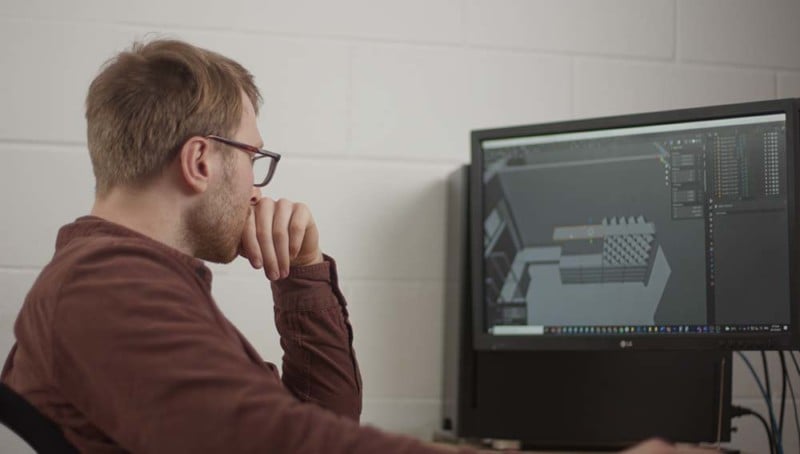 Next, it was time to start the build. The team chose to go with a modular system to allow for future growth that slots together with pins making them easily adjustable for any changes that may come down the road. Anything that would house equipment was intentionally made extra deep — 18 inches (457mm) — to accommodate for most collapsed tripod lengths, large travel cases, and gear bags. While not as budget-friendly as metal racks, they looked at the entire build as an investment rather than a quick fix.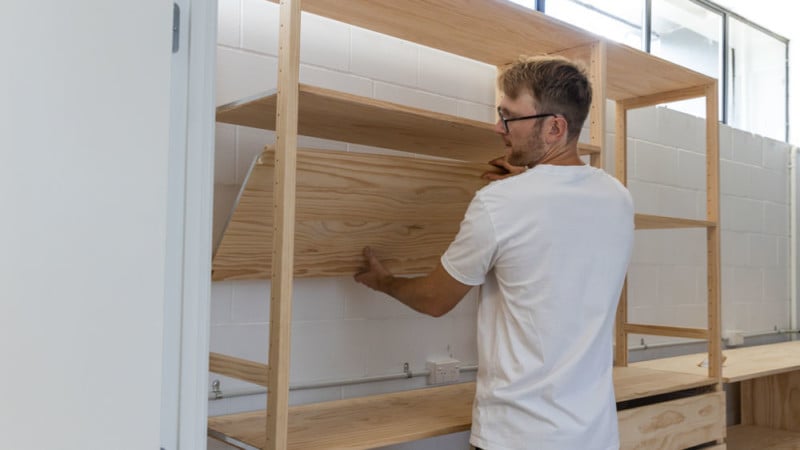 Once the shelves and drawers were in place, the next step was to set up padding and dividers that were customized with 3D printed spacers and joiners to allow for precise fitting of every piece of gear so that there was no chance of misplacing something or the gear rolling around inside of the shelf and drawer spaces.
Next up was the assembly of the wine-rack-style tripod storage. This "fresh" design would ensure the tripods would stop bumping and tangling up with each other as they would on a normal shelf. It also allowed for fast and easy access to every tripod, monopod, and rail as opposed to a single shelf where they would have to dig through the pile to find the device they needed.
Finishing things up, they used a metal pegboard with magnets and velcro to build a customized charging station on the wall where the team could organize batteries by status — empty batteries would go into a drawer on the left, those actively charging in the middle, and charged batteries could be stored and organized properly in the drawer on the right-hand side of the charging wall. The team used a metal pegboard so they could attach small magnets to the back of all of the chargers so they could be easily snapped on and off for easy reorganization, or if they need to bring them off-site for a location job.
After the Syrp Lab team finished the renovation, what was once a dark, messy, and cluttered gear storage room transformed into what they describe as the ultimate gear room, perfect for their storage needs as well as a studio to produce content.
The Syrp Lab team hopes the video provides a good blueprint for creatives to make the best of their own personal storage space and that with some time, planning, and a bit of a budget, it is possible to make a good looking and incredibly functional space.
To see more tutorials from the Syrp Lab team be sure to visit the team's YouTube channel.