Photographer Says World Press Photo Nominee 'Hijacked' Her Project
The prestigious World Press Photo competition has been plagued by several controversies in recent years, and it looks like this year's contest is no different. A nominated photographer is being accused of plagiarism by an Iranian photographer who believes her personal project was "hijacked."

Independent documentary photographer Kaveh Rostamkhani brought the controversy to light this week in a length article titled "When Carbon Copies fade."
It all started when Iranian photographer Solmaz Daryani came across a photo project titled "Fading Flamingos" by German photographer Maximilian Mann, who's a finalist in the Environmental category of this year's World Press Photo contest.
Daryani has been photographing Lake Urmia in Iran since 2014 for a project titled "The Eyes of Earth (The Death of Lake Urmia)," which has been online since 2016. Once the largest lake in the Middle East and the sixth-largest salt lake on Earth, Lake Urmia shrank to about 10% of its former size a few years ago after persistent drought, dams, and groundwater pumping.
Having grown up in the region of the lake, Daryani has spent a considerable amount of time there with her grandparents, and her project is a personal one that documents impacts felt by loved ones.
Mann visited Iran three times between September 2018 and February 2019 for his photos, which were his final university project.
While Daryani's project has largely flown under the radar, Mann's coverage of the water crisis has now been nominated for several major awards, including a top prize at World Press Photo, arguably the world's most prestigious award in photojournalism. And while it's understandable that many photographers may turn their lenses toward such important and newsworthy stories, Daryani was surprised at how similar many of Mann's photos looked to photos from her own project.
Here are some comparisons put together by Rostamkhani showing the similarity of some of the photos in the two projects — note the subject, framing, and style: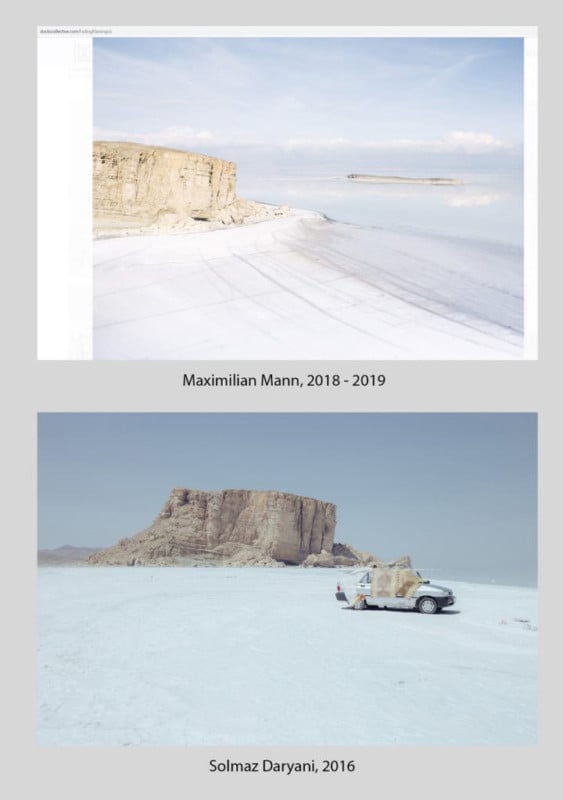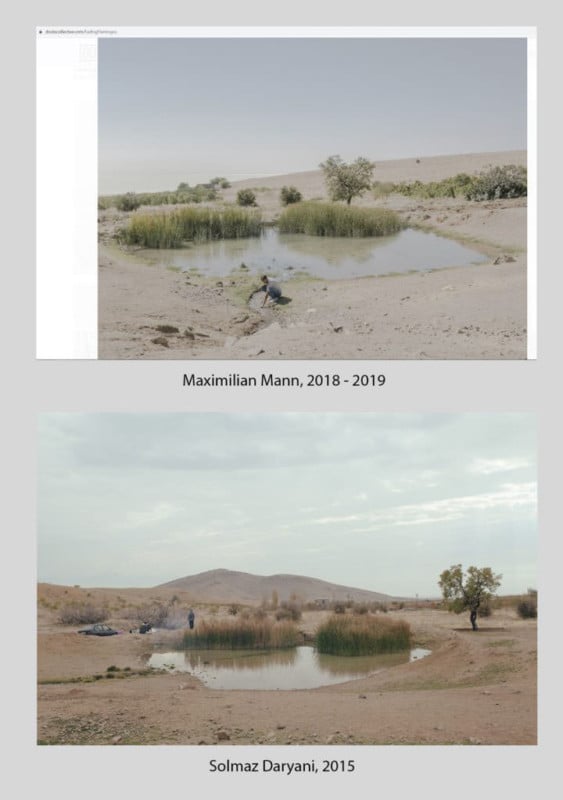 "There is nothing wrong to cover the same topic," Daryani tells Rostamkhani. "In fact this helps for an important issue to become more visible.
"Still, it is very unethical and unfair to reproduce this many images of my story one by one. In my opinion Mann's work is a disingenuous and poor imitation. Having said that, this might happen with a picture or two that depict the same thing in a project on a common topic, but here it looks very calculated.
"As a female Iranian photographer, I have been facing so many obstacles and difficulties to carry on my work and to make it seen. Now a male photographer from Germany parachutes in and remakes a part of my project without any acknowledgement. Even worse, he manages to deprive it from its personal context. But the awards are supporting his approach.
"This hurts so much. 'Eye of the Earth' is a very personal story of my family and people around the lake, and I share so many personal bonds with it. Now it is hijacked."
We reached out to Mann for his response to Daryani's accusations, and here's the lengthy statement he provided PetaPixel:
"I thoroughly researched my documentary project on Lake Urmia," Mann says. "During my research I also encountered the work of Solmaz Daryani along with other photographic works by Ebrahim Noroozi, Newsha Tavakolian, Hamed Nazari, Ali Hamed Haghoust, Jalal Shams Azaran, Philipp Breu, Hossein Fatemi, Jalal Shamsazaran and Aletheia Casey."
Mann says the images being considered for the World Press Photo prize were selected from a vast body of work he made in Iran.
"I did not have an assignment, I worked independently," he says. "In total I spent eight weeks at the lake. During this time I visited countless places together with my local translator and fixer, Mahdi Zavvar. I took more than 11,000 pictures while I was there. My project is of course much broader and diverse than the ten pictures submitted for the World Press Photo Award. […] In my opinion, viewing the complete piece reveals how diverse my project is."
Mann also provided a number of photos by other photographers to show that the similarities were a result of many lenses being pointed at the same subjects and locations rather than the result of intentional copying.
"I acknowledge that in the selection I submitted to World Press Photo, there are similarities to the work of Solmaz Daryani that cannot be dismissed," Mann says. "However, Solmaz' project also consists of many other photographs. Part of her project, for example, consist of old family pictures that show her personal connection to the subject matter."
"My work consists of a wide range of images and is very diverse," Mann says. "I strictly reject the accusation of plagiarism. I have never intentionally visited the same places as she did, or photographed similar moments, and I find it regrettable that the huge differences between our works are ignored.
"When you take a closer look at both works in their entirety, the differences become very clear."
---
Update on 3/24/20: Rostamkhani has published a rebuttal to Mann's explanation.
Mann provides a lot of additional content but little to no proof to reject the careful and precise demonstrations of the resemblances of his project with Daryani's. He even admits they "cannot be dismissed". Yet by solely focusing on single pictures in his statement, he utterly ignores the key matter that his carefully selected edit constructs a coherent narrative intriguingly similar to a part of Daryani's, but continues to deny plagiarism.
---
Update on 4/8/20: Mann's collective investigated the publication history of Daryani's work and is now accusing Daryani of fabricating the controversy by selecting previously unpublished photos from her private archives to accuse Mann of plagiarism.