Photographer Accused of 'Artificially Creating' Her Plagiarism Claim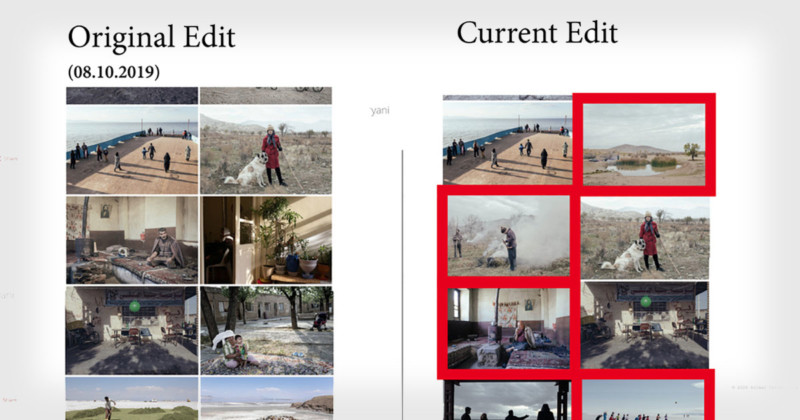 After World Press Photo announced its finalists this year, Iranian photographer Solmaz Daryani came forward and accused German photographer Maximilian Mann of plagiarizing photos from her personal project for his environmental photos of Lake Urmia in Iran. Now Mann's collective is firing back, accusing Daryani of fabricating the controversy with previously unpublished photos.

Back in March, documentary photographer Kaveh Rostamkhani brought this accusation to the world's attention with a blog post titled "When Carbon Copies fade." Rostamkhani shared 10 side-by-side comparisons showing similarities between Mann's photos and Daryani's work, which was produced years earlier.
The argument was that based on how similar the photos were, they could not have been created by sheer coincidence — Mann must have seen Daryani's photos and copied the stories, concepts, and framing for his own shots.
Mann's defense at the time was that although he had seen Daryani's work on the subject, along with projects by other photographers, he shot more than 11,000 photos during his 8 weeks at the lake and never intentionally copied any specific photos.
Now DOCKS, the 5-person collective that Mann belongs to, has gone a step further. In a new article titled "When plagiarism accusations fade," DOCKS shares the results of some online sleuthing and comes to the conclusion that Mann could not have possibly copied 9 of the 10 photos because they apparently hadn't been published anywhere online when Mann was shooting his photos.
DOCKS says that, following a tip, it began using the Internet Archive's Wayback Machine to dig into the publication history of Daryani's photos. The collective found that the Wayback Machine had archived Daryani's project page twice in 2019: once on April 28th and once on October 8th.
DOCKS found that there are notable differences between the current edit on Daryani's website and the edit archived on October 8th, 2019 — namely, 9 of the 10 photos used in her plagiarism accusation weren't found in the project in October 2019 but are included now.
DOCKS says it also analyzed all the pages and articles by publications that featured Daryani's project and found that none of them included the 9 photos at the center of the controversy.
The only photo that was previously published, according to DOCKS' investigation, was a shot of salt being shoveled. Here's the comparison with Mann's photo:
"Daryani's picture shows a single worker shoveling salt from a truck," DOCKS writes. "Maximilian's picture shows four people packing salt for private purposes.
"It is absurd to speak here of a 'carbon copy' in both content and visual terms. If this picture would pass for a "carbon copy", the entire photo industry would have a problem: then almost every picture with the same subject would have to be called a 'carbon copy'."
What's more, DOCKS says that one of the 10 photos wasn't just previously unpublished — it is still apparently nowhere to be found aside from in Rostamkhani's accusatory original article.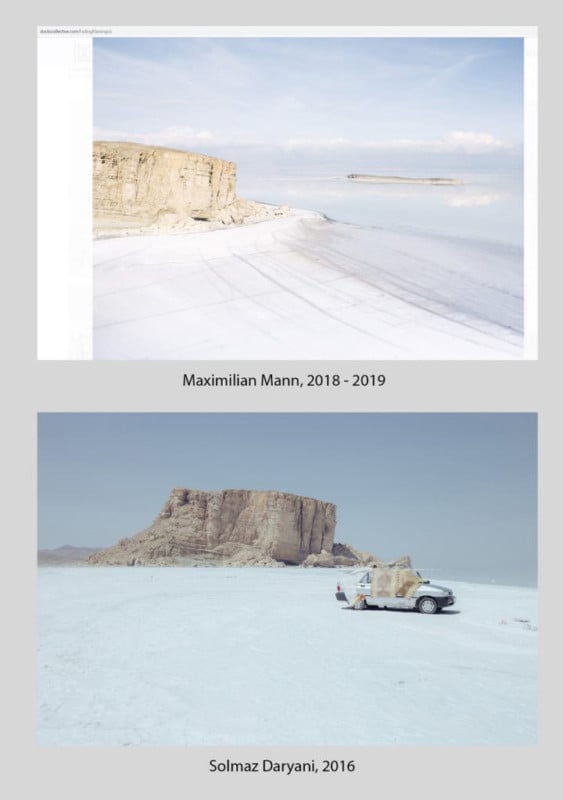 "How could Maximilian Mann have copied a picture that was apparently only hidden in Daryani's private archive?" DOCKS writes. "This picture stands as one of many examples for the artificial creation of a plagiarism case."
In light of these findings, DOCKS argues that not only is Mann innocent of Daryani's accusations, but that Daryani fabricated the controversy by unearthing previously unpublished photos from her private archive that were visually similar to the photos by Mann nominated by World Press Photo's jury. The collective concludes:
We are appalled that a talented and respected photographer like Solmaz Daryani, retrospectively searched for previously unpublished photos in her archive in order to publicly accuse a colleague of having reproduced these unknown images.

We are shocked how Kaveh Rostamkhani publicly accused a fellow colleague of plagiarism, thereby potentially irrevocably damaging Maximilian Mann's reputation by calling a picture a "carbon copy", that never appeared anywhere besides his own blog.

Unfortunately, we have to assume that the accusations were constructed retrospectively and were intentionally aimed at discrediting Maximilian Mann. Therefore we expect a public apology from Solmaz Daryani and Kaveh Rostamkhani.
We reached out to Daryani for comment, and here's what the photographer says in response to DOCKS' new accusations:
I am aware of the allegations from Docks Collective against myself.

Being mentioned in the statement of DOCKS collective, they discuss that most of the plagiarised pictures were not part of my original edit on my website at two different points in time: April 28, 2019, and October 8, 2019. But the photos in question have been available online as early as 2016/2017 since it is a natural thing to do – editing an ongoing long-term project anew whenever you have substantial new material. Right now, it is hard to prove this for me given the dynamic nature of a website. I have reached out to my website support team if they can provide me with an earlier back-up. The response is pending.

Unfortunately, on Archive.org there is a more than a year-long gap in their monitoring of my website between 27th March 2018 and 28 April 2019. This is both precisely the time my project has been published in outlets such as Polka and Emerge. During this time, depending on the outlet I have been pitching my project to, I have correspondingly changed the edit a couple of times.

There, unfortunately, is no archive point on "Wayback machine" between October 8, 2019 and March 10, 2019 (When Carbon Copies fade-A blog post by Kaveh Rostamkhani). Irritatingly Docks Collective's very demanding and aggressive conclusion derived from the mere speculation that my website doctored to meet Mann's edit after the World Press Photo nomination. They present this claim as a "fact" to conclude from it. This way, they have initiated a storm of troll-commenting on social media, and I find this very unprofessional and improper.

As I have pointed out earlier, the core issue is the repetitive narrative of Mann's work based on mine, and not only him having been to the same locations. Interestingly the Docks' article just like Mann's public, the statement never mentions this issue which is one of intellectual property but detracts from it by focusing on discussing single images only.
Rostamkhani has also published his response in the form of a new blog post titled "Of Flamingos stuck at the Docks."
Rostamkhani argues that there are unexplained gaps in the checkpoints archived by the Wayback Machine.
Docks collective's undated text has a speculative nature and presents the unnamed author's assumptions as facts upon which it aggressively concludes. It only provides a lead that at two different points in time, namely on 28th April 2019 and on 8th October 2019, Solmaz Daryani's personal website did not contain a majority of the pictures in question. At the same time it omits the fact that on the same source, archive.org whose crawler randomly visits websites across the internet, is a gap of saving points for the pages containing Daryani's corresponding project between 27th March 2018 and 28th April 2019. Interestingly that 13-month-long period very much overlaps with the time in which Mann has been producing his story.
Rostamkhani also says that beyond the 10 specific examples he and Daryani put forth, Mann's project also represented a "surgical and aestheticised remake" of the story and look of Daryani's project.
"Eventually, given the explanations above, the aggressive, wrongly-concluded, yet authoritative and self-righteous tone in Docks collective's piece wakes in me the notion of victim blaming efforts aimed at Solmaz Daryani," Rostamkhani concludes. "One may hope that Mann's working ethics contrast with his collective's argumentation and conclusion style."