Testing the Canon RF 70-200mm f/2.8 Lens for 10 Days in California
The trinity is now complete. Since the release of the Canon EOS R about a year ago, the mirrorless camera is my go-to tool for shoots. Not least because of its size and weight, as well as the amazing lenses (RF 28-70mm f/2, RF 50mm f/1.2, and my RF 24-240mm f/4-6.3 expedition lens) the EOS R has benefits over its DSLR counterpart.

With the EF lens-adapter combination that I've been using so far, especially for the EF 11-24mm f/4 wide-angle lens and the EF 70-200mm f/2.8 tele-zoom lens, there was a noticeable imbalance between the camera body and the lenses. There was no optical quality loss when I used the adapter ring, but compared to the camera, my old 70-200mm f/2.8 was pretty long and heavy.
With the release of the trinity lens set in the RF mount, I can now use the EOS R for a focal length of 15mm to 200mm with a fixed aperture of f/2.8 and a 5-stop image stabilization — and all this with lenses that are specifically designed for the mirrorless system. I'd like to share my experiences with you here, especially with the RF 70-200mm f/2.8.
Disclaimer: I'm a Canon Ambassador and I was sent the lens to test on a commercial job. This test report is based on my subjective experiences over 10 days under real-life conditions. The report covers day-to-day use of the lens. I've intentionally left out technical details and lab tests since this isn't something that applies to my daily use.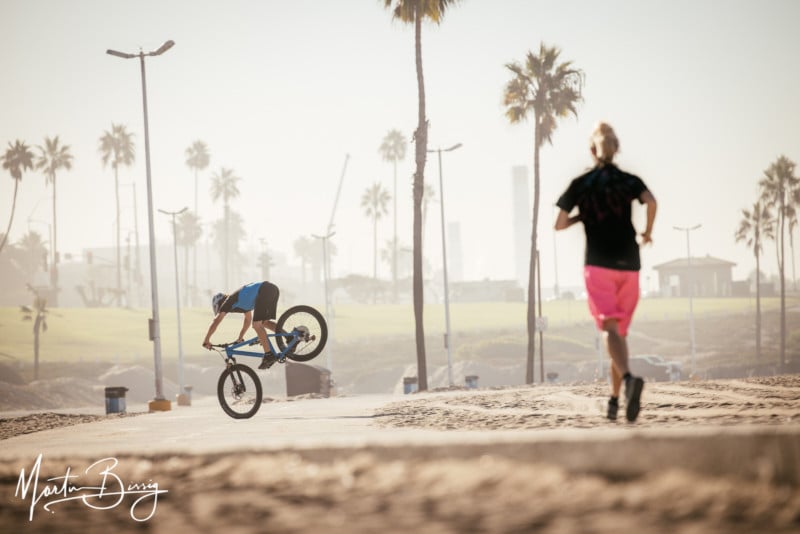 My first experiences using the RF 15-35mm f/2.8 and the RF 24-70mm f/2.8
When I compare the new RF 15-35mm to my old lens (EF 11-24), sometimes I miss the 11-14 mm focal length. But the fixed f/2.8 aperture lens and its 5-stop image stabilizer, things my EF 11-24 didn't have, makes up for this. Better yet, it's about 30% lighter, and not needing an adapter ring makes it quite a bit shorter.
The fact that the RF 15-35mm f/2.8 lets you use filters with a diameter of 82mm that can also be used with the RF 24-70mm f/2.8 isn't really that important to my daily work, but this is definitely an advantage for lots of nature photographers. The EF 11-24mm f/4's bulbous front lens doesn't make this possible.
The RF 24-70mm f/2.8 is pretty much the same size and length of my old EF 24-70mm f/2.8, but with its 5-stop image stabilization, it outdoes the old lens, also when it comes to optical quality. Especially on the edges, the differences are easy to see (just as for the 15-35 compared to the 11-24). I'm not going to get into these two lenses in more detail here; my focus will be on the RF 70-200mm.
The "little" RF 70-200mm f/2.8 is a big accomplishment
The first time I saw photos of the new lens, I could hardly believe my eyes. After waiting for more than a year, it looks like I've finally got a tele-zoom solution for my EOS R. Armed with the RF 15-35mm, the RF 24-70mm and the latest RF 70-200mm, I headed off to California for 10 days to test the trinity set on a commercial shoot.
Pros
Weight and size
To reiterate, size and weight are important factors when considering the EOS R mirrorless system. The RF 70-200mm f/2.8 is almost 30% smaller and lighter than the EF 70-200mm f/2.8. The length, when zoomed at 200mm, is the same as my old EF lens. But what's most important for me: it's much shorter at 70mm. I often have to carry my gear around for hours in my backpack. Any extra space I gain in my photo gear backpack can be used for other things.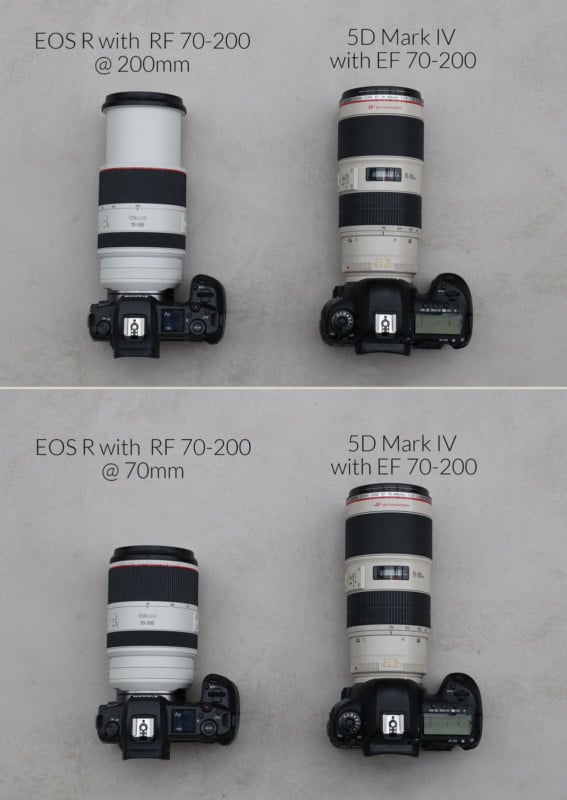 Image stabilization
When it comes to the RF lens, the 5-stop image stabilization has 1.5 aperture stops more than my previous EF lens. Image stabilization has improved a lot, especially when it comes to long focal lengths or filming. This makes it possible for me to photograph with shutter speeds that I never dared use before, never mind when I'm taking tele shots! The following picture was taken at almost 160mm at just 1/20 seconds:
Here's a sample video filmed at 200mm with image stabilization:
Extremely quick auto focus
On this shoot, I shot more than 3000 photos with the 70-200. I took more than 75% of them with an open aperture of f/2.8, often with continuous autofocus. There were considerably less unfocused images using this lens. This is due mostly to the two nano USM autofocus motors, which separately control two groups of lenses. The result: For continuous shooting, the number of sharp photos is higher overall.
As a reference point, look at the logo on the left side of the helmet. On the right side is a 100% crop of the image you see on the left.
The third photo was taken with the following settings:
Top performance for shots against the light
I love taking photos against the light. For this photo shoot, I decided against a flash or light bouncer, preferring to use Lightroom to edit the shadows and darker areas. The special Super Spectra coating reduces lens flares and scattered light.
Photos that are crisp and clear
I am totally sold on the crisp definition that the lens makes possible. I was already very satisfied with the results I got from the EF 70-200. The new RF takes it up a notch. The pictures are extremely crisp overall. This is especially noticeable on the edges of the photos.
Cons
It's a real challenge to come up with cons for the RF 70-200mm. Some people gripe about the extending lens barrel. During my 10-day shoot, the extending barrel had no negative impact on the images. As compared to other Canon external focus lenses (like the older 100-400), this new lens has a filter between the extending barrel and the main barrel to prevent dust from getting sucked into the lens.
If, after long-term use of the lens, the filter was shown to not prevent this, then this definitely would be a drawback. I haven't used the lens enough yet to know whether this is an issue. To date, I see no disadvantages to extending lens barrel. On the contrary: I'm quite happy to make use of the extra space I've gained to put other lenses in my backpack.
In conclusion
Just as the EF 70-200mm f/2.8 is part of a serious Canon DSLR photographer's toolkit, the same applies to the RF 70-200mm f/2.8 for those using mirrorless EOS R or EOS RP cameras. In my line of work, a compact tele-zoom lens is worth its weight in gold, and right now, there's no other lens that holds a candle to this one. In my eyes, the optical quality, combined with its compact size and low weight make this lens a must for photographers who work with Canon's mirrorless system.
---
About the author: Martin Bissig is a professional photographer and Canon Europe Ambassador based in Switzerland. The opinions expressed in this article are solely those of the author. You can find more of Bissig's work on his website and Instagram.