Two Essentials for Stress-Free Camera Tethering via USB-C
In the film days, which for me ended in late 2004, instant film was the only way for a photographer (and everyone else on set) to see what was being captured.

From the perspective of a celebrity/fashion photographer, these could be some tense moments as celebrities, publicists and clients would gather around to take a look, and hopefully see a flattering result right off the bat.
A smart photographer would make sure to keep the first trials away from the sensitive crowd until a perfected image could be presented.
Early digital capture with medium format cameras became a viable option in the mid-2000s, something that I had been eagerly awaiting for many years prior.
I was so excited about this new way of shooting, that I convinced clients to take a chance on the emerging technology. In 2004, I was the first photographer to ever shoot a major international L'Oreal Paris campaign with a medium format digital system.
I adapted my Fujifilm GX 680 III cameras with various custom accessories, such as grips, focusing screen masks, and high powered loops at this time of transition, but of course the only way to work at that time was to shoot tethered to a computer. For many years, the idea of walking around with a camera without a cable attached was just a dream.
As digital cameras evolved to what they are today, shooting tethered to a computer is luckily no longer necessary most of the time, and even art directors and clients often understand that moving around without a cable attached has its advantages, and can allow for greater spontaneity in the process.
However, on the days that shooting to a computer is unavoidable, it is important to have a setup that is reliable and comfortable. I recently wrote an article about working with the Fujifilm GFX system.
The new and ground-breaking Fujifilm GFX 100 is equipped with a USB Type-C port, just like the popular Fujifilm X-T3.
A cable with a straight USB Type-C plug can be a challenge, as these straight plugs stick out very far and get in the way of any L-bracket, even when extended. Surprisingly, the major photography equipment outlets still only sell tethering cables with straight USB Type-C plugs.
However, now a California company called NEWNEX offers a much superior alternative with a right angle plug, which solves the aforementioned problem. As an added bonus, their cable also has much higher performance with a whopping 5Gbps versus 1.5Gbps commonly used cables deliver. NEWNEX also accepts custom orders and I've found them to have excellent customer service.
Another important aspect when using USB plugs for tethered shooting is to have the ability to secure the cable and to avoid the plug from being yanked when shooting handheld.
For this, Really Right Stuff has a highly efficient solution: the CA-1 cable anchor for L-plates. This small device, used in combination with a camera rail or with a simple clamp by a computer, provides stability and is very quick and easy to use.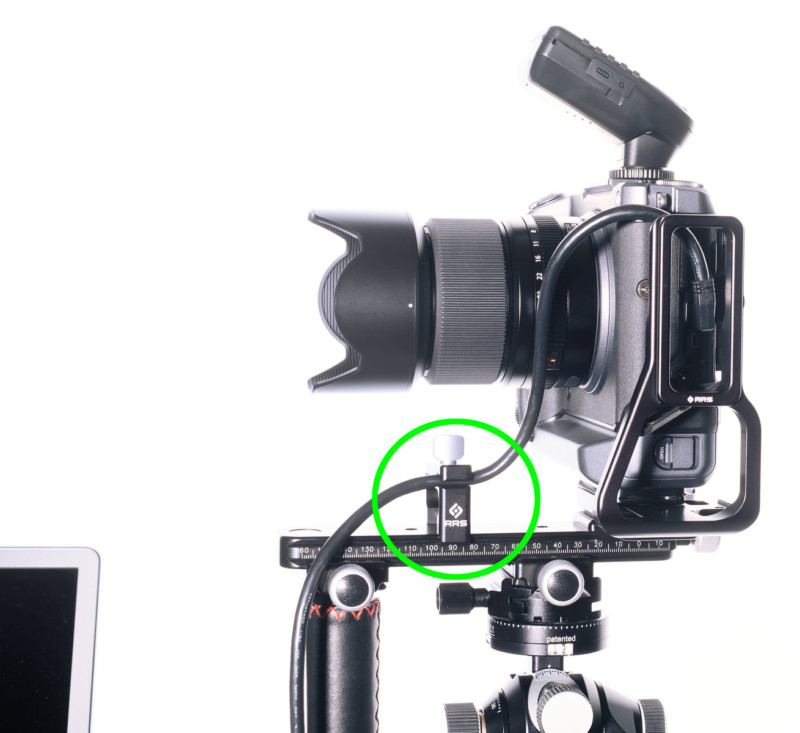 The NEWNEX cable and the RRS anchors are a great combo and make shooting to a computer a lot more enjoyable!
---
About the author: Markus Klinko is an international fashion/celebrity photographer who has worked with many of today's most iconic stars of film, music, and fashion. The opinions expressed in this article are solely those of the author. You can find more of Klinko's work on his website and Instagram.