Apple's Redesigned Mac Pro is a $6K+ Monster Editing Machine
Apple has announced its latest completely redesigned Mac Pro, a new beast of a machine that should satisfy creatives after years of grumbling over the "garbage can" model. The new refresh is a throwback to the iconic line's "cheese grater" days.

Answering customer feedback received over the past few years, Apple designed its new Mac Pro to be a "breakthrough workstation for pros who push the limits of what a Mac can do." In other words, it's an ultimate workstation for photo and video editors.
In terms of technical specs, the Mac Pro boasts "maximum performance, expansion and configurability": it can pack workstation-class Intel Xenon processors up to 28 cores (with 64 PCI Express lanes "for tremendous performance and massive bandwidth"), a memory system of up to 1.5 terabytes of RAM (12 DIMM slots), eight PCI expansion slots (twice as many as the previous Mac Pro), and over 300W of power.
In the area of graphics, the Mac Pro starts out with a Radeon Pro 580X. Customers can step up to a Radeon Pro Vega II (14 teraflops, 32GB memory, 1TB/s memory bandwidth). If you need even more power, Apple's top tier is the world's most powerful graphics card: a new Radeon Pro Vega II Duo with two Vega II GPUs for a combined 28 teraflops and 64GB of memory.
Apple has also created a new graphics expansion architecture called the Apple MPX Module, which features Thunderbolt integration and over 500W of power — two firsts in the graphics card space. Using two MPX Modules, customers can employ two Vega II Duos at the same time for a staggering 56 teraflops of graphics performance and 128GB of video memory.
And for video editors, Apple is introducing a new optional accelerator card called Apple Afterburner. The card is capable of decoding up to 6.3 billion pixels per second and enables playback of three streams of 8K ProRes RAW videos simultaneously.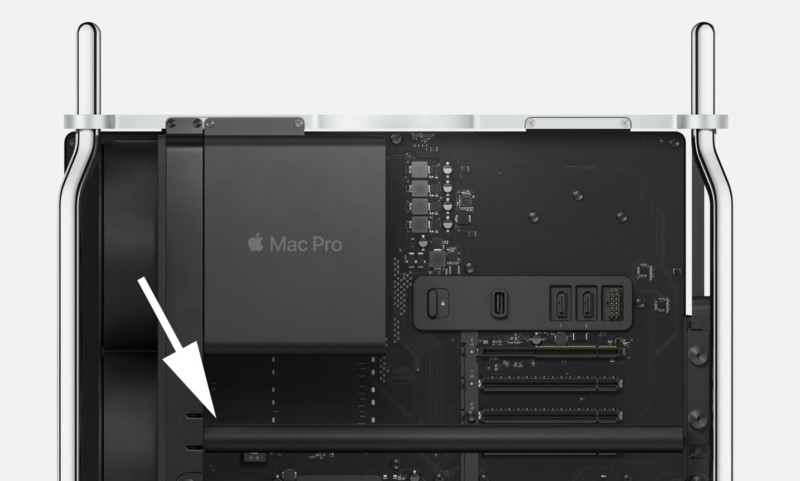 "With Afterburner, video editors using high-quality cameras that require the conversion of native file formats into proxies for easy editing can now use native formats right from the camera," Apple says.
Great power necessitates great cooling, so the new Mac Pro features a state-of-the-art thermal architecture with air flow from three fans that allows the processor to run at full strength continuously.
Smooth handles on the top of the Mac Pro allow the workstation to be moved around a photo studio. The aluminum housing can be easily lifted off to access the guts of the computer, giving you 360-degree access to all components on the stainless-steel space frame.
The new Apple Mac Pro starts at $5,999, and a top-of-the-line full-loaded model will cost you well north of $30,000 (and well north of $40,000 if you add in two Radeon Pro Vega II Duos). The workstation will go on sale starting in the fall of 2019.