Insta360 EVO is a Folding Camera That Shoots Both 360° and 180° 3D
Insta360 has announced the EVO, a groundbreaking new camera that features a folding design and two cameras. Folded up, the camera can shoot 360° spherical imagery, capturing every angle at once. Unfolded, the camera can shoot 180° 3D content.

In its unfolded form, the EVO's two wide-angle fisheye lenses can work together to capture 180-megapixel 180° 3D photos and 5.7K 180° 3D video.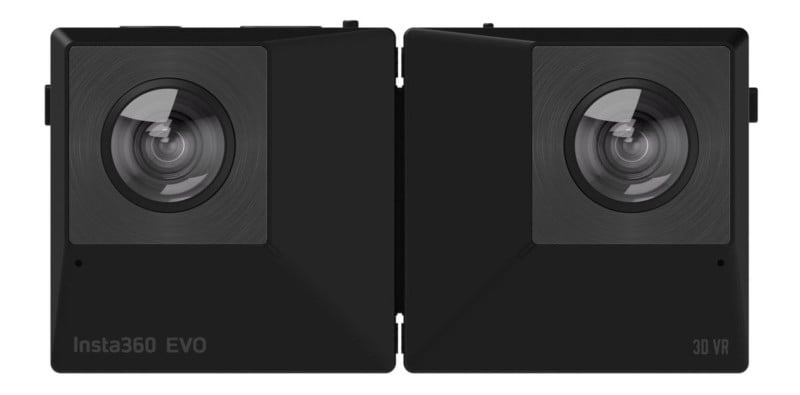 "We remember experiences in three dimensions, and to fully capture a moment, a camera needs to do the same," Insta360 says.
But "[s]ome experiences are so rich and unpredictable — or they demand so much of our attention — that it's impossible to choose just one direction to point a camera," Insta360 says.
For that case, users can fold up the EVO to capture 360° photos and videos at 18MP and 5.7K, respectively.
Here's a sample interactive 360-degree wedding video captured with the EVO:
Insta360 is also unveiling two new technologies for experiencing the imagery captured on the EVO.
First, the Insta360 VR is a new app for VR headsets (e.g. Oculus Go, HTC VIVE Focus, and Samsung Gear VR) that lets you connect the EVO for "streamlined wireless playback and transfer."
Second, the Insta360 HoloFrame is a phone display cover that lets you watch 3D photos and videos without any special glasses or headgear.
"HoloFrame pops straight over a smartphone display (think a reverse phone case)," Insta360 says. "Then, users open their favorite 3D photo or video in the EVO app. During playback, the app uses eye-tracking to align with a viewer's gaze and display an image that takes on a lifelike three dimensions in their line of sight. It's a groundbreaking way to experience 3D content that has to be seen to be believed."
Other features of the Insta360 EVO include separate photo and video shutter buttons, FlowState digital image stabilization, TimeShift timelapse and hyperlapse photography, HDR, RAW, a microSD card slot, log video, a powerful companion app, and micro USB power and data transfer.
The Insta360 EVO is available starting today with a price tag of $420. The HoloFrame is available separately for $30.