The World's First Titanium Hollow Tripod Ballhead. Price Tag: $499
The Denver-based tripod maker Colorado Tripod Company has announced the world's first hollow titanium ballhead. It's called the Highline Ballhead Titanium, and it's designed to be ultra-light, ultra-strong, and ultra-versatile.

"Although the process of extracting titanium from its ore is costly, designers consider it valuable enough for specialty applications such as aerospace, where its combination of strength-to-weight and corrosion resistance is unrivaled," the company says.
This isn't the first-ever titanium ballhead of any kind, though, as Gitzo released a 90th-anniversary edition of the GT90TT with a titanium ballhead back in 2007, though only 390 of those $2,500 kits were made.
The Highline titanium ballhead is 40% lighter than high-strength steel but just as strong. And by hollowing out the ballhead, which is machined from a solid block of titanium, the designers managed to reduce the ball weight by 52%.
Despite its lightness, design decisions purportedly give the system an incredibly strong hold.
"By re-engineering internal locking mechanisms, the Highline Ballhead features an incredibly strong 54lb locking force – more than double the locking force of Manfrotto, Gitzo, Vanguard and many other industry leaders," Colorado Tripod Company says.
The company has also focused its attention on the handedness of its ballheads.
"For decades tripod companies have optimized ballheads for right-handed use relative to the drop location for vertical shooting," it says. "Since cameras are right-handed, why don't ballhead companies optimize the ballhead knobs for the left hand?"
The Highline Ballhead is optimized for left-handed operation through the window design and tension knob orientation, allowing the photographer's right hand to be free for handling the camera.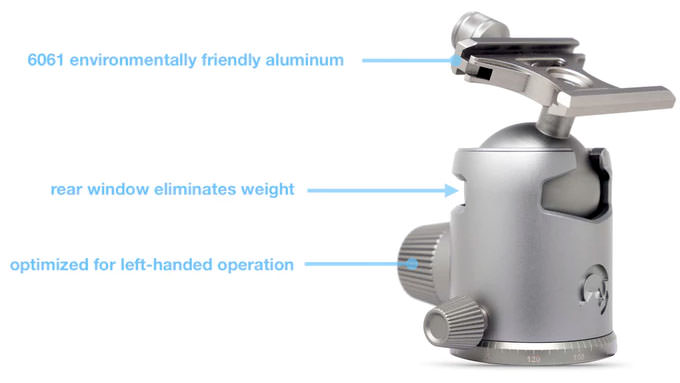 Finally, the company worked to provide increased range compared to existing ballheads on the market.
"For over 100 years, the drop window (the cutout area on the side of the ballhead) has been fixed to a 90-degree drop," it says. "Once the 90-degree limit has been reached, the photographer must adjust the tripod legs to go lower to achieve a level shot.
"With decades and billions in revenue why haven't the tripod companies increased range of motion beyond 90-degrees?"
The Highline Ballhead features a new patent-pending enlarged opening design that expands the range of motion beyond 90-degrees.
Here's what some professional photographers have to say about the Highline Ballhead:
Colorado Tripod Company is launching the new Highline Ballhead through a Kickstarter crowdfunding campaign. There are two variants: an "ordinary" aluminum version and the groundbreaking titanium one.
A pledge of $79 or more can possibly get you an aluminum one (retail price $99) if the company successfully delivers on its goals, and a contribution of $399 could get you one of the first titanium ones (retail price $499). The company is aiming to ship the first units in March 2019.
(via Kickstarter via Canon Rumors)