Samsung's X5 Portable SSD Has the Fastest Write Speed of 2.3GB/s
If you're looking for a way to do ultra-fast photo backups on-the-go — and you have deep wallets — Samsung has announced a new portable solid state drive (SSD) for you. The new Samsung X5 is the fastest portable drive on the market, boasting a max write speed of a whopping 2.3 gigabytes per second.

The X5 features Thunderbolt 3 (which, at 40Gbps, is 4 times faster than USB 3.1) and NVMe technology, the first NVMe-based SSD drive by Samsung.
"Whether editing 4K videos, creating real-time 3D rendering images or compiling high-resolution photos, consumers want fast and convenient ways to store and transfer their data," Samsung says. "Samsung's X5 delivers maximized performance levels for professionals working with heavy multimedia files."
In addition to the 2,300MB/s maximum write speed, the X5 has a read speed of up to 2,800MB/s, which is 5.2 times faster than SATA SSDs and 25.5 times faster than traditional external hard drives.
The X5's write speed is so fast that you're able to store a 20GB 4K UHD video on it in just 12 seconds.
Design-wise, the sleek X5 has a full-metal body, a glossy finish, and a non-slip mat on the bottom.
Inside a shock-resistant frame that allows the SSD to survive drops of up to 6.6 feet (2m). There are also mechanical features inside that prevent overheating.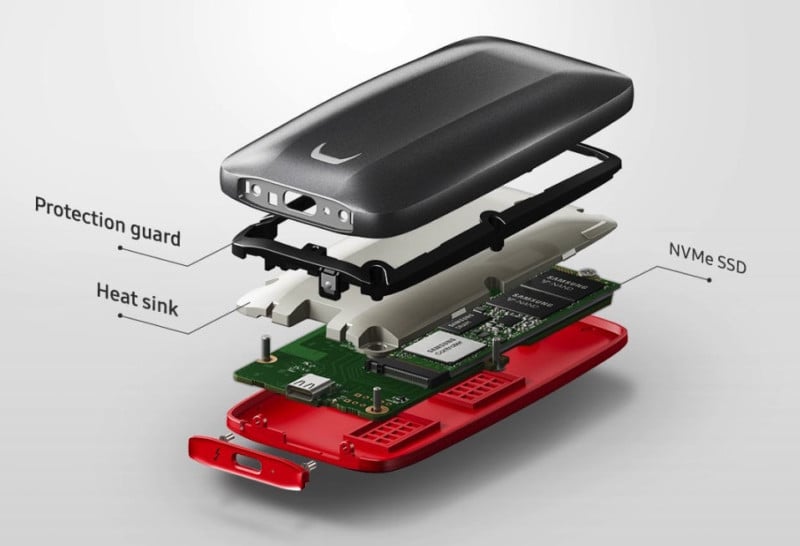 To protect your data, Samsung offers its Samsung Portable SSD Software, which uses AES 256-bit hardware data encryption and optional password protection.
All this speed and sleekness comes at a significant price: the 500GB version will set you back $400, the 1TB model costs $700, and you'll need to pay a hefty $1,400 if you'd like the top-tier 2TB model. The X5 will hit store shelves on September 3rd, 2018.