The Best Portable SSDs in 2023
PetaPixel has long been a fan of SanDisk products due to their once-sterling reputation and often excellent performance. However, some of SanDisk's portable SSDs fail so frequently that we can no longer recommend them. So with that in mind, what are the best alternatives?
Fortunately, even with SanDisk, Western Digital (SanDisk's parent company), and sibling operation, G-Technology, off the table, photographers and videographers still have plenty of excellent portable SSDs to consider.
---
This story was collaboratively written by Jeremy Gray, Jaron Schneider, and David Crewe.
---
At a Glance
Why Buy a Portable SSD?
Before getting into which portable SSDs are best, it is worth briefly discussing why someone might want a portable SSD at all.
External storage is a great way to expand a computer's internal storage and have additional backups of critical files in case a drive fails — which can happen with any drive, albeit at a lower rate than what is happening with SanDisk.
In the case of a portable SSD, which stands for solid-state drive, users also achieve fantastic performance and speeds that a portable hard disk drive (HDD) cannot match. Using an SSD as a working drive is a popular choice for many, as they can edit photos and videos not stored on their computer.
Another advantage of SSD technology is that it is often quite durable. While an HDD has spinning components that are susceptible to damage when dropped or bumped, SSDs are flash storage and, therefore, able to take much more abuse than HDDs.
For photographers on the go, the ruggedness of portable SSDs is critical. If someone is backing up photos in the field, it is crucial that the external storage can survive a bump, drop, or even an accidental swim. Some drives included in this guide have IP ratings for water resistance.
Compared to their HDD counterparts, SSDs are also smaller, lighter, and require less power. The portable SSDs on this list are powered directly from the computer (known as bus-powered) and take up about as much room in a bag as an extra camera battery or two.
Ultimately, portable SSDs are a versatile, high-performance storage solution that allows users to back data up, work directly from a drive, and, most importantly, keep their data safe and secure.
What to Look for in a Portable SSD
Given that PetaPixel felt that it was important to write a guide to the best alternatives to SanDisk's portable SSDs suggests that reliability and data security is of paramount importance. Users must believe their photos and videos are safe on a portable SSD.
Performance matters too. For the portable SSDs featured in this guide, we have evaluated their performance using Blackmagic Disk Speed Test. This app measures a drive's sustained read and write performance, measured in MB/s. A drive's performance rarely matches manufacturer specs.
Still, it is vital to consider how close performance is to the absolute optimal speed during real-world use and how each portable SSD compares to the competition. If a videographer wants to edit 4K 60p video using a portable SSD as a working drive, their drive must be fast enough to work in that usage scenario.
Alongside performance, other aspects of a portable SSD affect its value to users. Size and weight, the quality of the included cable, build quality, price, and even style are all essential factors.
Testing Methodology and Tested SSDs
In order to provide our best selection for SSD, PetaPixel evaluated the drives on a number of factors. We looked at pure performance (out of the box, when filled, and when emptied of data), which we will get into more below, as well as size, heat generated while in use, included accessories, warranty, and a company's history in the space. While some of these factors are subjective, much is objective. By combining all these factors and discussing the results as a team, we were able to provide our picks for the best options.
In our testing, we did our best to mimic actual use cases for a drive, filling, using when filled, and emptying. As a result, that is how we categorized a drive's speeds. As a note, we expect some deviation of speeds when running and re-running tests. It is not unusual to see jumps and dips in performance by up to 100 or even 200 MB/s with Thunderbolt-connected drives and between 50 and 100 MB/s on USB-C-connected drives. We expect a drive to run slower when full than when empty, and we also expect it to bounce back when that full drive is emptied again.
In addition to the drives listed below, we also tested the Sabrent Rocket Nano XTRM, but due to some issues with our unit and testing inconsistencies, we have opted to leave it off this guide for now. And as mentioned, while we could have included SanDisk products in this test, due to the ongoing issues at Western Digital, we have decided to not discuss the brand or recommend its products until notable changes have been made that assure they won't fail.
Finally, in all cases we make a note of what the actual SSD flash unit is inside of each of these portable drives. While that is easier with some than others, we think this level of transparency is important so that the reliability of a drive over time can be tracked. If a company is unable or unwilling to provide us with the exact model number of an SSD flash unit, we will note that.
LaCie Rugged SSD Pro
LaCie, a Seagate brand, was for years synonymous with the term "rugged" thanks to its very popular series of portable HDDs, the aptly named Rugged series. But as HDDs fell out of favor due to their weak reliability and large size (although Seagate does still make them), the transition to SSD has not led to LaCie grabbing as strong a hold on the portable space as it once enjoyed.
Still, that doesn't mean the company doesn't produce quality portable SSDs under that Rugged brand name, and the LaCie Rugged SSD is a solid performer that retains much of the identity of the original Rugged line, sans the ostentatious orange color (that can be found on the non-pro versions of the SSD though).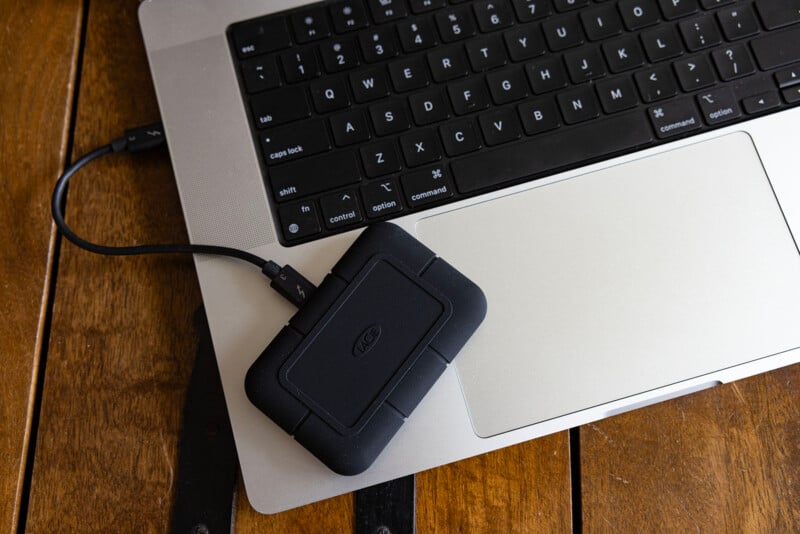 Like the Rugged drives of old, the Rugged SSD is surrounded by a thick rubber layer that keeps it safe from drops and even some liquid, provided none of it touches the open USB-C/Thunderbolt 3 port on the side. LaCie advertises it as IP67 water and dust resistant, which is more than most drives of similar size can claim.
Jumping into performance, we were very pleased with what the Rugged SSD Pro was capable of. Out of the box, it averaged 2,650 MB/s read speeds and 1,804.7 MB/s write speeds (tested with a Thunderbolt connection, so expect no more than half this level of speed using USB-C). When nearly full, the drive continued to impress, with 2,689.1 MB/s read speeds and 1,375.2 MB/s write speeds. The read speeds are within an expected deviation range when doing tests like this and the write speeds, while slower which is expected, are still quite high. Once the drive was emptied, it settled at still great performance: 2,561.5 MB/s read speeds and 1,530.4 MB/s write speeds.
What further differentiates the new SSD from the old HDDs is that it is much smaller and lighter. It measures 3.9 by 2.6 by 0.7 inches and weighs a scant 0.22 pounds, making it one of the smallest and lightest drives we tested. Considering the difficulty in managing speed, capacity, and heat the smaller a drive gets, this is all quite impressive.
In use, the LaCie Rugged SSD Pro does get warm, but never gets scalding hot like some of its contemporaries, likely due to the rubber case that surrounds the actual SSD, which appears effective in sinking heat.
It is available in 1TB, 2TB, or 4TB configurations for $210, $270, and — bafflingly — $1,000 respectively. You'll want to avoid the 4TB version for what should be obvious reasons; at that price, it's not a good deal. Regardless of which capacity you pick, it ships with a very short Thunderbolt 3 cable — like, very short: it's less than a foot long. It doesn't ship with a USB-C cable or a USB-C to USB-A cable, so if you don't plan to use Thunderbolt 3, you will have to supply your own connection.
For those who want to check on the reliability of the flash memory, the LaCie Rugged SSD uses a version of the Seagate FireCuda 530 SSD. This SSD has some excellent performance and reliability numbers, which is another positive on the Rugged SSD's side.
Overall, the LaCie Rugged SSD Pro is a worthy successor to the storied Rugged name and performs extremely well. It is also backed by a five-year warranty — the most we have seen in the SSD space — and it is a durable, lightweight, and very small SSD that has the benefits of Thunderbolt on its side — only one of two we have tested that brings that capability to the table. You pay for it, however, and it's not going to be the best value for those who don't want or use Thunderbolt.
Pros: Very fast, stays cool, is quite durable, is small and lightweight, and has a five-year warranty.
Cons: Expensive, especially if you're not using Thunderbolt.
Synology BeeDrive
The Synology BeeDrive is a compact portable SSD designed for portable data backup that uses USB 3.2 technology.
Alongside pretty good hardware performance, the BeeDrive works alongside an accompanying app on desktop and mobile to enable select folder backup, version history preservation, and file syncing.
For users with multiple computers, such as a work and home computer, Synology BeeDrive automatically syncs files from one device to another as soon as it is plugged in. With BeeDrive for mobile, users can backup directly from their mobile device as well over Wi-Fi, ensuring that they can free up valuable storage on their phone or tablet. BeeDrive can sync with up to five mobile devices.
However, BeeDrive's impressive software features are currently only available on Windows, Android, and iOS. BeeDrive also works alongside iCloud Photos on iOS. A macOS version is in the works and coming soon.
While the software for BeeDrive is still in development for macOS, the device remains an appealing portable SSD option on macOS in the interim. Available in 1TB ($119.99) and 2TB ($199.99) versions, the BeeDrive is a compact, ready-to-go portable SSD with smart software.
The portable SSD is also very lightweight. Unlike some of the other portable SSDs in this guide, the BeeDrive has a plastic outer shell. While that may seem "cheap" at first glance, it is still rated to survive drops up to two meters (about six and a half feet) and the plastic shell stays impressively cool during use.
The BeeDrive ships with a 0.3m (11.8 inches) USB-C to USB-C cable. However, the drive also includes a dongle for USB-A that one end of the USB-C cable plugs into. It is a clever solution and much better than shipping two separate cables.
The cable feels high-quality and sport BeeDrive branding on them, which is a nice touch. The BeeDrive's USB-C port feels a bit loose, but the cable stays attached even when lightly tugged.
As for performance, Synology BeeDrive is competitive with many of the options in this guide. The BeeDrive's read speed averages just above 870 MB/s when the drive is empty and around 841 MB/s when it is full. The device's write speed hovers from around 765 to 800 MB/s across the board.
Synology was unable to give PetaPixel any indication as to what the flash unit inside the BeeDrive is or who manufactures it. It is protected by Synology's five-year warranty, though.
Overall, the Synology BeeDrive is a nice portable SSD with intelligent software for file syncing and file backup across devices. It is slightly disappointing that the BeeDrive is not available in a 4TB version, but it remains a compelling choice for people who want a portable SSD more for backup and file transfer rather than as a super-powered working drive.
Pros: Compact and lightweight design, stays relatively cool during use, and works alongside intelligent syncing and backup software.
Cons: Not very fast and the software is not available for macOS (yet).
Samsung Shield T7
The Samsung T7 Shield portable SSD is compact, lightweight, and durable. With IP65 rating for dust and water resistance and Dynamic Thermal Guard to control heat, it is a great choice for photographers and videographers on the go. It is also rated to survive drops of up to about 10 feet.
The T7 Shield comes in 1TB ($79.99), 2TB ($119.99), and 4TB ($249.99) capacities and in three colors (black, blue, and beige). The device has a ridged design with a soft-touch rubber finish that keeps the drive firmly planted on a desk or table.
PetaPixel tested the 4TB T7 Shield, which is only available in black, and it weighs just under 3.5 ounces and is is 3.5 inches long. The device is 2.3 inches tall and 0.5 inches thick. Its footprint is about the same as a credit card.
The included USB-C to USB-C and USB-C to USB-A cables are 0.45 meters long (1.48 feet), which is unusually long for a portable SSD, and are perfectly fine in use. The T7 Shield's USB-C port offers a strong connection to the attached cable.
As for performance, Samsung promises read/write speeds of up to 1,050/1,000 MB/s. In testing, the drive did not quite reach these speeds and was among the slowest SSDs that PetaPixel tested.
Fresh out of the box, the read speed came up just short of 800 MB/s and the write speed was around 650 MB/s. When full, the read speed dropped down to about 650 MB/s while the write speed stayed steady at around 650 MB/s as well.
This performance is only so-so, but there is still quite a bit to like about the Samsung T7 Shield SSD, including its competitive price, rugged design, and Samsung's reputable flash storage technology.
Samsung says the T7 Shield uses its sixth V-NAND (TLC) which is also used in the 980 PRO, 870 EVO and 980 SSDs. Samsung's SSDs are largely well-respected and it is protected by the company's three-year warranty.
For content creators who enjoy the great outdoors and do not require the absolute fastest possible portable SSD storage solution, the T7 Shield SSD is a perfectly reasonable option.
Pros: Rugged design with weather resistance and affordable pricing.
Cons: The slowest overall option in the guide.
OWC Envoy Pro FX
OWC's Envoy Pro FX is what you get if you care about performance and nothing else. While it's not by any means large, especially compared to the HDD options that used to be the norm, it is far and away the largest SSD we tested by at least a factor of four. It measures 0.8 by 4.3 by 2.6 inches. It's big, chunky, and shockingly heavy, but it does bring the best performance to the table.
Just like the only other Thunderbolt SSD on this list, the Envoy Pro FX is IP67 rated. In a fall, given its beefy aluminum construction, we don't doubt it'll be more likely to break whatever it lands on than be broken itself, too. We keep bringing up the weight but that's because it's so absurd: the OWC Envoy FX Pro tips the scales at a daunting 0.54 pounds. More than half a pound! By comparison, you could fit six Crucial X10 Pro SSDs into the weight of one Envoy FX Pro of the same capacity.
While it's not going to win any contests for its portability, it does shine in performance. Out of the box, it clocked in at 2,720.2 MB/s read speeds and 2,121.2 MB/s write speeds. Once filled, that expectedly dipped to 1,504.2 MB/s read speeds and 1,787.8 MB/s write speeds. Once emptied again, it rebounded to 2,682.4 MB/s read speeds and 2,103.5 MB/s write speeds. We did note it got pretty hot during use to the point it wasn't comfortable to touch it for very long.
The Envoy Pro FX absolutely hauls compared to the rest of the drives we tested, showing the best performance by a good margin. It also ships with a reasonably long 2.3-foot Thunderbolt 4 cable (even though it is only a Thunderbolt 3 drive) that comes with a USB-A adapter, which is a nice addition. It also includes OWC's three-year warranty.
Given its heft and physical dimensions, we recommend the Envoy Pro only for those who really need the speed — video editors, in particular, come to mind. They'll get the most value, but if you don't need these high speeds or don't care for Thunderbolt, you would be best served looking at Crucial or Samsung's offerings.
Something else to note is that the SSD inside the Envoy Pro FX is a Kioxia 5th-gen BiCS Flash which, while designed by Kioxia, is manufactured by Western Digital. WD is in hot water with the SanDisk situation (and other problems), so anything associated with the brand carries with it some stigma. We don't have any reason to believe this drive will fail like first-party WD drives, this particular SSD has reviewed well, and we trust OWC, but those who want to steer clear of WD entirely will likely want to look elsewhere.
The OWC Envoy Pro FX is available in 480GB, 1TB, 2TB, and 4TB capacity options at $195, $220, $300, and $450 respectively directly from OWC.
Pros: The fastest option we tested, durable build, and comes with a three-year warranty.
Cons: Very big and heavy
Crucial X10 Pro SSD
Crucial, a Micron company, is a relative newcomer to the portable SSD space, at least when it comes to supporting photographers and filmmakers. That said, it's a very well known brand in the PC space and makes some of the best-quality memory products for use in computers. Micron is also the former parent company of Lexar, which means that it at least has some experience with building products for creatives, even if it's been a few years since it played in this sandbox.
The Crucial X10 Pro is the nicest and highest-end SSD product the company makes now, which is why it was selected for this guide. Another reason is that it is probably the drive that is most competitive with Samsung given size and promised performance.
Speaking of size, the Crucial X10 Pro is very small: it's 2.5 by 1.75 by 0.25 inches, making it easily fit in the palm of the hand and is smaller than a credit card outside of the thickness. It also weighs next to nothing at 0.09 pounds (40.7 grams). It is the smallest SSD we have ever tested.
Crucial says that it was able to pack serious performance into this tiny form factor without compromising it with excessive heat generation thanks to some clever hardware decisions. The X10 Pro uses single-ASIC portable storage architecture to deliver a super-compact, high-speed drive that has the most capacity per square millimeter in the industry while also generating less heat. I can confirm this last bit to be accurate as while the X10 Pro did get warm, it never got so hot that it was uncomfortable to touch.
It also performs very well. While the company designed it to work best with USB 3.2 Gen 2×2, that is not a common connection right now, so we tested it with the assumption that most buyers wouldn't have access to it. The X10 Pro registered 919.7 MB/s read speeds and 845.1 MB/s write speeds fresh out of the box. That dipped slightly to 652 MB/s read speeds and 653.8 MB/s write speeds when nearly filled to capacity, but bounched back to 879.2 MB/s read speeds and 831 MB/s write speeds when emptied again. That is very steady performance that bests Samsung's T7, its closest competitor, across the board.
Crucial says that the X10 Pro uses Micron's TLC NAND flash, stating that it is currently Micron's 176-layer TLC NAND. While the company didn't give us an exact model number, that narrows the possible chips it could be down to basically one: the Micron 2400 series. Micron's SSDs are largely well respected and it backs the X10 Pro with a stellar five-year warranty, which is more than average.
The Crucial X10 Pro ships with a pretty short 9.5-inch USB-C cable and is available for in 1TB, 2TB, and 4TB configurations for $120, $170, and $290 respectively — it is already available for less from select retailers, piling on to an already excellent value. This drive might not have the "rugged" exterior of its peers, but is IP55 rated so it's tougher than it looks. It is a fast, reliable, and extremely compact solution worth strongly considering.
Pros: Super small, reasonably fast, affordable, and stays cool during use. It also comes with a fantastic five-year warranty.
Cons: The best performance is locked behind USB 3.2 Gen 2×2.
Exascend Explorer Portable SSD
The Taiwan-based Exascend might not be a household name, but the brand has been making storage devices since 2006, so they are no newcomer. The brand has been supporting the photographer and videographer markets and recently impressing with the performance of, specifically, its memory cards.
The Explorer Portable SSD is one of three different portable solid state drive offerings from the company and is arguably the most rugged, boasting tough shockproof casing with added rubber external "skin" and an IP67 rating against water and dust. This extends beyond just the external case as the protective coatings are applied to the internal circuit boards and embedded components as well, effectively protecting the entire device from any potential weather damage.
The USB-C drive measures approximately 4.3 by 2.46 by 0.6 inches (110mm by 62.6mm by 1.55mm) making it not the smallest on this list, but still very easy to tuck away in any bag or pocket for easy travel. The Explorer weighs about 7.8 ounces (222 grams) with the included USB cable, which is on the heavier side.
The drive doesn't get too hot to handle when in constant use. During testing, the Explorer was actively reading and writing data nonstop for several hours and while it get notably warm to the touch, it was never what we would classify as "hot." The silicone case likely has a lot to do with that.
Exascend declined to tell PetaPixel the exact model and manufacturer of the flash SSD inside the Explorer, only going so far as to say it is a 3D TLC Flash unit. Additionally, while Exascend promises some pretty sky-high performance numbers, it suffers from the same issue that the Crucial X10 Pro does: you're only going to get those on the rare USB 3.2 Gen 2×2 port. On typical USB-C connections, the unit reached 954.9 MB/s read and 933.4 MB/s write speeds when empty, 827.5 MB/s read and 805 MB/s write speeds when full, and 831.7 MB/s read and 828.1 MB/s write speeds when emptied again. Overall, very good numbers for a non-Thunderbolt device and while it isn't as fast as it was straight out of the box, the numbers are still good.
While Exascend won't say what actual SSD lives inside the Explorer housing, the company does offer a stellar five-year warranty and promises that it can handle up to 12,000 TB written before the memory cells start to degrade.
The Exascend 20Gbps Portable SSD ships with a 18 inch USB-C cable (with included USB-3 adapter) and a silicone rubber case for added protection. It is available in 1TB, 2TB, 4TB, and 8TB configurations for $159, $249, $499, and $1,259 respectively.
Pros: Pocket Sized, reasonably fast, and comes with a five year warranty.
Cons: Heavy, and requires USB 3.2 Gen 2×2 to reach maximum quoted speeds.
Performance Results At a Glance
To help understand the kind of performance you can expect from these drives, we've charted all their performance on a single graph:
Across the board, we felt that all of the drives we tested performed quite well from a pure performance standpoint. While some got hotter than others which might have an effect on how long a drive's lifespan will be, we don't think there is a "bad" SSD of this group. However, we do have our favorites.
PetaPixel's Top Picks
The Best USB-C Portable SSD in 2023: Crucial X10 Pro
The best USB-C Portable SSD available now is the Crucial X10 Pro SSD.
Backed by Crucial's and Micron's sterling reputation, the X10 Pro SSD delivers great speed in an impressively compact form factor. It is the smallest SSD that we have ever tested and it weighs just 0.09 pounds (40.7 grams). It is often the case that packing swift storage into a compact package can result in excessive heat. However, that is not the case with the Crucial X10 Pro thanks to Crucial's clever portable storage architecture.
The Crucial X10 Pro SSD goes to show that good things do come in small packages.
It is important to note that while the Crucial X10 Pro SSD is our pick for the best USB-C portable SSD in 2023, it is not the outright fastest one that we tested. That honor goes to the Exascend Explorer. However, the Exascend Explorer slowed down more than the Crucial drive after extended use and the Taiwanese company refused to tell PetaPixel the specific flash storage used in the Explorer. Nonetheless, it is still a great option.
That said, the Samsung T7 Shield and Synology BeeDrive are also compelling choices. They lack the speed and performance of the Crucial and Exascend portable SSDs, but the T7 Shield and BeeDrive offer durability and sophisticated software features, respectively.
The Best Thunderbolt Portable SSD in 2023: LaCie Rugged Pro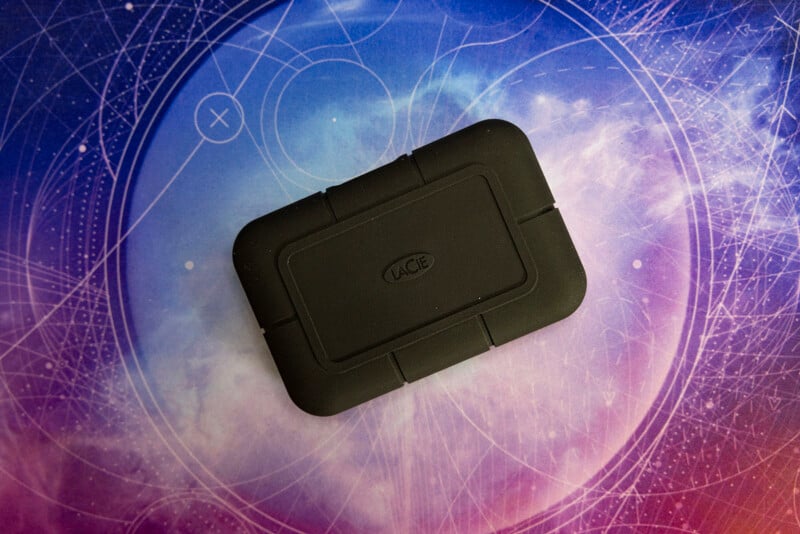 The LaCie Rugged Pro SSD is the best Thunderbolt-equipped portable SSD in 2023.
Its speed is just barely shy of the OWC Envoy Pro FX but the LaCie is significantly smaller and runs cooler. The OWC also uses SSD technology designed by Kioxia — great! — but manufactured by Western Digital — less great. For that reason, we prefer the LaCie Rugged SSD Pro and its Seagate SSD. But if that doesn't bother you and you don't care that about the additional weight, it is a speedy little SSD.
While we happily recommend the LaCie Rugged SSD Pro as the best Thunderbolt drive on this list, we advise against the 4TB version. Not because of any performance problems, but because of its eye-watering price of $1,000 and relative rarity on store shelves. The 1TB and 2TB versions are reasonably priced at $210 and $270, respectively.
---
Update 8/29/2023: After publication, Samsung shared more details on the SSD inside the T7 Shield.