Samsung's Palm-Sized T7 Shield SSD is Fast and Affordable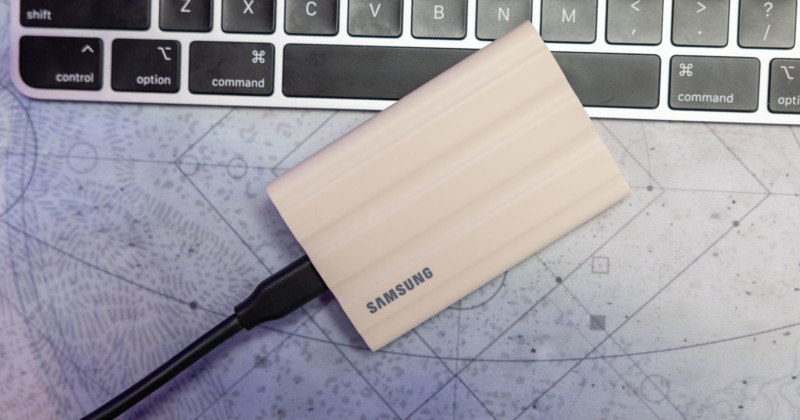 Samsung has revealed the credit card-sized T7 Shield SSD that promises plug-and-play functionality on Mac, PC, and Android devices. It is also Samsung's most durable portable SSD to date and is designed for travelers and outdoor content creators.
Super Compact and Durable
The T7 Shield is a very compact solid state drive (SSD) that is less than an inch tall and fits in the palm of the hand. Thickness aside, it's about the size of a credit card and weighs a scant 98 grams.
The SSD is available in two sizes, 1TB and 2TB, and supports transfer speeds at the cap of USB 3.2 Gen2 standard, which is up to 1,050 MB/s read speeds and up to 1,000 MB/s write speeds. Samsung says the T7 is almost twice as fast as its predecessor, the T5, and up to 9.5 times faster than spinning magnetic disk drives (HDD).
The compact size and lack of active cooling are offset by what Samsung says is an optimized interior as well as an "innovative" surface material that prevents overheating when transferring large amounts of data. As a result, the company says that there is no performance degradation even when files of 2TB are moved at once, and heat generation is minimized.
Samsung says the T7 Shield is designed to last even when put under stress, and as such is its most durable portable SSD to date. It is shock-resistant from drops up to three meters and is IP65 certified as dustproof and water-resistant.
As an added bonus, the T7 Shield includes Samsung encryption software that allows users to set a password that locks the drive from access without it. It also uses AES 256-bit hardware encryption and comes with a three-year limited warranty.
Samsung is making the T7 available in three colors: tan, black, and blue. The tan option is more like a "nude" or "flesh" when seen in person, which is a bit in contrast to how it appears in Samsung's marketing.
Solid Performance
The T7 Shield mostly lives up to Samsung's hype. Even after large data transfers, the SSD stayed surprisingly cool; while it did warm when subjected to a large data dump, as expected, it never got much hotter than body temperature. After the data dump, it slowly cooled down to ambient temperature over the course of the next 30 minutes.
Speed-wise, it didn't quite reach the peaks that Samsung touted, but it's no slouch either. In testing, which was performed on a 2022 Mac Studio, it came in with an average write speed of 800 MB/s and an average read speed of around 700 MB/s.
These speeds were mirrored on a test with a MacBook Pro with M1 Max, but on a MacBook Pro with an Intel processor, speeds improved to around 900 MB/s write and 900 MB/s read.
That's fast enough to work in nearly every video format that most small to medium-sized photography businesses will come up against and it is more than capable of handling huge photo workloads as well.
One thing to keep in mind is that the material Samsung chose for the exterior of the SSD isn't plastic, but what feels like a kind of silicone. While it does make the T7 easy to grip and probably has some kind of effect on the drive's ability to sink heat, it's a dust and pet hair magnet. Some of the colors, like the black, are going to be more susceptible to showing attached dust than others, like the tan (which does hide it pretty well).
Considering the performance and the size, Samsung's T7 Shield makes a pretty good argument for itself at $160 for 1TB and $290 for 2TB. All color options and storage capacities can be seen on Samsung's website.
---
Update 4/26: Results from testing with two additional computers added.