Samsung's New SSD Lets You Slip 2TB of Storage Into a Camera Bag Pocket
If you're a photographer who's constantly on the move, Samsung has a new external drive that you may want to add to your camera bag. The new Portable SSD T3 is a palm-sized external solid state drive that can store 2 terabytes of your photos and files while taking up minimal space and weight.

Size-wise, the drive is smaller than your average business card and weighs just 50 grams (less than 2oz), so it easily stays out of sight and mind when it's not needed.
The drive features Samsung's proprietary Vertical NAND (V-NAND) and SSD TurboWrite technologies, which give it read and write speeds of up to 450MB/s using a USB 3.1 cable — about 400% faster than external hard drives out there.
Designed with mobile content creators in mind, Samsung made the Portable SSD T3 super durable — it has a shock-resistant metal case, the ability to withstand 1500G of force and drops of up to 2 meters (~6.6 feet), and resistance against overheating in extreme temperatures.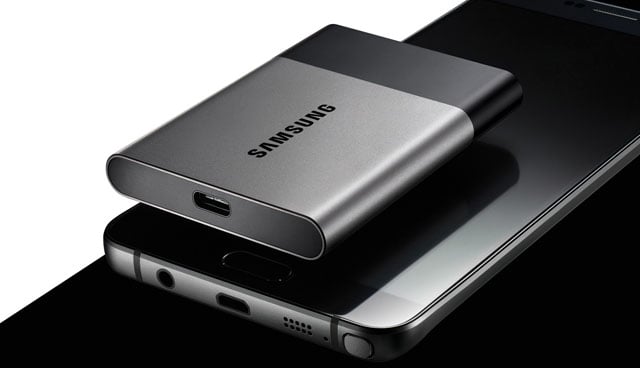 If security is a concern, the drive can be protected with a user-set password and encrypted with AES 256-bit hardware encryption. "Even if the drive should fall into the wrong hands, the data stored on it would be inaccessible," Samsung says.
The Samsung Portable SSD T3 will hit stores in February 2016. Pricing has not yet been revealed, but just to give you a rough idea, a similar 2TB portable SSD by SanDisk currently costs about $800.