Steadify is a Camera Stabilization Belt That Turns You Into a Tripod
Want a way to steady your camera without having to haul a tripod or monopod around? Are tripods banned in the location you'd like to shoot? Steadify is a strange-looking camera stabilization belt that's designed just for you. The slogan for the product is: "You are the tripod."

After putting on the belt, you extend the aluminum monopod hanging from under your belly button with a single twist to lock and unlock it at your desired length. Rather than mount your camera to it using a standard tripod mount, the end of the Steadify monopod features a fork-shaped mount that allows it to stabilize any kind of device while the user pans and tilts it in any direction.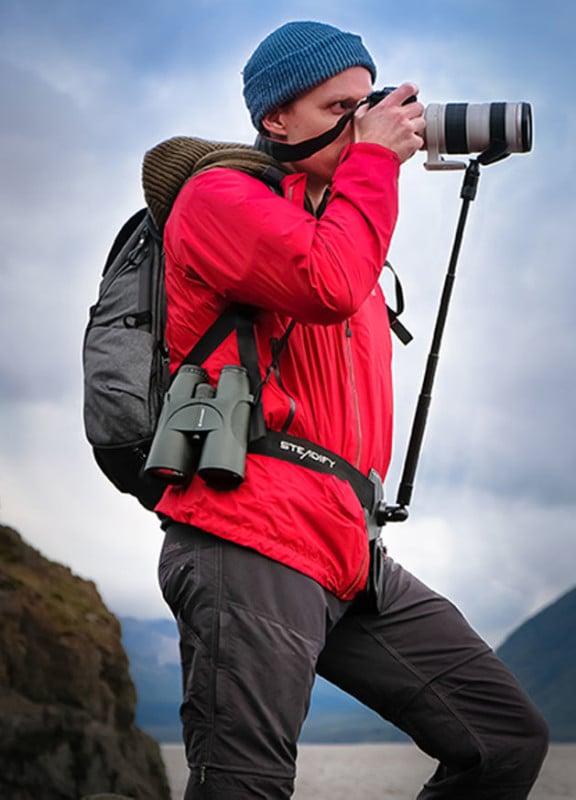 The fork mount also allows the device to be used for stabilizing other non-camera products as well — things like binoculars, scopes, and guns.
The German-designed Steadify also serves to redistribute the weight of your camera onto your body and legs, allowing you to shoot with heavier cameras and lenses for extended periods of time with less fatigue.
"Steadify also functions as a jib arm for smooth vertical and horizontal camera movements, a bonus usually found in more lavish equipment," the company says. "For cameramen, this feature adds life and dynamic to footage that can make a scene stand out."
And if you wear the Steadify, you're obligated to show it off to others by giving it this kind of reveal:
Other features of Steadify include a steel-ball head, magnet-supported retraction, a leather baseplate with Nylon belt, a weight of just 1lb (0.5kg), and a maximum length of 31.5in (80cm).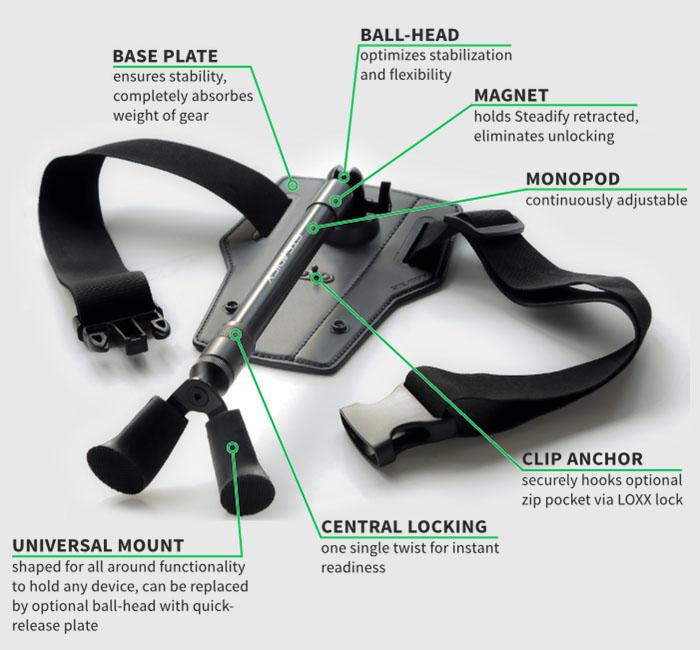 Although Steadify has already been available in Amazon's "Sports & Outdoors" and "Hunting" categories with a price tag of $129, the company is currently running a Kickstarter crowdfunding campaign to get the product into the hands of photographers.
The Steadify is being offered in three different looks:
The early bird prices of $99 and $129 are running out for the standard Steadify and bundle (with a quick-release ball head and pocket clip), and everyone else can get one for the higher price of $139 in the campaign (though it would probably make more sense to order it from Amazon instead and receive it immediately instead of waiting for the October delivery date).
And if wearing a strange-looking belt isn't your thing, you can also stabilize your camera for $1 using a washer, bolt, and string.