Samyang Unveils an 85mm f/1.4 Full Frame Lens for Canon EF
Samyang has just announced its new Samyang/Rokinon 85mm f/1.4 full frame autofocus lens for Canon EF-mount cameras. The announcement comes just one week after the company unveiled its new 24mm f/2.8 lens.

The lens is the equivalent of a 136mm when mounted on a Canon crop sensor APS-C camera.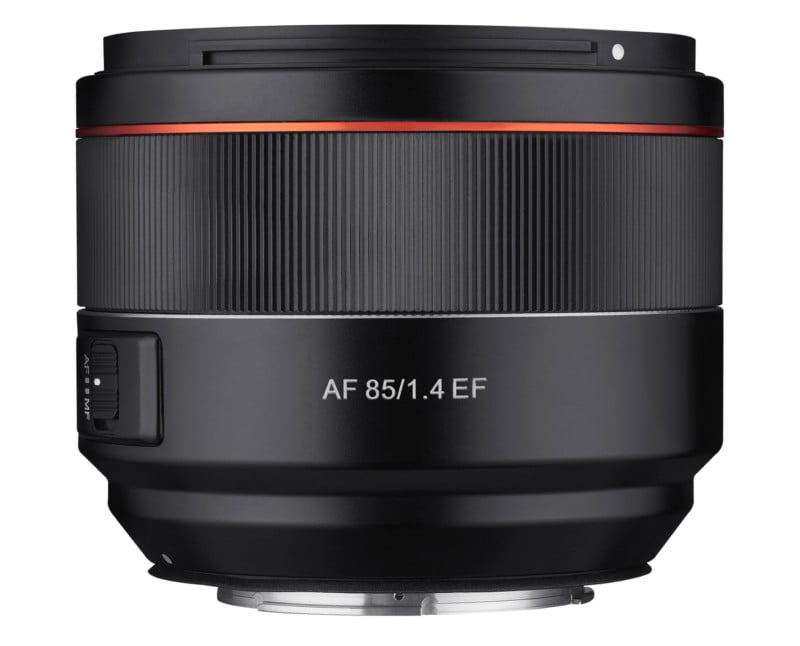 Thanks to its internal design and technologies such as a Hybrid Aspherical element, the 85mm measures less than 3 inches long and is lightweight for its focal length (17oz/482g). The features (including Ultra Multi-Coating) also help reduce and control distortion and aberrations.
Two Linear Ultrasonic Motors (LSM) in the lens allow it to have fast and quiet autofocusing while adjusting just one inner lens group in the process.
Other specs and features include an all-metal construction, a minimum focusing distance of 2.95ft/0.90m, an ergonomic shape, and a 9-blade aperture for smooth bokeh.
The new Samyang/Rokinon AF 85mm f/1.4 will be available starting in August 2018 with a price tag of $799, bundled with a reversible lens hood, lens caps, and a soft pouch case.