This New Phantom Camera Can Shoot 4MP at 6,600FPS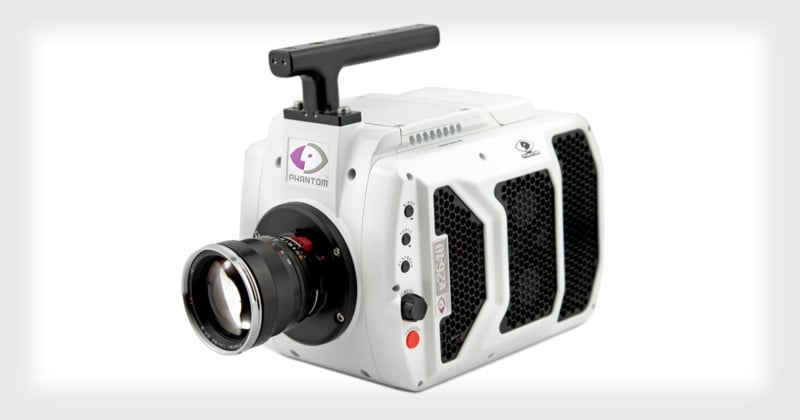 Vision Research has announced its latest Phantom high-speed camera, the Phantom v2640. This camera is the fastest 4-megapixel camera ever made, capturing a stagging 6,600 frames per second. Drop the resolution down to 1080p, and you can shoot at a whopping 11,750fps.

"The v2640 features very high dynamic range (64 dB) and the lowest noise floor of any Phantom camera (7.2 e-), making it an excellent tool for researchers, scientists and engineers who need to capture clean, high-resolution images at ultra-high speeds," Vision Research says. "The high dynamic range shows significant detail, especially in high-contrast environments, while the low noise is particularly beneficial when analyzing the dark regions of an image.
"It also has exceptional light sensitivity, with an ISO measurement of 16,000D for monochrome cameras and 3,200D for color cameras."
There are a number of different operating modes with various resolutions and speeds: a standard mode with correlated double sampling for the clearest image quality, a high-speed (HS) mode with 34% higher throughput for 6,600fps, and a "binning" mode in monochrome that shoots 1MP at 25,030fps.
Features and specs of the v2640 include ISO 16000 in black-and-white, ISO 3200 in color, a maximum shutter speed of 142 nanoseconds, up to 288GB of memory, 10Gb Ethernet, and a weight of 17lbs 8oz (8.1kg).
Here's a video that introduces the new Phantom v2640 and shows off some sample footage of a water balloon bursting, captured at 17,000fps:
The Phantom v2640 will be available in a Nikon F, Canon EF, C, and PL mounts. No word yet on pricing or availability, but it's certain that this camera won't be cheap.
(via Image Sensors World via DPReview)