Essentials of an Antarctic Expedition Photographer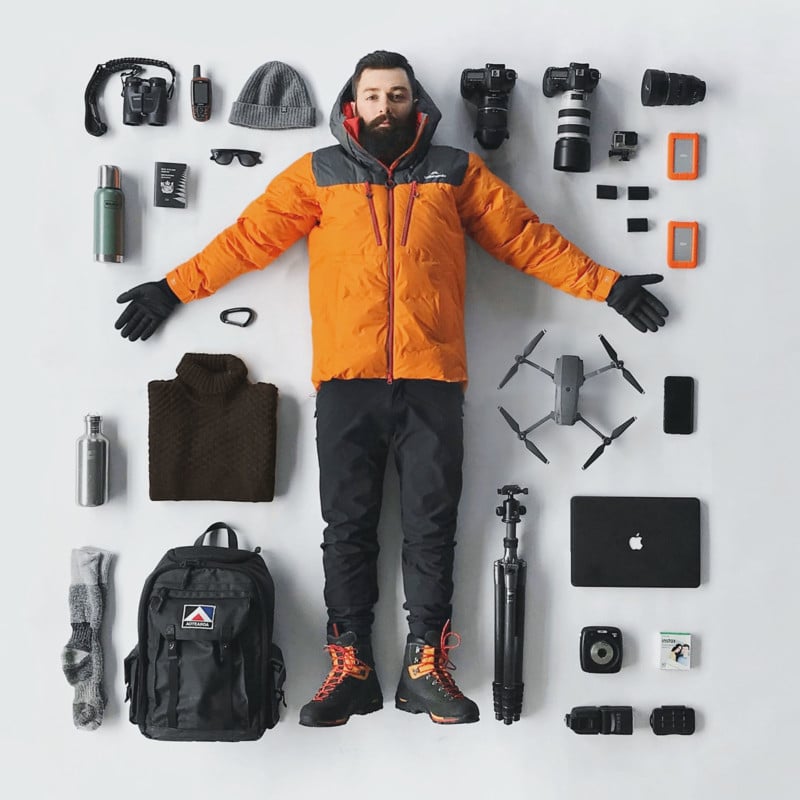 If you like "things organized neatly" photos of camera gear, check this one out — it includes the photographer himself. This photo shows John Bozinov's essentials as an Antarctic expedition photographer.

"I'm a New Zealand based polar expedition photographer who works on a passenger vessel that operates in both Antarctica and the Arctic," the 27-year-old Bozinov tells PetaPixel. "This is a photo of some of the gear I'll be taking away with me for this upcoming Antarctic season where I'll be working for the first 3 months of 2018."
Here's a rundown of what you see in the shot:
Bushnell waterproof binoculars w/ Langly paracord neck strap
Garmin 64s GPS
Herschel woollen beanie
Stanly thermos
Klean Kanteen stainless drink bottle
The Shackleton Company signature woollen sweater
Langly multi camera backpack
Canon 5D Mark III x 2
Canon 70-300mm L lens
Tamron 24-70mm lens
Tamron 15-30mm lens
Canon camera batteries
GoPro hero silver
Lacie hard drive x 2
DJI Mavic Pro
iPhone X
Gitzo tripod
Macbook pro
Instax Square and film
Canon speedlite flash
Kathmandu goose down parka jacket
Kathmandu Fitzgerald mountaineering boots
"Our ship starts its journey in Ushuaia (southern Argentina) and then makes its way across the notorious Drake Passage down to the Antarctic Peninsula, where we visit the various islands in the area and experience its beautiful wilderness," Bozinov says. "I'll also be visiting the South Georgia archipelago twice during this season which has some of the most densely packed wildlife anywhere in the subantarctic."
You can find more of Bozinov's work on his website and Instagram. He's the same photographer we featured this year after he photographed Antarctica with an iPhone.