I Took These Photos in My Dining Room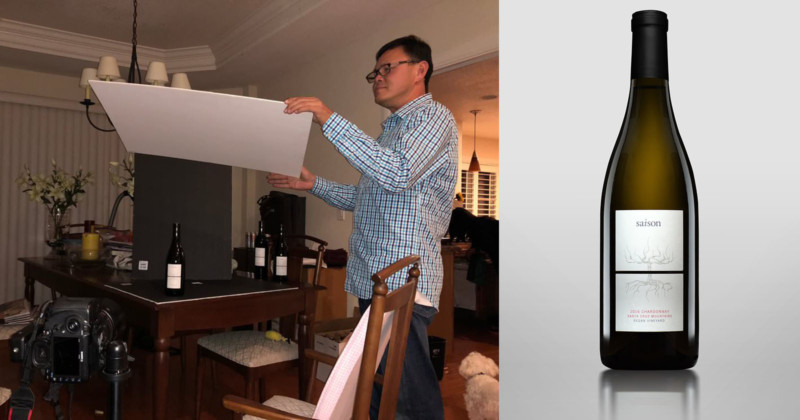 Product photography is something that I've always been interested in, but never saw myself making a career out of. However… when I do get to take product photos, I do enjoy it quite a lot.

I thought I'd make a quick post on some techniques I used to make these photographs, all taken on my dining room table with simple lighting equipment:
Here's my dad making a great assistant: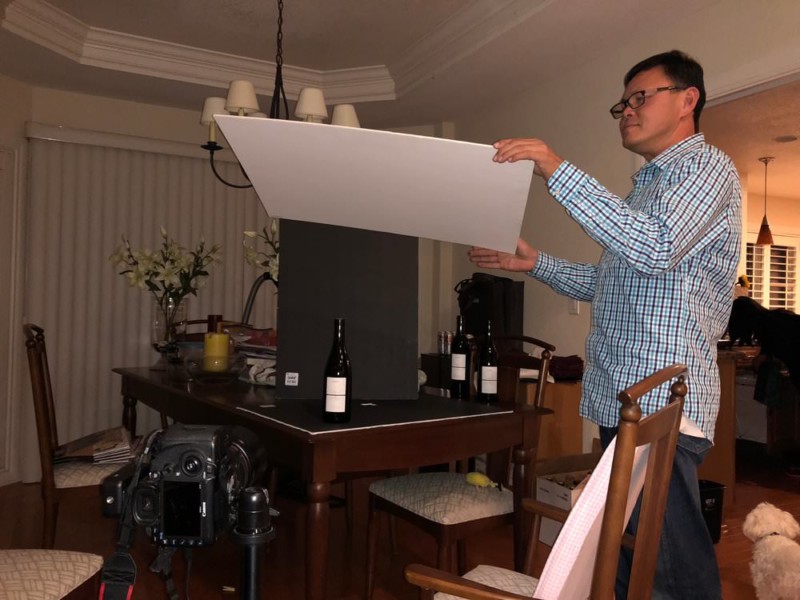 To break down my equipment:
Camera: 5D Mark III
Lens: 85mm f/1.2L at f/16
Light: 600EX-RT
Additional equipment: 3 old pieces of cardboard from high school prom askings.
Here's a breakdown of the shots that I took:
1. Label shot
2. Side reflection shot (duplicated on either side to make symmetrical)
3. Cap/lid
4. Liquid shot (lighting up the inside of the bottle for a glow)
The wine bottle was placed on the two black pieces of cardboard to avoid additional reflections coming onto the bottle. Then, the white bounce board was used to light certain areas of the bottle.
It was all about experimentation. I tethered the camera to my MacBook so I could see the images coming in on a larger screen. This is very important because you want to be sure the details are exactly how you want. For example, making sure that the label is directly center on the bottle, or that there are no fingerprints on the bottle. This takes a LOT of work off of post-production and saves you from re-shooting.
I took those 4 shots, blended them in Photoshop, and added a subtle reflection. In Photoshop, a lot of masking was involved. First, I cut out the bottle with the pen tool and made a masked folder. Then, I put the other photos in that folder and started building my bottle. For the reflections, it may be useful to use the "screen" blending mode. If you aren't familiar with blending modes, I recommend checking out a YouTube video on it.
Finishing it off, I added a reflection with a slight blur with gradient mask and sharpened it a touch.
These step-by-step pictures will explain my process better:
Overall it was a very fun process.
---
About the author: Joshua Chang is a photographer and filmmaker based in the San Francisco Bay Area. He's currently looking for opportunities to create short form commercial/promotional films or work as a portrait/headshot photographer. You can find more of his work on his website, blog, and Instagram. This article was also published here.