Reflex is the First New 35mm Manual SLR Camera Design in 25 Years
Say hello to Reflex, a new 35mm SLR camera that just launched on Kickstarter. It's the first newly designed manual SLR system camera in over 25 years.

"Reflex is a modern update of the timeless manual SLR 35mm film camera," the startup says. "Distinctive in its modular design, it combines contemporary mechanical and electrical engineering with the classic design of an analogue camera…"
The Reflex combines old, time-tested designs with exciting new ideas to create a brand new concept of what a manual film SLR can be for the modern generation of photographers.
First, the magnesium alloy camera is modular: both the lens mount and the film back can be swapped out, allowing photographers to choose the lens mount and quickly swap film.
The I-Plate is the system's interchangeable lens mount. The camera ships with a universal M42 mount, but mounts for Nikon F, Olympus OM, Canon FD, and Pentax PK will also be available as alternatives.
The Reflex I-Back interchangeable back is designed to help upgrade the process of choosing film. Not only can you quickly change film by swapping the backs, you can also change to a different film mid-shoot and finish the roll you were on at a later time.
On the front of the camera, you'll find a flash and a continuous LED light source — the first time both have appeared on an analog camera together. Each of the light sources can be adjusted with 3 intensity levels.
The camera has AV/Spot (and 4 stops EV) metering with an ISO range of 25-6400.
The Reflex system is also inspired by open source ideas — most of the hardware and electrical designs of the camera will be freely available on the Reflex website, allowing modders to create custom add-ons of their own making (perhaps through things like 3D printing).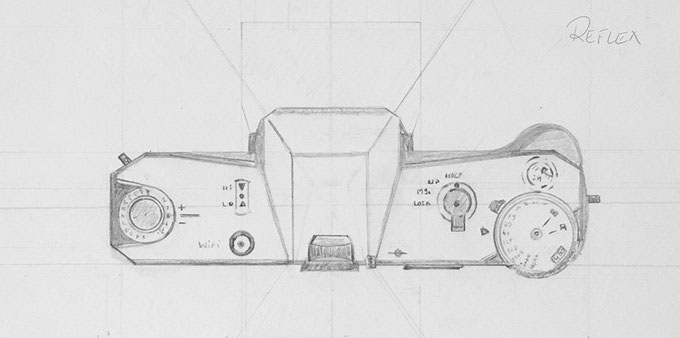 An additional idea (and stretch goal activated at £150,000) is having Bluetooth Low Energy (BLE) technology built into the camera, allowing it to be paired with smartphones so that metadata can be automatically recorded as you're shooting on film (a push notification will also remind you to make notes for what you just shot).
Here's a short 3-minute video introducing the Reflex:
Here are some sample photos captured with the Reflex by testers around the world:
The team behind Reflex, led by Laurence Von Thomas, is looking to raise £100,000 ($131,693) on Kickstarter to launch the camera. A pledge of £350 ($458) will get you one of the first units if the project successfully funds and delivers in August 2018.