The Nons SL645 is an Interchangeable Lens SLR Instax Mini Film Camera
Hong Kong-based camera manufacturer Nons has announced the SL645 camera, a new analog SLR camera that accepts Canon EF lenses and shoots Instax Mini film.
The company says the new SL645 camera comes following the success of the SL42 and SL660 Instant Camera, and is being brought forward in an effort to bring more diversity and excitement into the instant film world. Like the SL660, the new SL645 camera will alow instant film shooters to leverage a variety of SLR lenses to capture and create images but this time with Instax Mini Film.
The SL645 Camera
The SL645 camera leverages a passive EF mount that Nons says is fully compatible with the Canon EF line of lenses, as well as any other lens that can work with an EF mount adapter like Micro Four Thirds, Nikon F, PK, CY, and medium format lenses. In a shift from the "big brother" SL660 camera which uses Instax Square film, the SL645 uses Instax Mini film.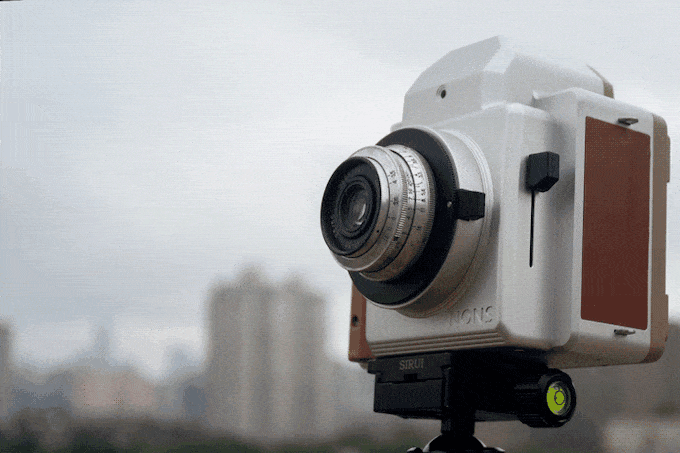 The design of the manual SL645 camera is nearly identical to the SL660. It uses a roof pentaprism-based SLR viewfinder to give a "natural and intuitive" focus experience, but this version has several improvements over the previously released SL42 and SL42mkII including reduced vignetting than previous models, an improved shutter that has only a 0.05-second delay, and an internal focal reducer. According to a report from Kosmofoto, this means the camera has "achieved the largest coverage among our existing cameras.
The built-in optical system includes three multi-coated optical glasses that extend the image field of full frame lenses to a medium format size of 6×4.5, which also means the vignetting is significantly reduced compared to the previous models (SL42 and SL660). The camera features a field of view similar to that of a full-frame camera (35mm), has a long-lasting aluminum-alloy body, and has an easily replaceable Li-Ion battery located on the side of the camera. It is also equipped with a replaceable lithium-ion battery.
According to the company, the SL645 camera will work just like a traditional analog SLR camera, meaning users can "enjoy full manual control or just rely on the integrated light meter for a quick shot." The shutter has 10 modes available to it including 1/250, 1/125, 1/60, 1/30, 1/15, 1/8, 1/4, 1/2, one second and Bulb mode, can sync with a hot shoe flash up to 1/250, measures 135 by 124 by 92mm in size, and weights just 795 grams (without a lens).
Below are some sample images captured using the SL645 camera:
The camera is available to back on Kickstarter starting at about $440, which is around 20% below the eventual retail price. In addition to this, backers of the project can also choose the "colorway" of the system through a survey the company plans to send at the completion of the Kickstarter campaign.
---
Disclaimer: Make sure you do your own research into any crowdfunding project you're considering backing. While we aim to only share legitimate and trustworthy campaigns, there's always a real chance that you can lose your money when backing any crowdfunded project.