Amazon Has a Book on 'How to Seduce Women Through Photography'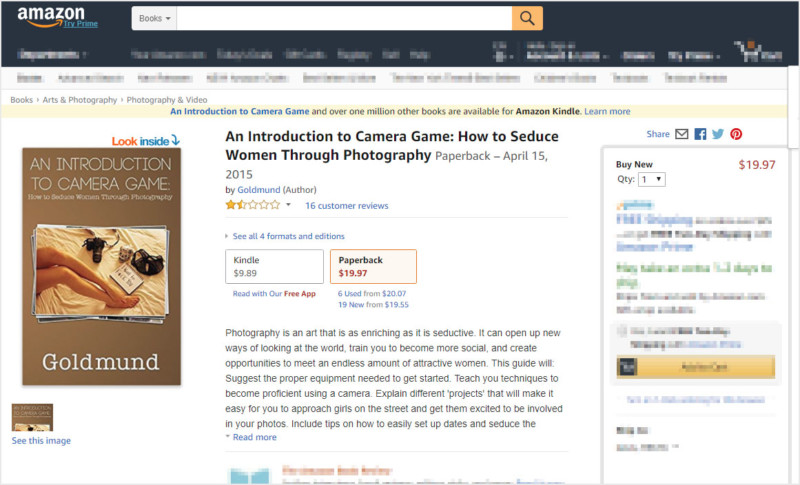 Famous photographer Terry Richardson was just banned by top fashion magazines this week after years of being accused of sexual harassment by models. Now there's a book being sold on Amazon that photographers are speaking out about. It's titled: An Introduction to Camera Game: How to Seduce Women Through Photography.

Written by an author named Goldmund, the 90-page book teaches how to use photography skills and projects to meet, date, and seduce women. Here's the book's description:
Photography is an art that is as enriching as it is seductive. It can open up new ways of looking at the world, train you to become more social, and create opportunities to meet an endless amount of attractive women. This guide will: Suggest the proper equipment needed to get started. Teach you techniques to become proficient using a camera. Explain different 'projects' that will make it easy for you to approach girls on the street and get them excited to be involved in your photos. Include tips on how to easily set up dates and seduce the women you meet. And much more… If you are interested at all in photography and meeting women, An Introduction to Camera Game is the best place to get started.
The guide has a focus on "developing you into an attractive, skilled photographer who is not only comfortable meeting and modeling beautiful women on the street, but also seducing them into bed," Goldmund writes in the book's introduction. "I will provide a detailed script that you can follow. One that has gotten me laid many times over […]"
The cover features a photo of a woman's legs on a bed next to a camera, undergarments, and a notepad that reads: "I Want to F*CK YOU."
Some photographers are now speaking out publicly to get the book removed from Amazon.
"I was browsing the photo book section on Amazon and it was there," one female photographer tells PetaPixel. "I'm shocked and appalled that this book is going around under Art and photography section.
"As a photographer and being friends with people who do modeling for a living, I have heard many horror stories where these 'photographer' sexually abused models."
From the reviews, it seems that the overwhelming majority of people share the same sentiment. The book currently has 1.5 out of 5 stars after 16 customer reviews, and all but two of them are 1 star reviews. Here are some of the "Top customer reviews":
At the time of this post, the book is available for $10 as a Kindle book and $20 as a paperback on Amazon, as well as on through AbeBooks, which Amazon owns.