colorspike is an LED Stick That Changes How You Add Colored Light to Shots
Say hello to colorspike, a powerful animation-driven LED light stick that can revolutionize how you think about adding colored light to photo shoots and video projects.

colorspike was created through 2 years of development by Bitbanger Labs, the same startup that created the pixelstick. Just as pixelstick transformed how people shoot light-painting photos, colorspike aims to change how you create lighting and effects.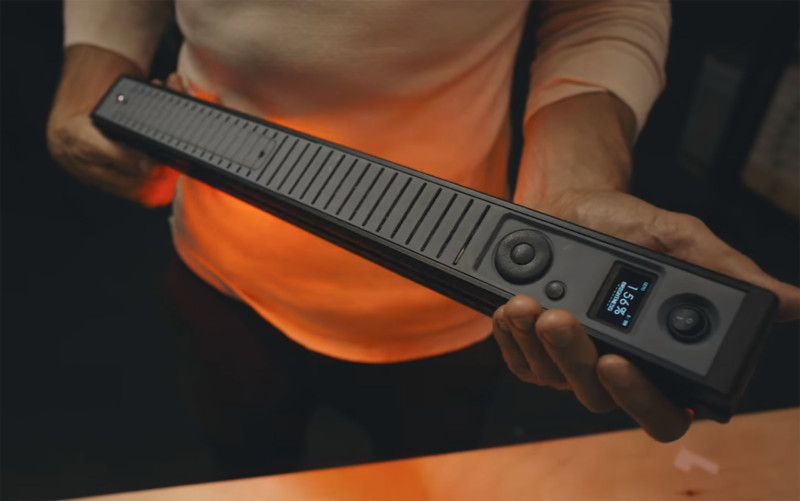 Physically, the colorspike is a professional-grade product made of a rugged anodized aluminum body that shields the guts from damage while dissipating heat. It's small enough to be used handheld, but dual side channels also allow the bar to be mounted to stands and other supports.
Inside the colorspike is a row of ultra-bright, flicker-free LED lights that can display millions of colors. They're packed densely enough to reduce shadowing and produce clean lines while you're light shaping.
colorspike can be powered both by an internal battery for portability and using an included DC adapter for when you're working in the studio. A single charge provides up to 45 minutes of continuous light when running on battery power.
colorspike has internal storage for keeping a large number of premade lighting effects, which you can adjust on-the-fly on the colorspike's interface itself.
In addition to the screen and controls found on the colorspike, there will be a free companion iOS and Android app that helps you operate the device. You can browse through a selection of saved looks and effects, create your own custom effects with a powerful editor, and manage multiple colorspikes at the same time.
For still photos, colorspike can help create colorful portrait lighting that's extremely flexible and easy to tweak, especially when using more than one colorspike.
Here are a number of photos showing different looks captured using a 3-point setup:
colorpike's powerful animation features allow you to create a seemingly endless number of different lighting effects for video projects.
"The App allows you to create fresh patterns from scratch, but also gives you the ability to tweak existing patterns," Bitbanger Labs writes. "A police siren can easily become an emergency light with a small change to the palette and animation speed. Add randomness to a basic white strobe and you'll get an organic thunder and lightning effect.
"Most patterns are only a few small adjustments from being completely different and equally compelling lighting effects."
Here's just a taste of the different off-camera lighting effects you can create (e.g. camera flashes, flickering lights, police car lights, a lantern flame):
Intrigued? Here's a 5-minute video that introduces the colorspike and shows off its flexibility and power:
Bitbanger Labs is crowdfunding the launch of the colorspike on Kickstarter, where the project is quickly approaching its goal of $120,000. A contribution of $299 or more may earn you one of the first colorspike units produced around March 2018 if the project successfully delivers.