GoPro Unveils the Fusion, a 5.2K 360° Camera with OverCapture
The GoPro Fusion is a new 360° camera that captures an immersive experience in 5.2K resolution at 30fps. It was announced by GoPro today alongside the new HERO6 Black camera at the company's launch event in San Francisco.

Perfect for those wanting to try out VR and other modern filming styles, one of the Fusion's coolest features is the fact that the grip mount can be automatically removed from your shots.
Here's an introduction to the camera from GoPro:
But 360 footage looks at its best when viewed with VR goggles or a 360-enabled browser – so check out this demo if you have the capabilities (you can also change the camera direction by dragging the frame around):
What may appeal to most people here is the use of the OverCapture built into the GoPro app (coming early 2018 to iOS and Android). It allows you to manually select an area of the film, following your subject, to pick out the best angles and export it as a normal, non-360° 1080p video.
This means that you can shoot a 360 video and turn it into something like this:
GoPro is also including new Fusion Studio software for desktop computers to bolster the 360-editing process. This will include the OverCapture feature on the day of launch, so you won't necessarily have to wait for the app's update.
The Fusion also boasts "shockingly smooth" stabilization abilities, removing the need for a gimbal. It's features like this which will mean footage coming out of the Fusion will open up a wealth of creative opportunities.
"GoPro Fusion marks the beginning of a new creative era," said GoPro. "Fusion captures everything around you so you'll never miss the shot."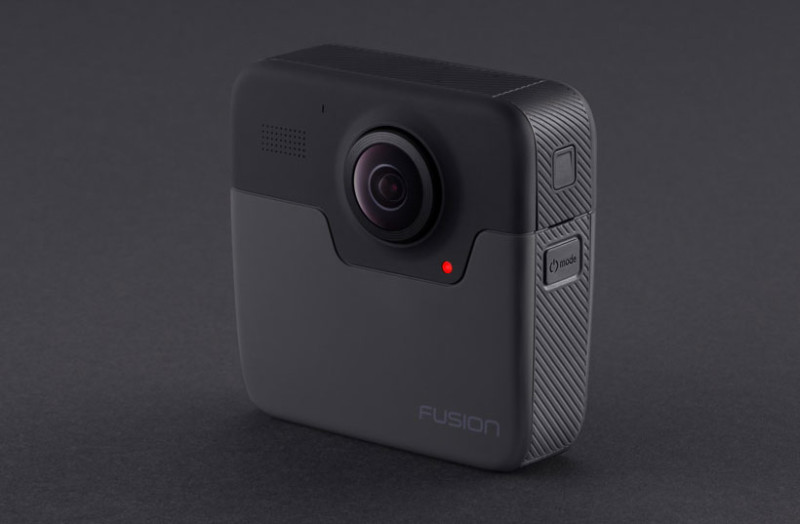 As well as imagery, Fusion also captures sound in a 360-degree direction too, meaning you have a totally immersive final film offering a surround sound experience.
You can also capture 18-megapixel spherical photos and create time-lapse videos. The Fusion has a GPS, accelerometer, gyroscope, and compass built-in – all of which allow it to properly stabilize footage internally.
Other features and specs include voice commands, waterproofing (down to 16ft/5m), and wireless connectivity (Wi-Fi and Bluetooth).
The GoPro Fusion is available for pre-order at GoPro.com for $700 (which includes the Fusion grip mount) and is expected to ship by November 30th, 2017.